Posts Tagged 'Brad Gushue'
---
Brad Gushue est entré dans l'histoire en tant que premier homme canadien à gagner une médaille d'or olympique dans le curling, avec sa victoire aux Jeux de 2006 à Torino, Italie. Maintenant, il amène une nouvelle équipe à Kitchener pour les Pré-essais de curling 2013 Capital One Road to the Roar, présentés par Monsanto, en vue de répéter son exploit de 2006.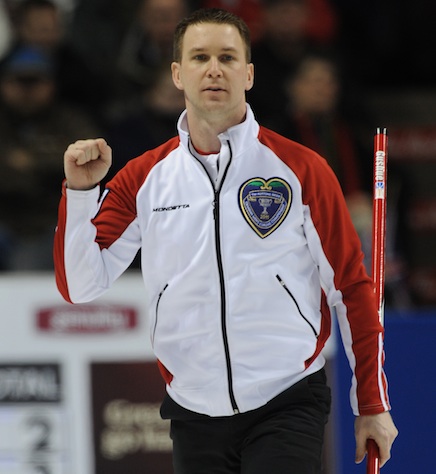 Brad Gushue earned the distinction of winning Canada's first Olympic gold medal in men's curling with a victory at the 2006 Games in Turin, Italy. Now he leads his new team into Kitchener for the 2013 Capital One Road to the Roar, presented by Monsanto, with hopes of adding to his medal collection.
Vingt-quatre équipes tenteront de franchir une étape de plus pour se rendre aux Jeux olympiques d'hiver de 2014 à Sotchi, en Russie, lorsque les pré-essais Capital One Road to the Road 2013 se mettront en branle le 5 novembre au Memorial Auditorium Complex à Kitchener, en Ontario.
Twenty-four teams will be looking to take a step closer to the 2014 Winter Olympic Games in Sochi, Russia, when the 2013 Capital One Road to the Roar Pre-Trials get underway on Nov. 5 at the Memorial Auditorium Complex in Kitchener, Ont.
Brad Gushue (Newfoundland Labrador) meets Glenn Howard (Ontario) in the bronze medal game at the 2013 Tim Hortons Brier, Canadian Men's Curling Championship.
---