Posts Tagged 'Jeux olympiques de 2014'
---
Par Janet Arnott (entraîneure d'Équipe Canada) — Nous avons été contentes de retourner sur la piste aujourd'hui dans l'aréna Ice Cube, et notre équipe a très bien joué pour l'emporter sur le Japon ce matin. L'équipe japonaise nous a mises à l'épreuve, mais en fin de compte nous en sommes sorties victorieuses!
Par Jennifer Jones (capitaine d'Équipe Canada) —  Un des traits qui caractérise notre équipe est notre conformité à la routine. Nous avons visité toute une liste de pays au fil des ans : la Corée du Sud, la Chine, la Suisse, et maintenant la Russie. Et une chose qui ne change jamais, où que nous soyons au monde, c'est que chaque matin, nous mangeons des rôties tartinées de beurre d'arachides. Et c'est ce que nous avons fait ce matin avant notre match contre la Suède.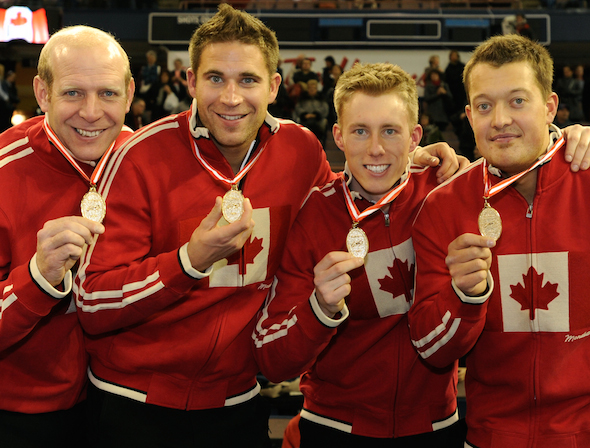 Un voyage à Sotchi, en Russie, et le droit de porter la feuille d'érable lors de l'événement de curling le plus important seront en jeu lorsque les Essais canadiens de curling Roar of the Rings Tim Hortons 2013, présentés par Monsanto, se mettront en branle dimanche au MTS Centre de Winnipeg.
La pression de participer aux Essais canadiens Tim Hortons Roar of the Rings 2013, présentés par Monsanto, est de l'histoire ancienne pour Sherry Middaugh. Lorsque la capitaine expérimentée du Coldwater and District Curling Club en Ontario mettra les pieds en décembre sur la glace au MTS Centre de Winnipeg, elle tentera de réaliser son rêve olympique pour la quatrième fois.
Kevin Koe a percé en 2010 quand il a remporté le Brier Tim Hortons et le Championnat du monde de curling masculin. Le skip du Calgary Glencoe Club sera dans la course pour une médaille en faisant partie des 16 équipes en compétition au Tim Hortons Roar of the Rings de 2013, présenté par Monsanto.