Posts Tagged 'Jon Mead'
---
Charleswood Curling Club, Winnipeg, MB
skip: Jeff STOUGHTON
third: Jon MEAD
second: Mark NICHOLS
lead: Reid CARRUTHERS
alternate: Garth SMITH
coach: Rob MEAKIN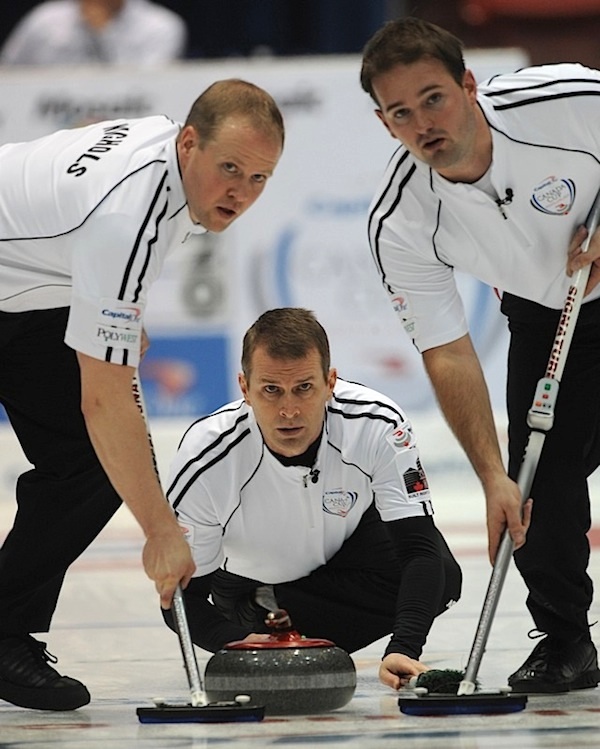 Jeff Stoughton will be making his fifth appearance at the Canadian Curling Trials, Dec. 1-8, when Winnipeg welcomes the very best teams in the country to the 2013 Tim Hortons Roar of the Rings, presented by Monsanto.
Jeff Stoughton earned a record tenth Manitoba title with a victory over Sean Grassie in the final of the men's provincial curling playdowns, Feb. 10 in Neepawa.
La Fondation Sandra Schmirler a annoncé un nouveau projet de collecte de fonds qui sera appuyé par deux nouveaux "champions." Dans le cadre des activités de la Fondation pour renforcer ses liens avec la collectivité du curling, Jon Mead et Cathy Overton-Clapham ont accepté de se charger de l'initiative de sensibilisation. Ces champions joueront un rôle de mentor auprès des jeunes et seront les porte-parole de la Fondation.
The Sandra Schmirler Foundation has announced a new fund-raising initiative with the introduction of two new "Champions." Jon Mead and Cathy Overton-Clapham have agreed to spearhead the awareness building initiative as the Foundation continues to strengthen its ties with the curling community. The Champions role will be one of mentoring youth and acting as spokespersons for the Foundation.
---