Posts Tagged 'Kaitlyn Lawes'
---
Rachel Homan makes her second appearance skipping Team Ontario at the Canadian Women's Curling Championship – and it's a short trip this time with the 2013 Scotties Tournament of Hearts being contested at Kingston's K-Rock Centre, Feb. 16-24.
There were no surprises coming out of the Manitoba or Northwest Territories/Yukon Scotties playdowns this year, as a pair of long-time contenders earned the right to compete in the 2013 Canadian Women's Curling Championship.
With the M&M Meat Shops Canadian Junior Curling Championships just around the corner, fans across the country will turn their attention to the nation's best young curlers, February 2-10. So what makes these teams so successful and sets them apart from the rest?
PENTICTON, B.C. — After a tough morning at the South Okanagan Events Centre, Team North America earned back some of its confidence in Thursday afternoon mixed doubles action at the 2013 World Financial Group Continental Cup, presented by Monsanto.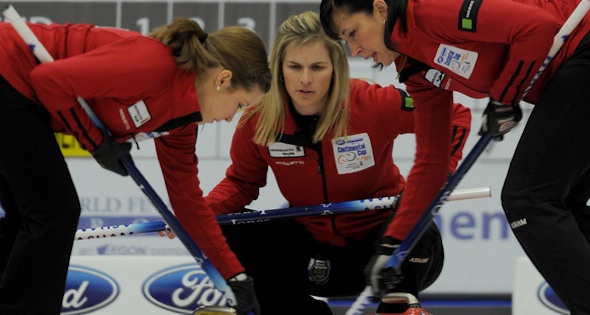 In a year that has seen Jennifer Jones undergo knee surgery and give birth to her first child, the Winnipeg skip is preparing for a return to the competitive curling scene.  And, she'll be hitting the ice for her first competitive action of the season in Penticton January 10-13 for the World Financial Group Continental Cup.
---