Posts Tagged 'Mirjam Ott'
---
En cinq participations de Mirjam Ott, de Suisse, au Championnat du monde féminin de curling, depuis 1997, ses meilleurs résultats jusqu'à présent ont été une performance digne de la médaille de bronze, à Vernon. Mais, tout ceci a changé du tout au tout à l'épreuve de force de 2012, à Lethbridge.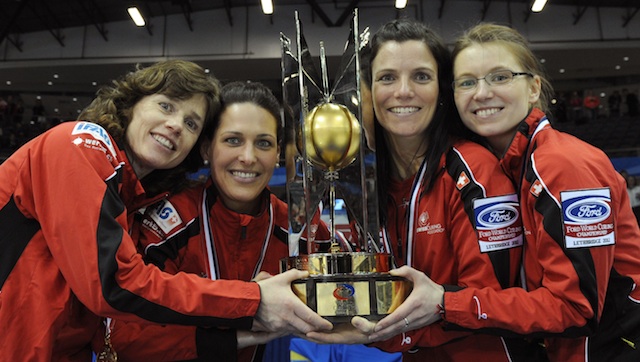 In five trips to the World Women's Curling Championship beginning in 1997, the best result to date for Switzerland's Mirjam Ott had been a 2008 bronze medal performance in Vernon.  But that changed in a big way at the 2012 showdown in Lethbridge.
Click here to watch.
Ji-Sun Kim and Mirjam Ott chat with media following semi-final of the 2012 Ford World Women's Curling Championship.
All Team Canada games during the 2012 Ford World Women's Curling Championship, March 17-25 in will be televised by TSN from Lethbridge's ENMAX Centre.  But, if you want to see the very best of the rest of the world, you'll have to come down to the arena for the live experience.
Mirjam Ott and her Davos Curling Club team of Janine Greiner, Carmen Kung and Carmen Schafer captured the 2012 Swiss Women's title on Saturday, February 25 with a 6-5 victory over Bern's Michele Jaggi at the Gstaad Curling Hall.
---