Posts Tagged 'Pat Simmons'
---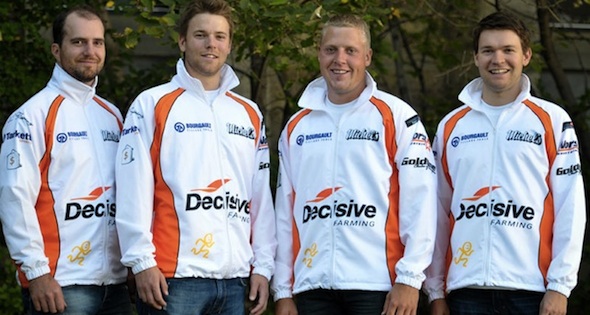 Steve Laycock will be making his second appearance at Canadian curling's Pre-Trials event when he competes in the 2013 Capital One Road to the Roar, presented by Monsanto, Nov. 5-10 at the Kitchener Memorial Auditorium Complex.
Kevin Koe a percé en 2010 quand il a remporté le Brier Tim Hortons et le Championnat du monde de curling masculin. Le skip du Calgary Glencoe Club sera dans la course pour une médaille en faisant partie des 16 équipes en compétition au Tim Hortons Roar of the Rings de 2013, présenté par Monsanto.
After a breakthrough year in 2010, when Kevin Koe won both the Tim Hortons Brier and the World Men's Curling Championship, the skip from Calgary's Glencoe Club will be back in the medal hunt as part of the 16-team field for the 2013 Tim Hortons Roar of the Rings, presented by Monsanto.
In the history of the Canada Cup Alberta teams have clearly dominated the men's side of the championship, winning in eight of the nine competitions.  Kevin Koe is hoping to add one more for the Wild Rose province November 28-December 2 at the 2012 Capital One Canada Cup of Curling in Moose Jaw.
In a province so abundant in agricultural resources, there's nothing quite as disturbing as the mere mention of the word "drought".  Saskatchewan is almost as serious about its curling… and when it comes to Brier championships, the dreaded word has been hanging in the air for the past three decades.
---