Posts Tagged 'Stefanie Lawton'
---
Stefanie Lawton en sera à son troisième périple au Tournoi des Cœurs Scotties lorsque le Championnat canadien de curling féminin se tiendra du 1er au 9 février, à l'aréna Maurice-Richard de Montréal.
Stefanie Lawton will be taking her third trip to the Scotties Tournament of Hearts when the Canadian women's curling championship hits the ice, Feb. 1-9, in Montreal's Maurice-Richard Arena.
The 2014 Scotties Tournament of Hearts will be hosted by Montreal for the first time in the 32-year history of the event, Feb. 1-9 at the Maurice Richard Arena. The Canadian women's curling championship was contested in the city once before, in 1979, prior to taking on the Scotties title.
The Dec. 4 media scrum from the 8:30 a.m. draw at the Tim Hortons Roar of the Rings featuring Stefanie Lawton, Jennifer Jones, Rachel Homan, Heather Nedohin, Val Sweeting, Sherry Middaugh, Chelsea Carey and Renée Sonnenberg.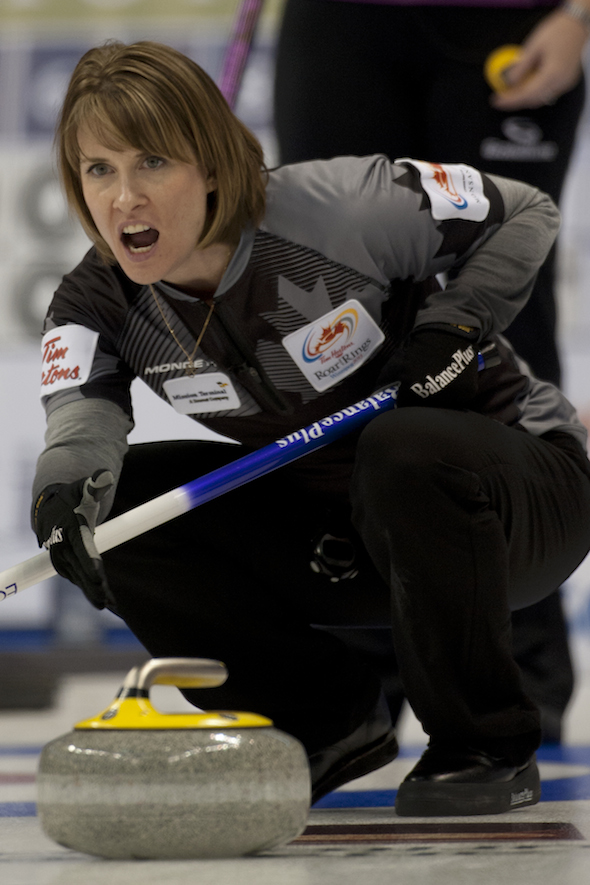 Un seul bout a fait un monde de différence pour Stefanie Lawton, de Saskatoon, dans son match contre Chelsea Carey, de Winnipeg, mardi après-midi aux Essais canadiens de curling Tim Hortons Roar of the Rings, présentés par Monsanto, dans le Centre MTS à Winnipeg.
---