Posts Tagged 'Team World'
---
In the past two decades of women's curling, Anette Norberg has unquestionably been the biggest name in the Swedish game with a pair of Olympic gold medals and three world championship victories to her credit.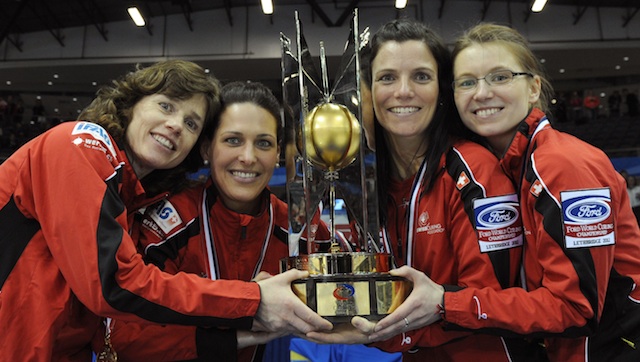 In five trips to the World Women's Curling Championship beginning in 1997, the best result to date for Switzerland's Mirjam Ott had been a 2008 bronze medal performance in Vernon.  But that changed in a big way at the 2012 showdown in Lethbridge.
The ninth edition of the World Financial Group Continental Cup of Curling will feature the best curlers in the game facing off in Penticton's South Okanagan Events Centre January 10-13, 2013 for the most unique event in international curling.
Team North America's emblem for the 2013 World Financial Group Continental Cup of Curling is a blend of the Maple Leaf and Stars & Stripes, symbolizing the flags of the two nations that will compete against Team World January 10-13 in Penticton.
The future of men's curling in Scotland appears to be in very good hands with the Tom Brewster team stepping up to carry the torch ignited by David Murdoch, a two-time gold medalist at the World Men's Curling Championship.
---