MacKinnon, Daniel
Year Inducted / Année Intronisé:
1974
Province / Province:
Prince Edward Island
Category / Catégorie:
Builder, President
Biography / Biographie:
Lieutenant-Colonel Daniel A. "Colonel Dan" MacKinnon of Charlottetown, Prince Edward Island was one of the first presidents of a provincial association.
His life seemed somehow as unlikely as a Horatio Alger story, and even more compelling. Born in tiny Highfield, PEI, on November 12, 1876, the son of Donald MacKinnon and Jemima Curtiss, young Dan was left an orphan at age ten, and had no further schooling. With the few dollars he earned from chores as a hired hand, or from running from house to house delivering the Guardian over his large paper route, Dan began a mail-order course in pharmacy, successfully writing his examinations to become, at age twenty, the first registered pharmacist on PEI.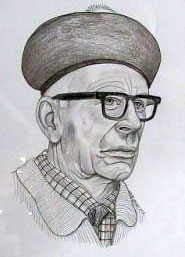 Like so many other young men of a century and more ago, Dan became fascinated with athletics and the wheel of seasonal sports then in their infancy on the Island. Not only was he the Maritime titleholder running the mile race from 1896 through 1898, Dan and his Charlottetown firemen's team, on Dominion Day 1901, would set the world record for the quarter-mile run with salvage-wagon in a time of 1:02.4 minutes. A knee injury suffered in an Abbies' rugby game put an end to Dan's brilliant track and field career, and soon the young man's sights were set on yet another treasure from his own Scots heritage – the "Roaring Game" of curling.
Curling arrived on our Island with the arrival of the first Scottish settlers in the 1770s, wielding their rough-and-ready kettle-stones over the frozen waterways before the inevitable spring thaw. The Island's first curling club, the Charlottetown Curling Club, soon to be adopted by MacKinnon, was already established by February 3, 1887, and its original ten members conducted their first indoor curling games at the City's Excelsior Rink, until it burned down. Curling continued for a few years with rental ice, but the C.C.C. was rendered inactive by 1911. Dan and his fellow curlers were forced to play on Government Pond and other ice-patches around the City, as well as its windswept harbour.
In 1913 the Charlottetown Curling Club was re-organized, with the goal to build a dedicated open-air curling rink, some 140 feet by 45 feet, on Grafton Street [close to the City's busy Fish Market]. Shares were sold in the rink at a princely $2 apiece, and in only a few months the game of curling was back on solid footing. Although the Charlottetown Curling Club held its first exhibition contest [against the New Caledonia Club from Pictou, NS] as early as 1889, it was not until 1918 that Island curlers ventured to the mainland – remarkably, it would be Dan MacKinnon who would be selected as the captain of this historic first curling team to represent the Island in mainland competition. In subsequent years, with the formation of new curling clubs in Summerside [1923], Montague [1926], and Alberton [1937], the development of the sport was suddenly energized by spirited inter-club bonspiels.
In 1934, the Prince Edward Island Curling Association was formed and Daniel MacKinnon was its first president. Notably, it is his role as a founding administrator of the provincial curling body that earned Dan his automatic charter election in 1974 into the Canadian Curling Hall of Fame.
In 1936, in yet another critical turning point for Island curling, and with Dan MacKinnon at the helm of the Charlottetown Curling Club as President, the venerable city club acquired the spacious Charles Coles property [at 32-36 Euston Street], providing for the very first time an Island facility designed solely for the sport.
Dan MacKinnon was a decorated soldier of the First World War, being awarded Great Britain's Distinguished Service Order as well as receiving the Croix de Guerre from France for his overseas service. He also served as aide-de-camp to the Canadian Governor General, Lord Byng after the war.
He was a prosperous PEI businessman and an enthusiastic participant in many sports.
His lifelong involvement with harness racing as an owner, trainer and driver left an impressive record on PEI as did his accomplishments as a runner and as a marksman.
Dan is a member of the Canadian Sports Hall of Fame and the PEI Sports Hall of Fame,