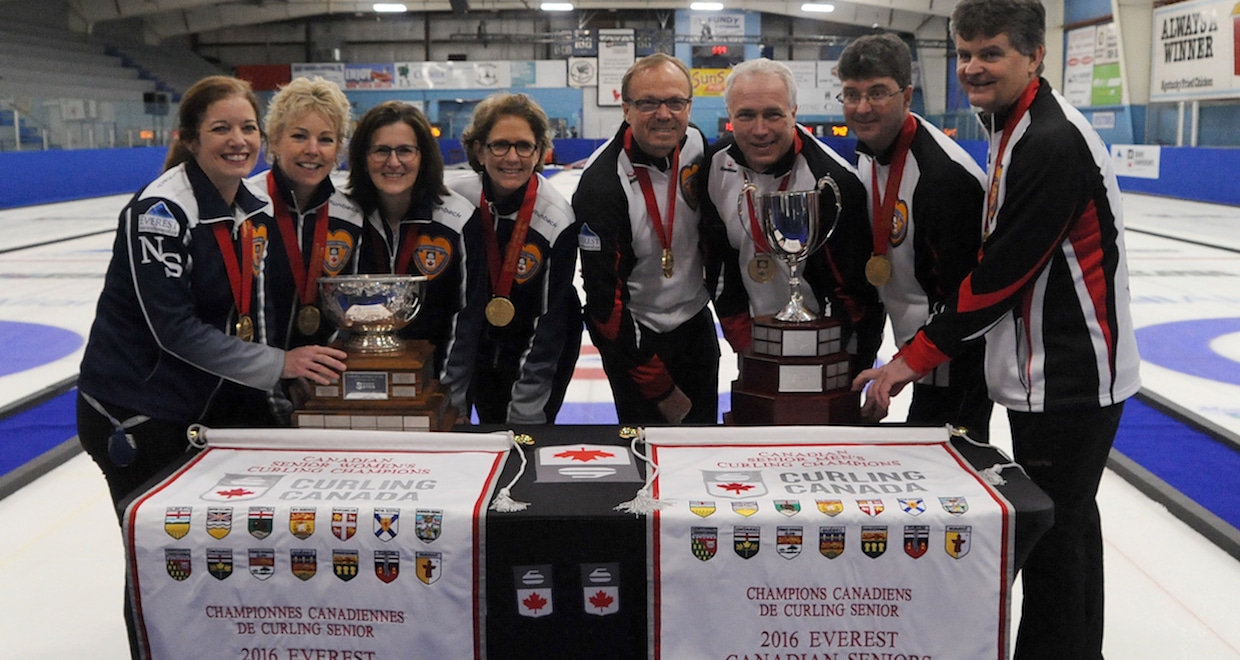 Team Nova Scotia (Women) and Team Ontario (Men): 2016 Senior Curling champions (Curling Canada/Mike Lewis photo)
Ontario men and Nova Scotia women win gold at Everest Seniors
Ontario's Bryan Cochrane and Nova Scotia's Colleen Jones claimed the men's and women's 2016 Everest Canadian Senior Curling Championship titles on Saturday afternoon in Digby, N.S.
Cochrane overpowered the defending champion, Randy Neufeld, 6-3, while Jones defeated Saskatchewan's Sherry Anderson, 5-2, in a game dominated from start to finish by the team from the Mayflower Club in Halifax.
For Jones and her team of Kim Kelly, Mary Sue Radford and Nancy Delahunt, who lost the 2015 final, it was a sweet moment of redemption. Last year in Edmonton, the Jones team lost the final to Alberta's Terri Loblaw. It was the third attempt by Jones to win the Seniors, after competing in 2011 and 2012 as well.
"All four of us were totally focused, and totally determined, and part of that is just all the past experience we have, that we know you need that focus," said Jones. "Past Scotties has taught us that, but also, losing the final last year – that hurt a lot. We played that as if it was just a regular game. We said: let's never make that mistake again, where you're a bit passive in the game. You have to want every single shot, every single moment of a curling game, in order to win, and that's what we brought to the table today."
Jones is no stranger to championship finals. She's a six-time Canadian (1982, 1999, 2001, 2002, 2003, 2004) and two-time (2001, 2004) world champion who will try to become just the second curler to skip her team to victory at the Scotties, Worlds and Canadian Seniors.
In Saturday's final, Nova Scotia controlled the game, giving Anderson no chance to generate offence. Steals in the second and third ends put Nova Scotia ahead 3-0 before the Saskatoon foursome of Anderson, Patty Hersikorn, Brenda Goertzen and Anita Silvernagle were able to get on the board.
"We knew against a team like Sherry Anderson – because we played against her in the 2002 Scotties final – we knew if we made one mistake or let up for a second, she'd pop a three on us or something ," said Jones. "I mean, she's such an experienced skip, a wily skip, and she makes so many shots, so you can't even give her an inch."
"We've had the opportunity to clinch a title on home ice before and didn't do it," she said. "So we didn't want to let that go. We wanted to be able to win in front of a Nova Scotia crowd."
Ontario's Cochrane was thrilled to be standing at the top of the podium after a long week of competition against strong teams.
"That was a tough week," said the Men's champion about the path to the gold medal. "We had a really tough game against B.C. (Bob Ursel) this morning (in the semifinal). This was hard – that was very good curling out there this week. We hung in there and the guys played great."
Cochrane and his Russell Curling Club team of Ian MacAulay, Doug Johnston and Ken Sullivan kept the pressure on throughout the entire game. In the sixth end, trailing 4-1, Neufeld faced four Ontario rocks around the four-foot and managed to hold Ontario to a steal of two. With a 6-1 lead, Ontario closed the door on any Manitoba comeback and protected the lead for the win over the defending champion from Manitoba and his team of Peter Nicholls, Dale Brooks (sparing for ailing Dean Moxham), and Dale Michie of the La Salle Curling Club.
"I can't say enough about Digby," said Cochrane about his team's experience during the week. "I can see why they've hosted (the Seniors Championship) twice. The ice was really good, thanks to Jon Wall, and the volunteers here were fantastic."
In the bronze-medal games, Nova Scotia's Alan O'Leary, the 2014 champion, and his Dartmouth foursome of Andrew Dauphinee, Danny Christianson and Harold McCarthy defeated British Columbia's Ursel, Dave Stephenson, Don Freschi and Fred Thomson 7-5.
Alberta's Cathy King and her Edmonton team of Glenys Bakker, Lesley McEwan and Shannon Nimmo earned the bronze medal with a 7-3 win over Ontario's Jo-Ann Rizzo, Kerry Lackie, Kristin Turcotte and Julie McMullin of the Brantford Golf & Country Club.
Cochrane and Jones will compete as Team Canada at the 2017 World Seniors at Lethbridge, Alta., April 22-29, 2017.
"It's a thrill to be going to Lethbridge," said Jones. "What I love about curling is that here we are at 56 years of age and we're still living the dream. We get to have 'Canada' on our back, we get to go to a world championship and try to win another one, and to me that's what makes this sport so special. This win felt as good as any of the Scotties that we've won, and Kim (Kelly) and I both said that right away. That thrill of winning is just euphoric. And to be going and representing Canada with a maple leaf on our back is such a dream come true, and I can't believe we get to do it again."