The 2012 M&M Meat Shops Canadian Junior Men's and Women's Curling Championships will be played in Napanee, Ontario, it was announced today by the Canadian Curling Association (CCA).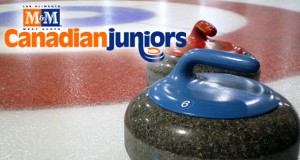 The Canadian championships will be contested at the Strathcona Paper Centre and Napanee & District Curling Club from February 4-12, 2012. Thirteen men's and 13 women's teams, representing the 10 provinces plus Northern Ontario, Northwest Territories and Yukon, will compete in the round robin, with games at both venues. The semi-finals and finals will be held at the Strathcona Paper Centre.
"It is with great pleasure that the Canadian Curling Association is announcing that the 2012 M&M Meat Shops Canadian Junior Curling Championships will be held in Napanee," proclaimed Greg Stremlaw, Chief Executive Officer of the Canadian Curling Association. "Napanee has done a wonderful job of hosting recent Provincial curling championships and has certainly earned the right to host a national event as part of the CCA's Season of Champions properties. I would also like to sincerely thank M&M Meat Shops for their continued support of the Canadian Juniors and being a first class partner to the CCA."
Alberta has won a leading 15 Canadian junior men's titles since 1950, when the championship began in Québec City, while Ontario has taken nine, the latest by skip Jake Walker of Kitchener last season in Sorel-Tracy, Quebec.
Saskatchewan has won a leading 10 Canadian junior women's titles since the championship began in 1971 in Vancouver, while Ontario has claimed three crowns, including a victory last season as well in Sorel-Tracy, by skip Rachel Homan of Ottawa. The men's and women's championships were contested separately until combined in 1987 in Prince Albert, Saskatchewan.
"We are proud to have the opportunity to encourage our Canadian junior athletes and to support up-and-coming curling talent," said Mac Voisin, Chairman and Founder of M&M Meat Shops. "As the title sponsor of the Canadian Juniors, I wish the Napanee host committee all the best in staging the 2012 M&M Meat Shops Canadian Juniors." The 2012 event will mark the seventh year of title sponsorship by M&M Meat Shops.
Ontario has previously hosted six Canadian junior men's and three Canadian junior women's championships, the latest in Sault Ste. Marie in 2008 and St. Catharines in 2007.
"We are thrilled to be hosting the 2012 M&M Meat Shops Canadian Juniors," said Stephen Paul, Host Committee Chair. "Napanee recently hosted a very successful 2010 Ontario Men's Tankard and we look forward to hosting this major Canadian curling championship. Thank you very much to the Canadian Curling Association for this wonderful opportunity."
"The Town of Greater Napanee is looking forward to hosting the best young Canadian curlers in February 2012. Our town is very excited and promise that the athletes, their families and curling fans will have a wonderful time in Napanee," added Gord Schermerhorn, Town of Greater Napanee Mayor.
The winners of the 2012 M&M Meat Shops Canadian Juniors go on to represent Canada at the World Junior Curling Championships. Canada has won a leading 16 world junior men's titles since 1975, the last by Alberta's Charley Thomas in 2007 and also a leading eight world junior women's crowns since 1988, the last by Saskatchewan's Marliese Miller in 2003.
The 2011-12 Season of Champions schedule confirmed to date is as follows:
2011 Canada Cup, November 30-December 4, Cranbrook, British Columbia
2012 World Financial Group Continental Cup, January 12-15, Langley, British Columbia
2012 M&M Meat Shops Canadian Juniors, February 4-12, Napanee, Ontario
2012 Scotties Tournament of Hearts, February 18-26, Red Deer, Alberta
Still to be announced are the sites for the 2012 Tim Hortons Brier and Ford World Women's Curling Championship.
The 2011 M&M Meat Shops Canadian Juniors take place in Calgary, at the North Hill Community Curling Club and The Glencoe Club, January 29-February 6, with TSN televising both the women's and men's finals. The winners will then represent Canada at the World Juniors in Perth, Scotland, March 5-13.
For further information:
Warren Hansen
Director, Event Operations and Media
Canadian Curling Association
[email protected]
604-329-9850
Stephen Paul
Host Committee Chair
2012 M&M Meat Shops Canadian Juniors
613-354-4883 ext 234
[email protected]