Pete Fenson and team to represent USA at 2011 Ford World Men's
Team USA will have a familiar face at the upcoming world championship as Pete Fenson of Bemidji, Minn., defended his team title with a perfect 11-0 record at the 2011 USA Curling National Championships at Scheels Arena in Fargo, North Dakota, February 12 – 19.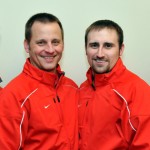 With the win, Fenson earned his seventh national title and second in a row. Fenson (Bemidji, Minn.) and teammates Shawn Rojeski (Chisholm, Minn.), Joe Polo (Duluth, Minn.) and Ryan Brunt (Bemidji, Minn.) will now represent the U.S. at the 2011 Ford World Men's Curling Championship. By winning his seventh overall title, Fenson is now tied with 1976 world champion Bruce Roberts for the most U.S. titles as a skip with five.