Saskatchewan's Jason Ackerman of Regina stole his way to a 3-0 record with an extra end win over Northern Ontario skip Mike Assad of the Fort William CC in Thunder Bay. Ackerman now shares the lead at the Canadian Mixed in Sudbury with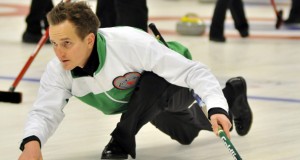 New Brunswick and Ontario.
In this morning's fourth round, Assad made a nice tap back for two points in the 7th end jumping out to a 4-1 lead.  Ackerman stormed back however, with a deuce in the 9th and a steal of one in the 10th forcing the extra end. In that 11th end, play was all in the four foot area and Assad needed to draw right to the button for the win. He was a shade heavy giving up the steal.
Ackerman joins New Brunswick's Sylvie Robichaud, who had a morning bye, and Ontario's Mark Homan who easily dealt with Nunavut's Ed Sattelberger 9-3.
In other fourth round action, Manitoba's Sean Grassie stunned Quebec's Martin Ferland 9-8. Down three points playing the 10th end, Grassie counted four points. With records of 2-1 are Grassie, Ferland, PEI's Brett Gallant and Alberta's Kurt Balderston. The Grande Prairie skip beat Newfoundland & Labrador's Gary Alcock 6-5.
Chris Sutherland of the Mayflower CC in Halifax hit the win column for Nova Scotia by virtue of an 8-5 defeat of NWT's Steve Moss.
BC's Doug Marshall and Yukon's Scott Hamilton also had morning byes. They sit at 0-2. Also winless with three defeats are the NWT, Newfoundland & Labrador and Nunavut.
Standings www.curling.ca/championships/mixed/draw-schedule/standings/
For complete results, visit the CCA's CurlCast www.curling.ca/championships/curlcast-1/
Draws continue throughout the week at the Sudbury Curling Club with game times each day – Saturday, November 12 to Thursday, November 17 – at 10:00 a.m., 2:30 p.m. and 7:00 p.m. The final draw is Friday, November 18th at 9:00 a.m. followed by playoffs leading to the championship final Saturday, November 19th at 1:30 p.m. (all times Eastern).