Nunavut's Ed Sattelberger hung tough with the round robin leader Alberta in the 12th draw of the Canadian Mixed curling championship in Sudbury. The winless Iqaluit skip was down three points playing the 9th end against Kurt Balderston only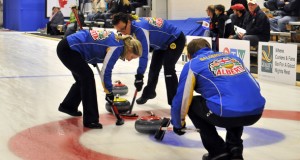 to give up a score of four and an 11-4 decision for Alberta.  The Grande Prairie CC representatives continue to lead this championship at 8-1 while Nunavut is winless at 0-8.
Close on Alberta's heels however, is New Brunswick's Sylvie Robichaud who stopped Newfoundland & Labrador's Gary Alcock 7-4 sliding into second place at 7-2.
Behind the leaders are a number of teams still in the hunt.
Manitoba's Sean Grassie stayed alive with a thrilling last end steal of one point against Saskatchewan's Jason Ackerman and an 8-7 victory. Grassie stays alive in his quest for a second Canadian title at 6-3 in a veritable logjam and a four way tie for third place with Ontario's Mark Homan, Quebec's Martin Ferland and Ackerman.
BC's Doug Marshall, who had an evening bye is alone in 7th place at 5-3.
NWT's Steve Moss, now 4-4, kept his playoff hopes alive with his fourth win in the last five games by upending Northern Ontario's Mike Assad 9-6. Assad is still alive at 5-4.
PEI's Brett Gallant saw his playoff hopes dashed, losing 9-3 to fellow Maritimer Chris Sutherland. PEI drops to 4-5 while NS earns their second win and now sit at 2-6.
Teams with the evening byes were BC (5-3), Ontario (6-3), Quebec (6-3) and Yukon (0-8).
Standings www.curling.ca/championships/mixed/draw-schedule/standings/
For complete results, visit the CCA's CurlCast www.curling.ca/championships/curlcast-1/
Draws continue throughout the week at the Sudbury Curling Club with game times each day – Saturday, November 12 to Thursday, November 17 – at 10:00 a.m., 2:30 p.m. and 7:00 p.m. The final draw is Friday, November 18th at 9:00 a.m. followed by playoffs leading to the championship final Saturday, November 19th at 1:30 p.m. (all times Eastern).