Nova Scotia through to Main Event
In a well played game, Nova Scotia's Brent MacDougall earned his ticket to the full round robin portion of the 2013 Canadian Mixed Curling Championship in Montréal stopping Steve Fecteau of the Yukon 8-5. A key score of three points in the 6th end was the turning point for the CFB Halifax CC skip. With teammates Christina Black, Kris Granchelli and Jane Snyder, MacDougall is Qualifier #1 from the pre-qualifying stage of the Canadian Mixed.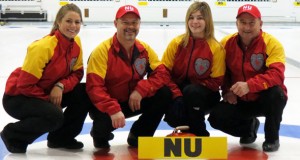 Fecteau will have another opportunity to earn his Whitehorse foursome a berth in the round robin when he faces Nunavut's Ed Sattelberger who upset Newfoundland & Labrador's Kenny Young 10-8. The Iqaluit skip stole two points in the second end and stole a single in the 3rd end to jump ahead 4-0 and 5-1 at the 5th end break. Young roared back with four in the 6th end and a steal of two in the 7th end for 7-5 lead. Unperturbed, Sattelberger counted three in the 8th end and two more in the 9th end to come home 10-7 eventually running NL out of stones. NL's Young has been eliminated from further competition. The sudden death match between the two Territories: Yukon and Nunavut, for the second qualifying spot will take place Friday, November 16th at 2:00 pm EST. The full robin robin of 12 teams will begin Saturday, November 17th at 6:30 pm.