Heading to the playoffs!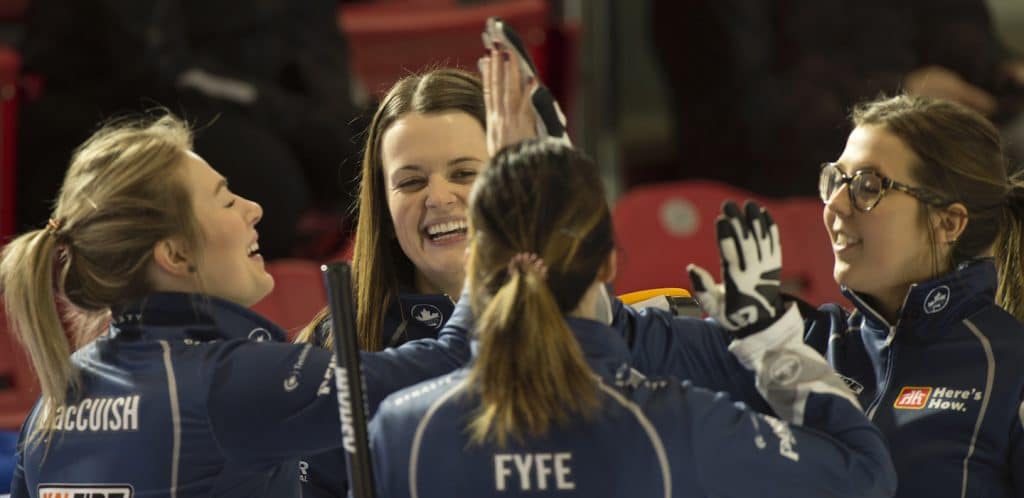 TEAM FLEURY EARNS ITS FIRST HOME HARDWARE CANADA CUP PLAYOFF BERTH
LEDUC, Alta. – The first one is the sweetest.
In a star-studded field at the 2019 Home Hardware Canada Cup, presented by Pioneer, Team Tracy Fleury of East St. Paul, Man., started the week in an underdog role.
After racking up win after win, including her final-game 8-5 decision over Casey Scheidegger's foursome out of Lethbridge, Alta., she ran her round-robin record to 5-1, clinching a playoff berth.
In other Draw 8 action Friday afternoon at Sobeys Arena: Chelsea Carey (4-2, Calgary) trimmed Robyn Silvernagle (0-5, North Battleford, Sask.) 4-3; Brad Gushue (3-2; St. John's, N.L.) tripled up Brad Jacobs (2-4; Sault Ste. Marie, Ont.) 6-2; Rachel Homan (4-1, Ottawa) edged Kerri Einarson (2-4; Gimli, Man.) 4-3; Kevin Koe (4-1; Calgary) beat Matt Dunstone (0-5; Regina) 8-3.
Fleury clinched a semifinal spot with a chance of a first-place finish should Homan be unable to fend off Jennifer Jones (2-3; Winnipeg) in Friday night's final round-robin draw. Carey also clinched a semifinal spot.
As an added bonus, Fleury's team earned a spot into the 2020 OK Tire & BKT Tires Continental Cup, presented by Service Experts Heating, Air Conditioning and Plumbing Jan. 9-12 in London, Ont. Her surprise berth was based on the Canadian Teams Ranking Systems points she earned this week, joining previously qualified Homan and Carey as Team Canada reps.
"I just found that out two minutes ago," said Fleury, supported by third Selena Njegovan, second Liz Fyfe and lead Kristin MacCuish. "That's news to us but it's exciting. We've never played in Continental Cup before, so we're really excited for the opportunity."
The playoff task here will be daunting for Fleury, who will be making her first playoff appearance in her third try against battle-hardened playoff opponents. Heading into this week, Fleury had just three wins in her first two appearances in the Home Hardware Canada Cup.
"We're feeling good and we're playing well," said Fleury. "I don't think it's just one thing. We're just making the right shots at the right time. Overall, being consistent."
Fleury struck first blood in her match against Team Scheidegger, with fill-in skip Cheryl Bernard, needing a measure to score a second-end deuce. She then made a spectacular angle-raise takeout for a killer deuce in the ninth.
"We knew it was there so we figured just throw it close and hope for the best," said Fleury. "Cheryl made a real nice shot on her last one to put us in that situation.
"It's a big accomplishment for us (to make the playoff round) and it was a big goal of ours. We're happy. In an event like this, it's just making the shots at the right time. In previous years, maybe it was just missing one here and there. All the teams as so good, it's easy to lose games here."
A win by Homan would give her team a bye to the final at noon (all times Mountain) Sunday. The women's semifinal goes at 7 p.m. Saturday.
"It's a really tough field to make it top three and we're really happy we clinched a playoff berth, but we'd like to make it to the final," said Homan.
The 2019 Home Hardware Canada Cup continues with a draw Friday at 7 p.m. (all times MST).
TSN/TSN2 and RDS2 will provide complete coverage of the Hardware Canada Cup. CLICK HERE for the complete schedule
The Home Hardware Canada Cup format calls for the men's and women's teams to play a three-day round robin, with the first-place teams advancing to their respective finals on Sunday, while the second- and third-place teams meet in semifinals on Saturday, after any required tiebreakers, to determine the other finalists.
For ticket information, as well as team lineups and the full event draw for the 2019 Home Hardware Canada Cup, go to www.curling.ca/2019canadacup/
The French version of this story will be posted as soon as possible at www.curling.ca/2019canadacup/?lang=fr