Big victory for Team Jacobs!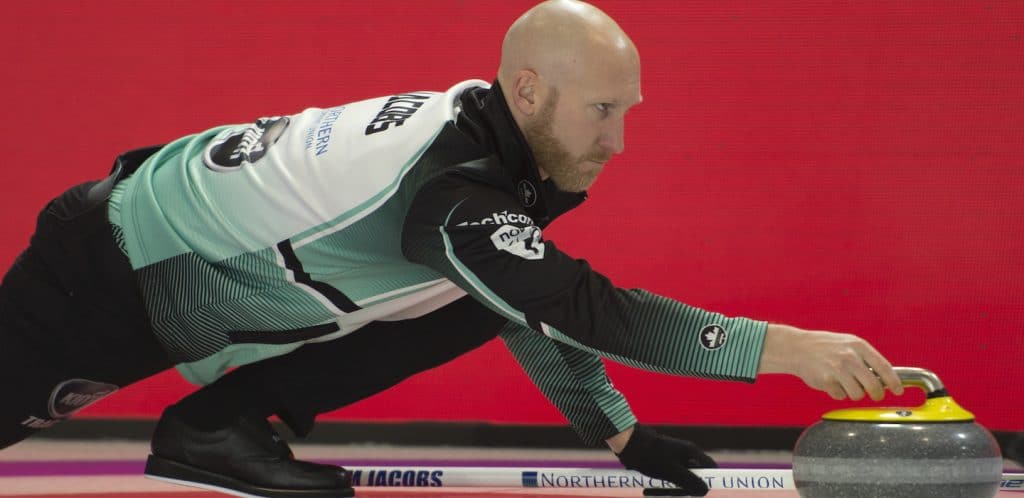 Grand Slam victory vaults Team Jacobs into top spot
Since the beginning of the 2019-2020 season, three men's teams have held the No. 1 spot on the World Curling Tour Order of Merit.
To start the season, it was Calgary's Kevin Koe in the top spot. After a hot start, Toronto's John Epping took over the position, with Koe, Edmonton's Brendan Bottcher, and Brad Jacobs (Sault Ste. Marie, Ont.) hot on his heels.
This weekend it was Jacobs's turn to take over the World No. 1 ranking, after winning the Grand Slam of Curling's Boost National in Conception Bay South, N.L. By defeating Sweden's Niklas Edin in the final, Jacobs took home $35,000 and 90.791 points.
The points, and the fact that Epping failed to qualify for playoffs, launched Jacobs, Marc Kennedy, E.J. Harnden, Ryan Harnden and coach Rick Lang into first place, by passing Epping, Koe, and Bottcher.
Bottcher and Koe both bowed out in the quarterfinals, earning $10,000 and 36.317 points. Brad Gushue (St. John's, N.L.) and Scotland's Bruce Mouat were semifinalists, earning $15,000 and 51.448 points.
The WCT Order of Merit is based on this season's best eight finishes and half of the previous season's points.
The women's rankings also got shaken up quite a bit. Before the weekend, the top four women's teams were separated by less than 16 points.
Sweden's Anna Hasselborg took home the top prize in Conception Bay South, earning $35,000 and 89.033 points, which moved her into first place. Kerri Einarson (Gimli, Man.) failed to reach the playoffs, which dropped her from the top spot to No. 4.
Tracy Fleury (East St. Paul, Man.) reached the semifinal earning 50.452 points and moving her into the No. 2 spot on the WCT list.
Winnipeg's Jennifer Jones, who lost the final to Hasselborg, earned 65.291 points, but still sits in the No. 6 spot. Ottawa's Rachel Homan failed to reach the playoffs and dropped from No. 3 to No. 5.
While owning the WCT's top spot is worth little more than bragging rights, the multiple leaders and tight battles for rankings shows that there is no clear favourite in either the men's or women's events these days. The rankings will also influence the seeding of upcoming cash events and future Grand Slam invitations.
Elsewhere:
In the China Open in Tianjin, the two Canadian entries were successful in reaching the playoffs with Kamloops, B.C.'s Corryn Brown advancing to the gold-medal game vs. South Korea's Chang-Min Kim. Winnipeg's Braden Calvert, meanwhile, lost a semifinal to Korey Dropkin of the U.S. and will face Qiang Zou (China) in the bronze-medal game.
Calvert will move from China to Japan for the Kariuzawa International, which begins Thursday. Bottcher and Calgary's Chelsea Carey will skip the other Canadian entries in the event.
At the Winter Deaflympics in Madesimo, Italy, Holly Jamieson's Canadian women's team from Edmonton is a win away from clinching a berth in Thursday's semifinals.
Jamieson, backed up by vice-skip Sally Korol, second Nyla Kurglowich, lead Susanne Bariant, alternate Sherry Clark and coaches Angie Turnbull and Taira Smiley, will carry a 3-2 record into Wednesday's round-robin finale against China (4-1), with a Canadian win nailing down a semifinal berth in the seven-team women's field.
The Canadian men's team, meanwhile, will miss the playoffs. Craig Waldbillig's B.C. team (vice-skip Dale Proctor, second Roger Chan, lead Raymond James, alternate Frank Chan, coaches Katie Witt and Barbara Zbeetnoff) opened the 11-team round-robin with four straight losses, but got back into contention with four straight wins, but has since lost two in a row to fall out of the playoff race. Canada will close out the Deaflympics on Wednesday against Italy.