Youthful Yukon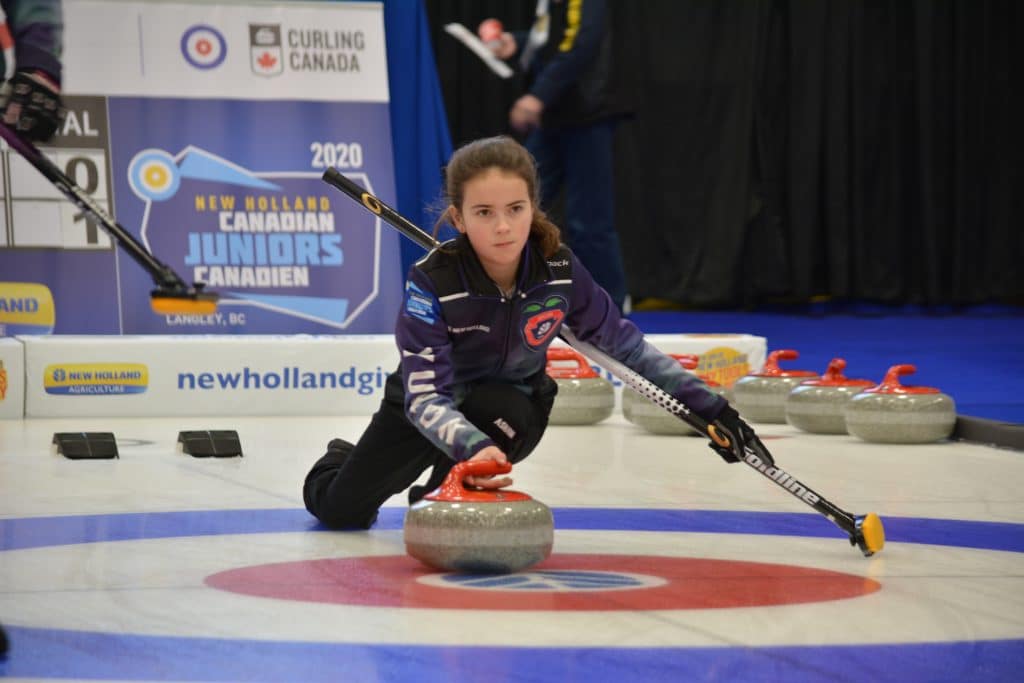 Youthful Yukon Finding Alternative Paths to Success
The 2020 New Holland Canadian Junior Championships takes on several different roles for each competing team. Some, aspiring for gold, will accept nothing short of a podium finish while others strive to improve by playing against the best competition that Canada has to offer.

For Team Yukon's Whitehorse Curling Club squadron of skip Bayly Scoffin, third Neizha Snider, second Taylor Legge, lead Dannika Mikkelsen and coach Sue Ross, the focus is not only on learning but on enjoying the process.

"We know we can learn a lot while we have fun on the ice," said skip Bayly Scoffin. "We really want to learn from our competitors."

Yukon's expectations at these Junior Championships are perhaps not as lofty as some teams, but that doesn't make their journey any less important. This Yukon team is the youngest overall in the women's field boasting an average age of 14.5 between the four players.

Lead Danika Mikkelsen is 13 years old, the youngest member of Team Yukon, and is playing in her first National Championship of her newly minted curling career. With only three years of experience, she welcomes the challenge of National competition.

"It's pretty good to be here. I don't see anyone here younger than me. This is my first really big event." said Mikkelsen.
The learning will come fast and furious for this young team, but all members are multi-sport athletes who have had success in other competition. Mikkelsen partakes in equestrian and is an active member of the Spirit Riders 4H club in Whitehorse while Second Taylor Legge is an accomplished volleyball player and is a member of HEAT Yukon volleyball club. Third Neizha Snider plays competitive volleyball and actually gave up competitive swimming to focus her attention on curling. Skip Bayly Scoffin has played competitive soccer for 13 years on top of curling.

Legge approaches curling a little differently, as she adopted the sport adopted curling purely out of interest whereas many youth curlers get their starts thanks to influences from their siblings or parents. She translates her experiences from competitive volleyball to the curling ice to assist her.

"I don't have as much guidance from my parents or my relatives as some curlers do," said Legge. "I've had to learn as I go, but they're helping me as well."

Legge's adoption of curling have actually influenced her father to begin coaching in curling, while her sister has also adopted the sport as her own and now plays regularly.

Skip Bayly Scoffin may be the only outlier on the team when it comes to family lineage. She comes from a curling family and her older brother, Thomas Scoffin who also represented Yukon, holds the Canadian Junior record for most appearances as a skip with seven and 33 total wins at this event, tying him with Alberta's John Morris.

"My brother and my parents have definitely helped me out with my curling a lot. The Sunday before we left for Langley, I went to practice with him and it helped me tremendously. Getting to watch my brother influenced me a lot," said Scoffin.

This young team will have big boots to fill at a national level going forward. Previous representatives of Yukon on the women's side, including Sarah Koltun who holds the Canadian Junior Women's record for total appearances with 8 and 31 career wins at this event, have found success as they graduated to women's play. Mikkelsen, the youngest member of the team, may have the best chance to chase Koltun's national appearances record.

"Maybe I can beat it? I'll try my best," said Mikkelsen.

Coach Sue Ross agrees that process and experience are far more important that the record on the win-loss board: "They've improved every game and they've handled some big losses with grace. I'm just so proud of them. They've put a lot of work in for this event."

Draw 5 would see Yukon fall to Saskatchewan's Ashley Thevenot (3-0; Saskatoon) by a score of 13-6, the lessons learned from each game are the victory they're seeking.

In other women's action, Ontario's Sierra Sutherland (2-1; Ottawa) suffered their first loss at the hands of Alberta's Abby Marks (2-1; Edmonton) by a score of 9-2. Newfoundland and Labrador's Mackenzie Mitchell (2-1; St. John's) defeated British Columbia's Kaila Buchy (1-2; Kimberly) 6-4. Nova Scotia's Taylour Stevens (3-0; Halifax) remained perfect after beating Prince Edward Island's Lauren Ferguson (0-3; Cornwall) 9-5.

On the men's side, Draw 5 saw Manitoba's Walter Brett (2-1; Winnipeg) defeat New Brunswick's Liam Marin (0-3; Saint John) 7-5. Alberta's Ryan Jacques (2-1; Edmonton) downed Saskatchewan's Rylan Kleiter (Saskatoon; 2-1) by a score of 7-6. British Columbia 1's Hayato Sato (3-0; New Westminster) defeated British Columbia 2's Johnson Tao (0-3; Richmond) in an all BC showdown by a score of 8-3.

Action resumes from the George Preston Recreation Centre in the Township of Langley, British Columbia at 7 p.m. PST for Draw 6 of the 2020 New Holland Canadian Junior Championships.

Additional Online Reports:
Men — Click here
Women — Click here