Curling's No. 1 fans!
for superfans boomer and gordon, curling is more than just a game
Boomer Reynen and his Grandfather Gordon could be Canada's biggest curling fans.

It's quite a title to vie for but the Surrey, B.C., pair are very much in contention. They continually travel western Canada to take in as many major championships together as possible after Boomer, now 15 and who was diagnosed with autism at the age of 10, fell in love with the sport as a young child.

That love of curling has now brought them to the Township of Langley, B.C., where they now sit in the stands for every draw of the 2020 New Holland Canadian Junior Championships.

"The game of curling means the world to me," said Boomer. "I remember seeing something on TV and wanting to learn more. Over time, I started learning more and more and everything just came to me. I love that I get to see the future curlers play today."

Boomer and Gordon's love for curling brought them closer than ever after Boomer's mother passed away at 39 after a bout with cancer and Gordon lost his wife to a brain aneurysm. Together, they never miss a single stone of the action from the first practice rocks to the final delivery of every event's draw.

"I now know so many things about the game that I thought I never would. The only thing left to do was to attend national championships. Thanks to my Grandpa, I get to do that now."

While Boomer doesn't curl much, he is fascinated by the intangible aspects of the game.

"I love the competition. I love the friendship," said Boomer. "I've been to two national championships, the Masters in Cloverdale, then I went to last year's Canadian Seniors in Chilliwack (B.C.) and met a whole bunch of people there," said Boomer.

Boomer is a notorious stat head and reads every curling publication available. His zest for curling and analytics was immediately noticed by fans and players alike at several competitions. Boomer, being quite a charmer, once even talked his way on the coaching bench at the Everest Canadian Senior Championships for Yukon's Pat Paslawski for a match versus Northern Ontario representative Al Hackner.

"I met a whole bunch of people there. I've met some of the greats such as Ben Hebert, Kevin Koe, Jennifer Jones and all those guys. Everyone has been so nice and I can't wait to see them again." said Boomer.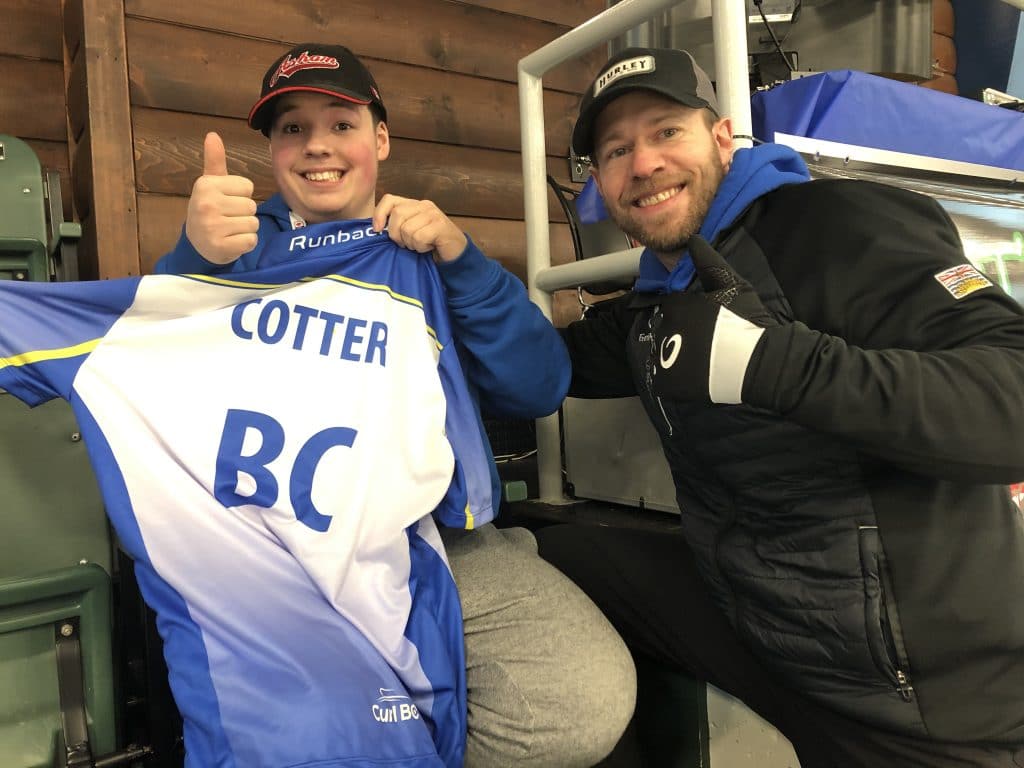 And see them again, he will. Boomer and Gordon are already gearing up to travel to the 2020 Women's World Championship, presented by Nature's Bounty Vitamins, March 14-22, at the CN Centre in Prince George, B.C. They also plan on attending the World Seniors and World Mixed Doubles in April in Kelowna, B.C.

They won't miss a single end of any of the events.

"I've planned ahead. In October, I'll be going to the Curlers Corner Autumn Gold Classic in Calgary, too," said Boomer, referring to a long-running World Curling Tour women's event that attracts the sport's top teams.

While Boomer and Gordon revel in the family bonds they've made at arenas and curling clubs all over Western Canada, Gordon fundamentally believes in the sport's power and has made several charitable contributions to events in the past.

"When we were in Chilliwack for the Seniors Championships, there was a special award for the Nunavut team but only one trophy. I donated some money to ensure each member of that team could receive a trophy to take home in recognition to their dedication to the sport, win or lose." said Gordon.

Gordon's meaningful contributions don't end at just hardware.

"The Autumn Gold Classic was having a little bit of trouble as well so I sponsored that event, which helped the players with some contributions as well," said Gordon.

Gordon has no interest in being made famous or receiving special treatment for his relentless generosity; he's just paying it forward.

"What I do is a payback to the curling community and the curlers for the friendship that they've shown my grandson Boomer. I know a lot of people who were especially kind to me as a youth, so I want to do the same for today's children."

At the 2020 New Holland Canadian Junior Championships, Gordon purchased and presented meal vouchers to each participant of the event, including players, alternates and coaches, supporting the event and participants who may be far from home.

"Maybe one day in the future they'll pay it forward, too," said Gordon. "It doesn't take much to make a difference."

Gordon called upon other businesses and community leaders to emulate his charitable kindness.

"Maybe some businesses will step up and help now too. Hockey, baseball and such; they all have tons of funding. Curlers deserve all the help they can get," said Gordon.

Boomer, meanwhile, continues to love the game at its raw core, no matter the host or magnitude of the event.

"I don't really have a favourite player but some of the nicest ones I've ever met are Ben Hebert and Chelsea Carey," said Boomer.

For Gordon, it's always been about family and the bonds that unite them.

"We've been invited to the 2021 Tim Hortons Roar of the Rings in Saskatoon, so we're really looking forward to that," said Gordon.

So are Boomer and Gordon Canada's biggest curling fans? They just may be, but don't expect any humility from Boomer on the topic.

"I am definitely Canada's biggest curling fan. You can't define a fan until you see me cheering at a curling game," concluded Boomer.

Draw 14 saw Championship Round action begin at the 2020 New Holland Canadian Junior Championships where fans at the George Preston Recreation Centre were treated to some of Canada's best young talent.

In the men's Championship Round, Saskatchewan's Rylan Kleiter (6-1; Saskatoon) improved his record with a 7-6 win over Prince Edward Island's Tyler Smith (5-2; Montague). Manitoba 2's Jacques Gauthier (6-1; Winnipeg) defeated Newfoundland and Labrador's Bruce Daniel (5-2; St. John's) by a score of 10-6.

In the men's seeding pool, British Columbia 2's Johnson Tao (3-4; Richmond) was felled by Northern Ontario's Jacob Horgan (3-4; Sudbury) by a score of 5-2 while Ontario's Owen Purdy defeated New Brunswick's Liam Marin (0-7; Saint John) 9-3.

In women's Championship Pool action, Nova Scotia's Taylour Stevens (6-1; Halifax) defeated Abby Marks of Alberta (5-2; Edmonton) by a score of 12-3. Manitoba's Mackenzie Zacharias (7-0; Altona) remained perfect downing Ontario's Sierra Sutherland (4-3; Ottawa) 8-3.

In the women's seeding pool, Northern Ontario's Kira Brunton (3-4; Sudbury) pulled out a 7-6 win over British Columbia's Kaila Buchy (3-4; Kimberly) while the Northwest Territories' Tyanna Banks (2-5; Inuvik) defeated Nunavut's Sadie Pinksen (1-6; Iqaluit) by a score of 9-7.
Additional Online Reports:
Men — Click here
Women — Click here