Manitoba 2 secures playoff berth
As the Championship Round continues at the 2020 New Holland Canadian Junior Championships, the playoff picture is gradually coming into focus.
Just this morning, Mackenzie Zacharias' Altona Curling Club rink of Manitoba secured a direct berth into the women's Gold Medal match on Jan. 26 at 9 a.m. (all times Pacific). Her opponent will be determined by the winner of the women's semi-final match on Jan. 25 at 11 a.m.
On the men's side, Manitoba 2's Jacques Gauthier, comprised of third Jordan Peters, second Brayden Payette, lead Zack Bilawka, and coach John Lund, secured a playoff berth with a decisive 6-2 victory over Alberta's Ryan Jacques (4-4; Edmonton) in draw 17 action to improve to an 8-1 record.
While first overall in the men's Championship Pool and the subsequent direct berth to the Gold Medal match is still up for grabs between Gauthier and Saskatchewan's Rylan Kleiter (7-1; Saskatoon), Gautier and company are now guaranteed at minimum a berth in the semi finals on Jan. 25 at 4 p.m.
Gauthier feels as though his team is primed and ready to perform as the playoffs loom.
"It's awesome. It feels really cool to come here and perform like we have," said Gauthier.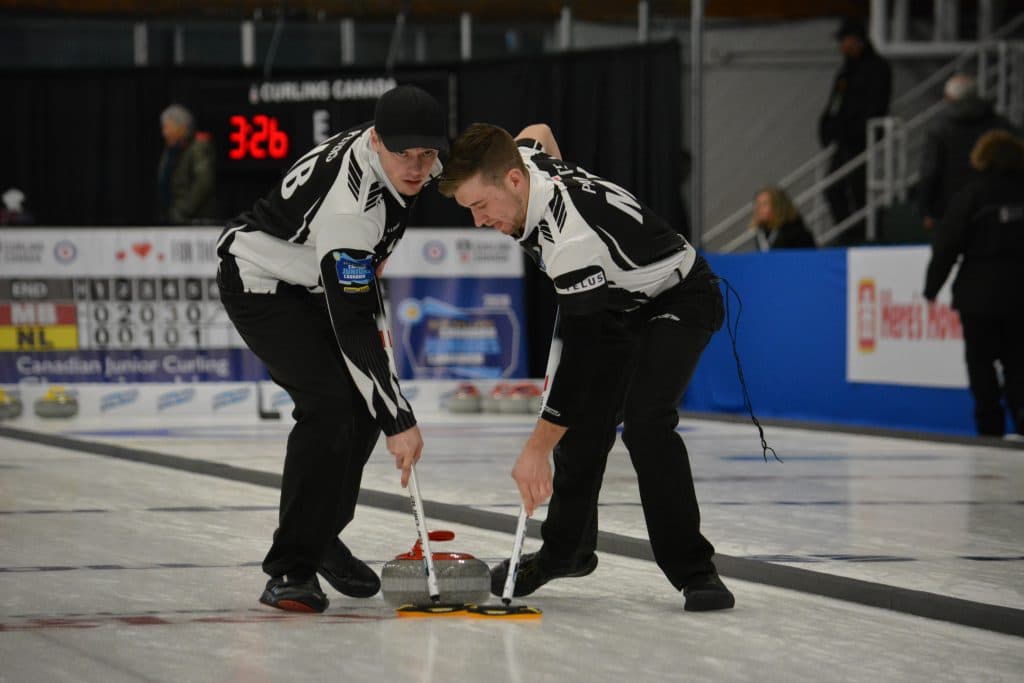 Gauthier credits a Draw 6 blow-out loss to Nova Scotia's Graeme Weagle (4-4; Chester) to his team's renewed sense of focus and determination.
"We could have hung our heads after that big loss to Nova Scotia. Instead, we decided to build off of that but there's still more work to do," said Gauthier.
The formula for the Assiniboine Memorial Curling Centre foursome has been to remain consistent and the wins will follow.
"We're staying patient. We're really good with hammer and if we can crack a quick two early, we can get a leg up. Even if we just get a single (with hammer), we'll wait for a miss to capitalize on. Everyone is human and someone will miss eventually. When that door opens? We'll take advantage of it," said Gauthier.
The men's Gold Medal match is slated for Jan. 26 at 2 p.m.
In other men's Championship Pool play, Newfoundland and Labrador's Daniel Bruce (7-2; St. John's) defeated Nova Scotia's Graeme Weagle (4-4; Chester) by a score of 5-4.
In the men's seeding pool, Ontario's Owen Purdy (5-4; Kingston) improved his record with a win over Québec's Greg Cheal 13-5 while the Northwest Territories' Sawer Kaeser (1-7; Fort Smith) found the win column defeating Northern Ontario's Jacob Horgan (3-6; Sudbury) 7-6.
In women's Championship Pool play, Manitoba's Mackenzie Zacharias (9-0; Altona) remained perfect with a 12-4 win over Newfoundland and Labrador's Mackenzie Mitchell (4-4; St. John's). Québec's Noémie Gauthier (5-3; Kenogami) defeated Ontario's Sierra Sutherland (5-4; Ottawa) 10-5.
In women's seeding pool play, Prince Edward Island's Lauren Ferguson (2-6; Cornwall) downed the Northwest Territories' Tyanna Banks (2-7; Inuvik) 7-2 while Northern Ontario's Kira Brunton (5-4; Sudbury) felled Yukon's Bayly Scoffin (0-8; Whitehorse) by a score of 10-3.
The 2020 New Holland Canadian Junior Championships will resume from the George Preston Recreation Centre in the Township of Langley at 7 p.m. for Draw 18.