The heat is on!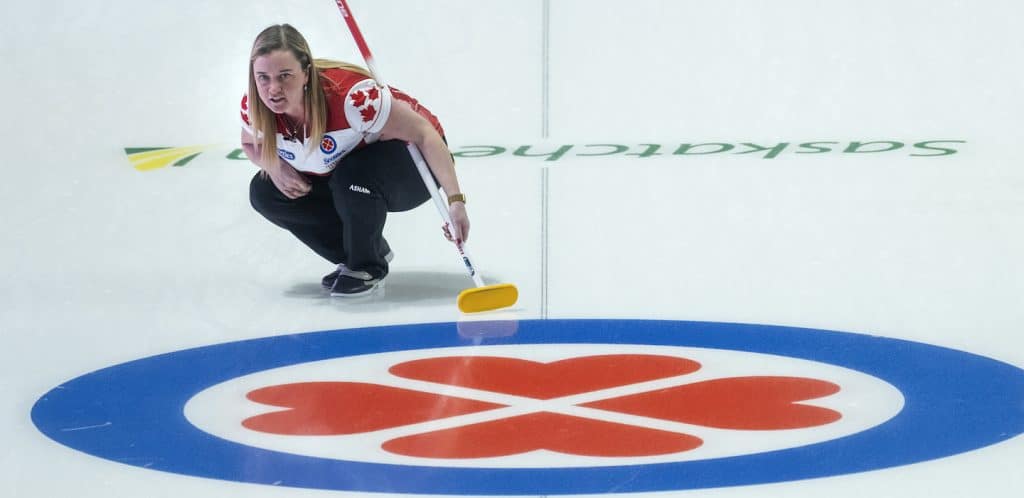 TIEBREAKERS SET TO DETERMINE FINAL CHAMPIONSHIP POOL BERTHS
MOOSE JAW, Sask. — Those who succeed, who you remember, instinctively understand the moment can never become too big or too overpowering.
"You know what?'' said Krista McCarville, having only minutes earlier steered Northern Ontario team into the 2020 Scotties Tournament of Hearts championship pool. "I love curling. Love it.
"But curling is not my life. My life is my family, my life is my teaching, my life is my home, my life is being in Thunder Bay.
"But curling is what I love to do. Our team is great. We enjoy curling and each other. So why not come out and have fun doing it?
"That's who I am. Whatever happens, happens. That's the way I think. And I really do think that perspective helps."
Unfazed by the magnifying-glass pressure of the moment, a final-stone bullseye wielding the hammer from McCarville in an extra end prodded the Thunder Bay-based foursome Northern Ontario past host Saskatchewan 4-3.
"Usually I'm so, like, nervous, uptight,'' confessed McCarville. "But today I just felt really … good. And that's the feeling I want going into the championship round."
The loss dropped Saskatchewan into one of two 8 a.m. (all times Central) tiebreakers, against New Brunswick's Andrea Kelly (Oromocto), both finishing 4-3 in the Pool A round robin.
Manitoba's Kerri Einarson (Gimli, 6-1), finishes tops in Pool A, followed by Northern Ontario (5-2), and Team Canada's Chelsea Carey (Calgary, 4-3).
Meanwhile, the three confirmed participants in Pool B are Rachel Homan of Ontario (Ottawa, 6-1), Jennifer Jones and Team Wild Card (Winnipeg, 6-1) and Prince Edward Island skipped by Suzanne Birt (Montague, 5-2). Nova Scotia's Mary-Anne Arsenault (Halifax) faces B.C.'s Corryn Brown (Kamloops) in a Pool A tiebreaker alongside the Saskatchewan-New Brunswick tussle.
The difficult defeat can't linger long on the minds of any of the Saskatchewan crew from North Battleford.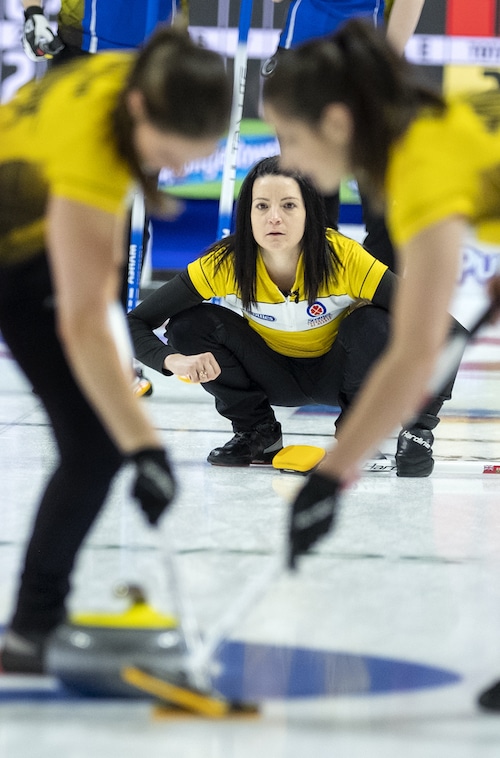 "I'm the kind of person that when the game is over I leave it on the ice. It's done,'' said Saskatchewan second Jessie Hunkin. "So we can't sit there and criticize, shoulda done this/coulda done this. We just move on forward and just focus on tomorrow.
"We're not going home. We still have a chance. So we'll be ready to fire at 8 a.m. There wasn't anything crazy (Wednesday). Some opportunities we didn't take advantage of, a couple chances to deuces and we kind of wind on a shots. Just off a little bit and it just showed up. That's all. We still played a great game."
Saskatchewan now, though, must deal with a very quick turnaround, given the 9:45 p.m. finish of the Northern Ontario fixture and the early tiebreaker start time.
"We train for stuff like this,'' countered Hunkin. "We're mentally tough. It's more a matter of just getting the rest and focusing on what we need to do tomorrow."
In other closing 6:30 p.m. Pool A games, Manitoba eliminated Laura Walker and Alberta (Edmonton, 3-4) by an 8-5 count; New Brunswick clinched the tiebreaker with a 7-5 decisioning of Team Canada, while Lori Eddy's popular Nunavut team from Iqaluit (2-5) handed Noémie Verreault and Quebec (Chicoutimi/Glenmore/Trois-Rivieres) a seventh straight loss, 7-6.
The 2020 Scotties Tournament of Hearts continues with the two tiebreakers at 8 a.m., followed by championship pool draws at 12:30 p.m. and 6:30 p.m. (all times CST).
Live scoring, standings and statistics for the 2020 Scotties Tournament of Hearts are available at www.curling.ca/scoreboard/
TSN and RDS2 (streamed on ESPN3 in the United States) will provide complete coverage of the 2020 Scotties Tournament of Hearts. CLICK HERE for the complete schedule.
For ticket information for the 2020 Scotties Tournament of Hearts, go to www.curling.ca/2020scotties/tickets/
This story will be available in French as soon as possible at www.curling.ca/2020scotties/nouvelles/?lang=fr