No risk, no reward!
Gushue's challenging ninth-end blank leads to final-end cash-in
KINGSTON, Ont. – Blank ends are not often looked at as game-changing situations, but a decision to blank the ninth end on Monday evening led to Brad Gushue's 7-6 win over Brad Jacobs of Northern Ontario at the Tim Hortons Brier, presented by AGI.
It may have been, Gushue agreed, the best blank end of his career.
"Can't think of (another) one off the top of my head…we usually don't blank a lot of ends," the two-time Tim Hortons Brier champion said after the win that improved his record to 3-1 and kept him near the top of the standings in Pool B.
"If we draw for one, we lose 90, 95 per cent of the time," Gushue said of his reasoning to attempt a difficult thin double-takeout on his final stone in the ninth for a blank end. "We felt we had to go for the blank and maintain the hammer. The margin of error is about half an inch on a shot like that…it was pretty precise. It's tough to throw, it's tough to look at, it's tough to call, but fortunately we made it."
The blank allowed Gushue, third Mark Nichols, second Brett Gallant, lead Geoff Walker, alternate Jeff Thomas and coach Jules Owchar of St. John's to retain hammer at Leon's Centre, and they cashed in during the 10th end to score the winning deuce.
Gushue had a hack-weight hit-and-stick for two after Jacobs was thin on a tough double-takeout that left one Newfoundland & Labrador stone in the back 12-foot.
"Missed my last one there, gave him a shot for two and on to tomorrow," said a disappointed Jacobs. "I think we picked the right one, just didn't make the shot, hit it a little too thick."
Gushue was surprised Jacobs even tried the shot.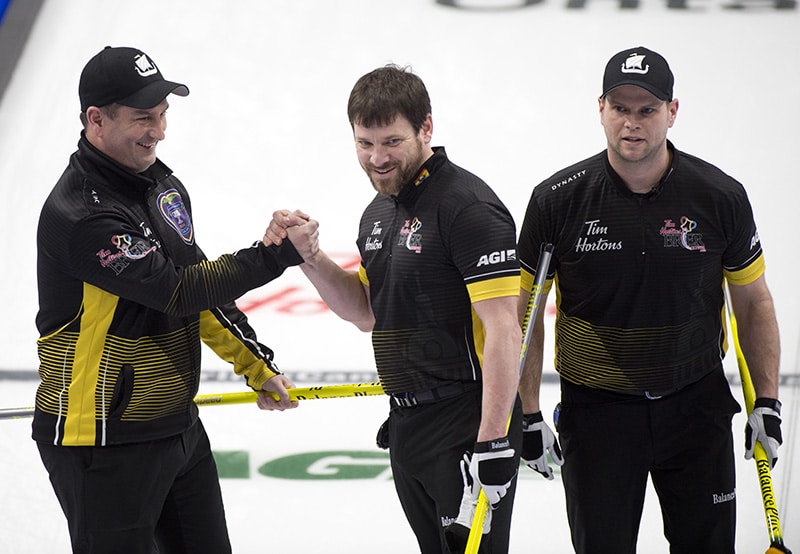 "I was really happy he played the in-off," he said. "I was actually shocked. My rock slid a foot too far and I thought he could have played an in-turn or out-turn tap, a little freeze. I thought they were easier shots than the one he took on and fortunately he over-curled for us."
But tonight's finish was totally different from the beginning. Jacobs, third Marc Kennedy, second E.J. Harnden, lead Ryan Harnden, alternate Lee Toner and coach Rick Laing (Sault Ste. Marie, 1-3) scored four in the first end. But Newfoundland & Labrador came right back with three of its own in the second end.
"We made seven shots in the first end, they just made eight," said Gushue. "We followed it up with a great second end and the three got us back in the game. Wow, incredible. Anybody who said yesterday was a boring game they can take that one."
After the two Olympic champions tried knockout punches in the early ends, they settled into a strategical battle that saw Newfoundland & Labrador score two in the fifth end, Northern Ontario counter with one in eight and four ends blanked.
The loss for Northern Ontario puts them in a precarious position going into the final two days of play during the pooled round robin. The top four teams in each of the two pools advance to the Championship Pool and Jacobs and company find themselves sitting sixth of eight in Pool B.
It was a great night for fans at the 2020 Tim Hortons Brier with six of the top eight teams on the Canadian Team Ranking System on the ice, eight Olympic gold-medallists and 14 Tim Hortons Brier champions.
Defending champion Kevin Koe and Team Canada (Calgary, 3-1) rolled past Thomas Scoffin of Yukon (Whitehorse, 0-4) 10-2; Brendan Bottcher of Alberta (Edmonton, 4-0) scored one in an extra end to nip Jason Gunnlaugson of Manitoba (Morris, 2-2) 7-6 to remain atop the Pool B standings; and James Grattan of New Brunswick (Oromocto, 2-2) stunned previously unbeaten John Epping of Ontario (Toronto, 3-1) 7-4.
The 2020 Tim Hortons Brier continues with draws Tuesday at 9 a.m., 2 p.m. and 7 p.m. (all times ET).
Live scoring, standings and statistics for the 2020 Tim Hortons Brier are available at curling.ca/scoreboard.
TSN and RDS2 (streamed on ESPN3 in the United States) will provide complete coverage of the 2020 Tim Hortons Brier. CLICK HERE for the complete schedule.
For ticket information for the 2020 Tim Hortons Brier, go to www.curling.ca/2020brier/tickets.
This story will be available in French as soon as possible at www.curling.ca/2020brier/?lang=fr