Epping moves on!
Second-half comeback elevates Ontario to Championship Pool
KINGSTON, Ont. — John Epping and Team Ontario are still alive at the Tim Hortons Brier, presented by AGI. But it wasn't easy and it took a last-rock take-out to score four in the 10th end for an 11-8 win over Jamie Koe of the Northwest Territories (Yellowknife, 2-5) on Wednesday evening.
That gave Ontario a 4-3 record, good for fourth place in Pool A and moves Team Epping into the Championship Pool. Also advancing out of the pool is Mike McEwen's Team Wild Card (West St. Paul, Man.) and Matt Dunstone of Saskatchewan (Regina), with both teams topping the pool at 6-1, while defending champion Kevin Koe and Team Canada (Calgary) secured the third spot at 5-2.
Three straight losses had put Epping and teammates Ryan Fry at third, Mathew Camm at second, Brent Laing at lead, alternate John Morris and coach Jim Wilson in danger of not advancing to the Championship Pool. And in a must-win game on Wednesday evening, they fell behind the Northwest Territories 5-1 after three ends.
Then Epping, who personally had struggled in his team's recent losses, executed an angled raise take-out to score three in the fourth end to spark their comeback.
"Definitely the shot that kept us in the game and gave us a chance of going into the Championship Pool," Epping said. "They played an unbelievable first three, four ends and everything seemed to go their way. We felt if we kept plugging away, something's got to give and go to us, and it did. We played a good last half."
Ontario stole one in six, scored two in eight and the winning four in the10th end.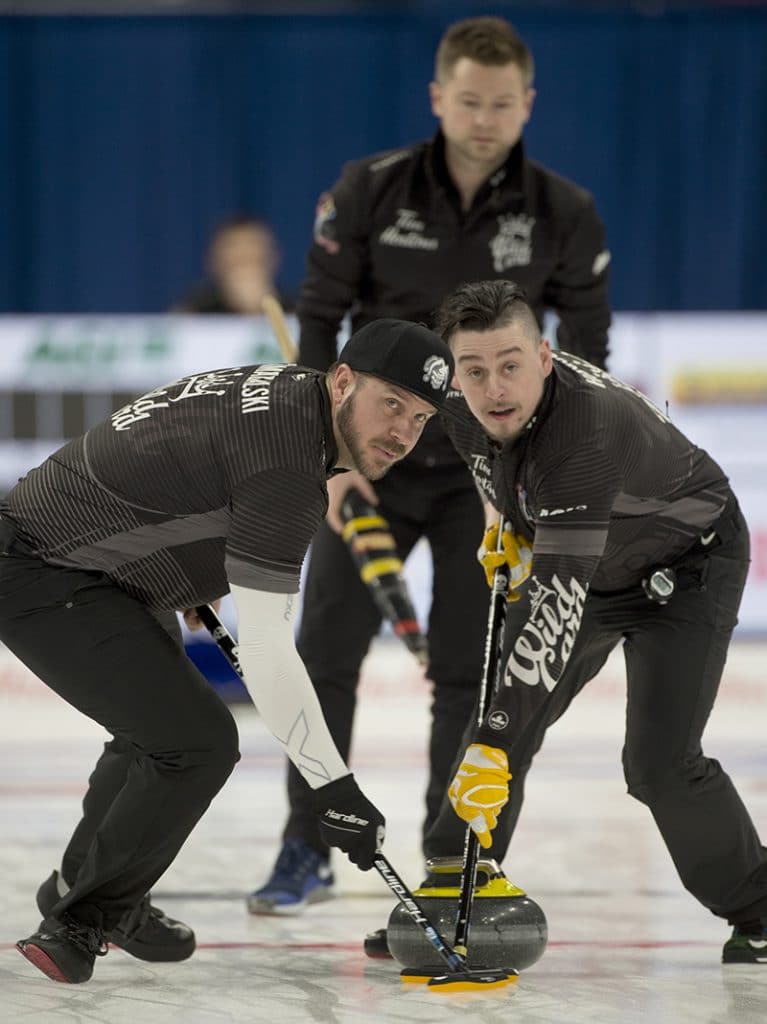 One sheet over, James Grattan of New Brunswick (Oromocto, 3-4) fell 9-4 to Wild Card, which opened the door for Ontario to advance.
"We got (a break) this morning when Northwest Territories beat New Brunswick and then we played a pretty good game tonight," added Epping. "It was a slippery slope there for those three games and to rebound, especially down 5-1 shows the character of this team. Easily could have folded and hung our heads down, but we really want to be here for the next couple of days."
Dunstone and his team of third Braeden Moskowy, second Catlin Schneider, lead Dustin Kidby and coach Adam Kingsbury threw up two three-enders and a four-ender en route to a 12-3 win over Thomas Scoffin of Yukon (Whitehorse, 0-7).
Koe, third B.J. Neufeld, second Colton Flasch, lead Ben Hebert, alternate Ted Appelman and coach John Dunn cracked a four-ender in the sixth and went on to beat Steve Laycock of British Columbia (Vernon/Kelowna, 2-5) by score of 9-3.
In the earlier afternoon draw, all spots in Pool B were determined with Brendan Bottcher of Alberta (Edmonton, 7-0), Brad Gushue of Newfoundland & Labrador (St. John's, 6-1), Jason Gunnlaugson of Manitoba (Morris, 5-2) and Brad Jacobs of Northern Ontario (Sault Ste. Marie, 4-3) advancing to the Championship Pool.
The 2020 Tim Hortons Brier continues with draws Thursday at 1 p.m. and 7 p.m. (all times ET).
Live scoring, standings and statistics for the 2020 Tim Hortons Brier are available at curling.ca/scoreboard.
TSN and RDS2 (streamed on ESPN3 in the United States) will provide complete coverage of the 2020 Tim Hortons Brier. CLICK HERE for the complete schedule.
For ticket information for the 2020 Tim Hortons Brier, go to www.curling.ca/2020brier/tickets.
This story will be available in French as soon as possible at www.curling.ca/2020brier/?lang=fr