On to the semifinal!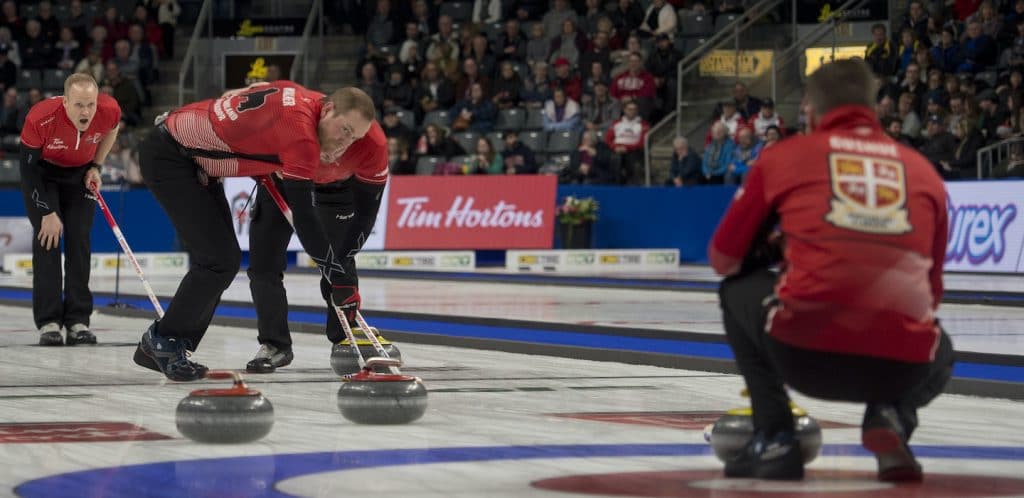 NEWFOUNDLAND/LABRADOR PREVAILS IN TIM HORTONS BRIER PAGE 3-4 PLAYOFF
KINGSTON, Ont. – Brad Gushue of Newfoundland/Labrador got a surprising steal of one in the ninth end and that was enough of a margin to send him to a 7-4 win over Brad Jacobs of Northern Ontario and move on to the semifinal at the 2020 Tim Hortons Brier, presented by AGI.
In a game that featured superb shooting by both teams, it was a narrow miss on a short runback take-out in the ninth end by Jacobs – generally a routine shot for him — that gave Newfoundland/Labrador the steal and a 6-4 lead going into the 10th end. Make the shot and Northern Ontario would have counted two and had the lead going into the final end.
Gushue, third Mark Nichols, second Brett Gallant and lead Geoff Walker, alternate Jeff Thomas and coach Jules Owchar controlled the final end, forcing Jacobs to try an extremely difficult, and perhaps not even makeable, double takeout with last stone that failed.
Seeking a third Tim Hortons Brier championship, Gushue will now play Matt Dunstone of Saskatchewan (Regina) in the semifinal Sunday at noon (all times Eastern) with the winner moving on to play Brendan Bottcher of Alberta (Edmonton) in the 7 p.m. gold-medal game.
Bottcher had beaten Dunstone 9-4 in the Page 1-2 game earlier Saturday to win his spot in the championship game for the third straight year.
"They played against us last night and I expect them to do it again tomorrow," Gushue said of the Saskatchewan team that beat him 6-5 in the final draw of the Championship Pool.
"Hopefully we can control those angle raises and runbacks that he likes to play."

The Page 3-4 game, before another packed Leon's Centre crowd, was a game that saw both teams take turns forcing the other into taking singles with hammer through the first four ends and then trading deuces in five and six.
In keeping with the theme of the extremely high level of shotmaking that has been the talk of the competition, the two teams put on a demonstration of "whatever you can do I can do better."
Yet it was the few misses that both skips talked about later, especially the one by Jacobs in the ninth.
"There are so few of them, you curl 90 per cent in these games and you can lose so you don't talk about the 90 per cent you make, you kind of harp on the 10 per cent you miss," said Gushue. "A lot of the times it's how you miss those 10 per cent."
Like the ninth end, where Newfoundland/Labrador allowed Northern Ontario to set up the opportunity to score two and take the lead.
"What a terrible ninth end we played," said Gushue. "Fortunately we made a hit and roll on the last and got a miss from Brad. That's typically the way our games go … we always have those battles. We knew it was going to come down to the last rock and it did."
Jacobs, the 2013 Tim Hortons Brier Brier champion, said the miss is not one that will haunt him.
"No, you know the shot isn't going to bother me," he said. "There are always going to be shots in the sport of curling, great ones, ones you want to have back, but as I said I'm really proud of my guys, proud we were able to stick together through thick and thin."
It was the third game of the day for Jacobs, third Marc Kennedy, second E.J. Harnden, lead Ryan Harnden, alternate Lee Toner and coach Rick Lang, although they showed little sign of fatigue.
"Fatigue was never a factor," said Jacobs. "It was a roller-coaster ride this week, but we battled hard, did everything we could to get ourselves back in this and even though it wasn't meant to be this year I think we're going to come out of this a lot stronger."
The team beat defending champion Kevin Koe and Team Canada (Calgary) 8-3 in the first round of tiebreakers and then defeated John Epping of Ontario (Toronto) 8-4 in the second round.
While Northern Ontario was throwing and sweeping through 18 stressful ends, Gushue and his long-time teammates were resting, having earned their spot in the Page 3-4 game by finishing third in the round robin with an 8-3 record.
Live scoring, standings and statistics for the 2020 Tim Hortons Brier are available at curling.ca/scoreboard.
TSN and RDS2 (streamed on ESPN3 in the United States) will provide complete coverage of the 2020 Tim Hortons Brier. CLICK HERE for the complete schedule.
For ticket information for the 2020 Tim Hortons Brier, go to www.curling.ca/2020brier/tickets.
This story will be available in French as soon as possible at www.curling.ca/2020brier/?lang=fr