Stealing their way to victory!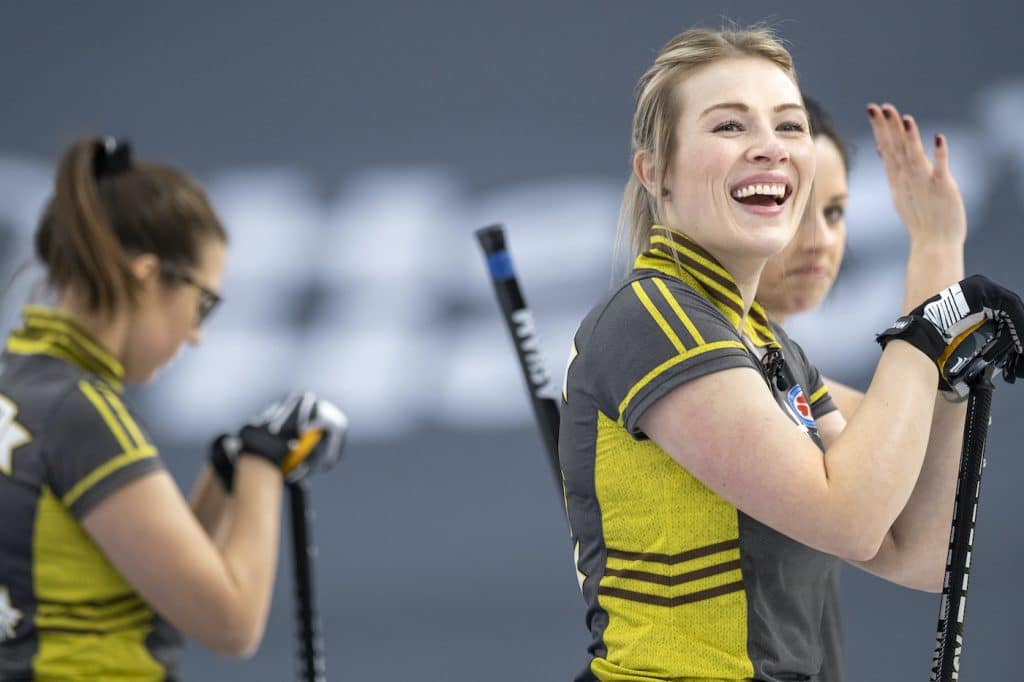 Team Wild Card #1 makes off with big win in Saturday night showdown
An all-Manitoba showdown came down to a simple case of theft on Saturday night at the 2021 Scotties Tournament of Hearts.
In fact, both teams on the ice at the Markin MacPhail Centre at WinSport's Canada Olympic Park in Calgary — skipped by Manitoba's Jennifer Jones (Winnipeg) and Team Wild Card #1's Chelsea Carey (East St. Paul) — were in a stealing mood as over the first six ends, only a single point was scored with last-rock advantage. Six other, on the other hand, were stolen.
And it was Carey's team doing by far the better job of it, and it paid off with an 8-2 win over Manitoba. With the win, Carey, vice-skip Selena Njegovan, second Liz Fyfe, lead Kristin MacCuish, alternate Clancy Grandy and coach Sherry Middaugh improved to 2-0, while Manitoba dropped to 1-1
"I don't mind playing teams like that early in the week," said Carey, a two-time Scotties champ who stepped in at skip in place of Tracy Fleury, who elected to stay home with her young daughter. "You're going to lose some games somewhere, and a lot of teams are going to lose to a team like that. So I've always liked playing really good teams early; plus it makes you sharper, it sets the bar for your team for where you have to be early."
It was Jones — who is chasing her record seventh Scotties Tournament of Hearts title (she shares the record with former teammate Jill Officer as well as Colleen Jones) — who opened the game with a steal, one in the first end.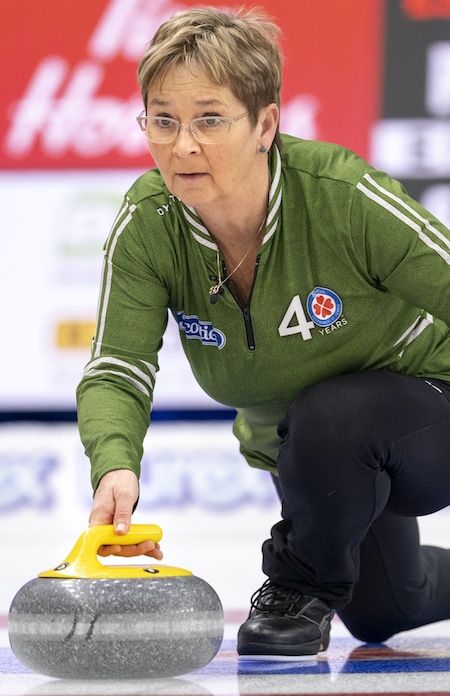 But after using last-rock to knot the game in the second with one, Team Wild Card #1 unleashed the thievery — two in the third end and single points in the fourth, fifth and sixth ends — before Manitoba (the team is rounded out by vice-skip Kaitlyn Lawes, second Jocelyn Peterman, lead Lisa Weagle, alternate Raunora Westcott and coach Viktor Kjell) ended the string with one in the seventh. But an eighth-end deuce from Team Wild Card #1 ended the game.
"They were just getting different reactions (to the ice) than we were," suggested Carey. "I think it was a bit surprising to them, where they thought their shot was looking good and something would really curl. And the shots she had to throw for single points were hard, too. That's just the way the ends worked in our favour."
Considering the talent level on Team Wild Card #3, a 2-0 start shouldn't surprise anyone, although a change at skip — even when bringing in as talented a player as Carey — can have a profound effect on a team.
"I think we knew we were capable of it (2-0 start), but because I'm coming in new, I think it was important for us to get off to a good start," said Carey. "We weren't so concerned about winning or losing that game; it was more just about feeling like we're getting better every game. I feel like we did that."
In the other evening assignments, Prince Edward Island's Suzanne Birt (Montague/Cornwall) completed a two-win day with a 12-4 triumph over New Brunswick's Melissa Adams (0-2; Fredericton); Saskatchewan's Sherry Anderson (1-1; Saskatoon) bounced back from a disappointing loss in the morning draw with a 9-3 victory over Nunavut's Lori Eddy (0-2; Iqaluit); and Quebec's Laurie St-Georges (1-1; Laval) prevailed 9-5 over B.C.'s Corryn Brown (0-1; Kamloops).
The 2021 Scotties Tournament of Hearts continues on Sunday with draws at 10:30 a.m., 3:30 p.m. and 8:30 p.m. (all times Eastern).
Live scoring, standings and statistics for the 2021 Scotties Tournament of Hearts are available at www.curling.ca/scoreboard/
TSN and RDS2 (streamed on ESPN+ in the United States) will provide complete coverage of the 2021 Scotties Tournament of Hearts. CLICK HERE for the complete schedule.