New lineup earns victory!
New skip leads Nova Scotia to first win at Tim Hortons Brier
Normally, the getting-to-know-you process for a curling team welcoming a new player takes place pre-season with a team get-together, such as a barbecue with a few pops.
It doesn't, suffice it to say, happen very often during the opening weekend a national championship.
But that's the situation for Team Nova Scotia at the 2021 Tim Hortons Brier, presented by AGI, as vice-skip Paul Flemming, second Scott Saccary and lead Phil Crowell needed to find a new skip for their Halifax-based team after Jamie Murphy declined the opportunity to play in Calgary due to his work commitments and the quarantine requirements related to the COVID-19 pandemic.
Enter Scott McDonald, who skipped Ontario to a respectable 6-5 record in his Tim Hortons Brier debut in 2019 at Brandon, Man.
"We were really fortunate to get Scott; there are so many good teams that are in this, and Scott's team was almost in it themselves," said Flemming. "So for Scott to be available, we were really fortunate. Obviously, it was tough for Murph; he had to make a difficult decision, but it was a decision we all respected. We moved on, and we were super happy to get Scott. He didn't hesitate at all, and it was a very comfortable feeling for everybody.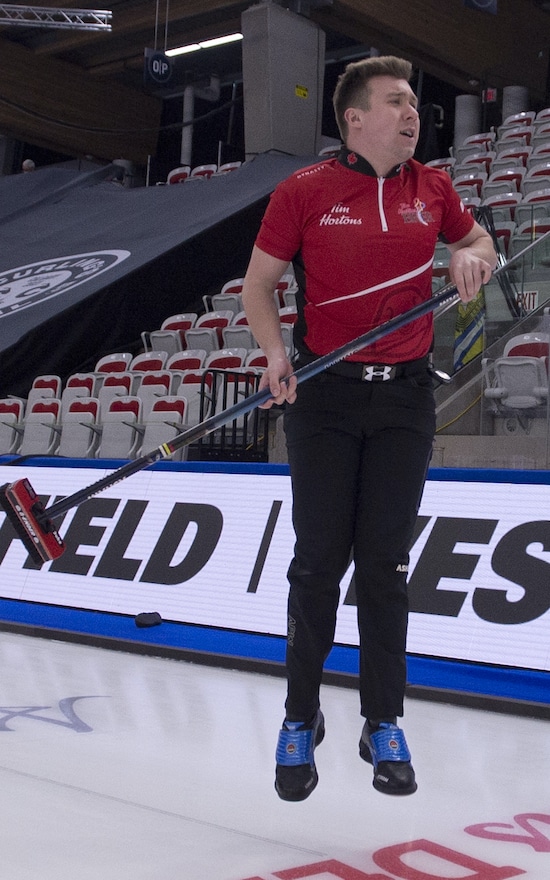 A few phone calls later, and a cross-country trip, McDonald was on the ice for the first time with his new teammates for practice day Thursday at WinSport Arena at Canada Olympic Park in Calgary.
And two days later, the team was celebrating its first victory — an 11-4 triumph over P.E.I.'s Eddie MacKenzie (0-1; Crapaud/Montague) that evened Nova Scotia's record at 1-1.
"The first couple of games — certainly it's a feeling-out process for all of us," said McDonald, whose team lost its opener 7-4 to Team Wild Card #2's Kevin Koe on Friday. "Stepping on the ice together for the first time, as much preparation as you do, it's difficult because you're seeing how each other reacts in real time, and you haven't seen that before. The first game was certainly an experiment, but we really hit our groove in that second game."
They did indeed; the Nova Scotians (alternate Kevin Ouellette rounds out the lineup) put deuces on the scoreboard in the first and third ends, and took control by stealing one in the fourth end and four more in the fifth.
More importantly, the team clicked up and down the lineup, shooting 89 per cent collectively, with Flemming at 94 and McDonald at 92 leading the way.
"Getting a win is always important the early part of the week," said McDonald. "More important, I think, is making a lot of shots out there. We didn't just get a win handed to us; we went out there and controlled our own destiny. From the first rock, we were making a lot of shots, and a lot of precise shots. That gives us a lot of confidence for the rest of the week."
In other Saturday afternoon action, Team Wild Card #2 (2-0; Calgary) was pushed hard before pulling out a 7-6 win over Newfoundland/Labrador's Greg Smith (0-2; St. John's); Ontario's John Epping (1-1; Toronto) stole single points in the eight and ninth ends, and two more in the 10th for a 6-3 win over Saskatchewan's Matt Dunstone (1-1; Regina); and Team Canada's Brad Gushue (2-0; St. John's) picked up an 11-7 win over Quebec's Mike Fournier (1-1; Montreal).
The 2021 Tim Hortons Brier continues Saturday with the evening draw at 8:30 p.m. (all times Eastern).
Live scoring, standings and statistics for the 2021 Tim Hortons Brier are available at www.curling.ca/scoreboard/
TSN and RDS2 (streamed on ESPN3 in the United States) will provide complete coverage of the 2021 Tim Hortons Brier. CLICK HERE for the complete schedule.
This story will be available in French as soon as possible at www.curling.ca/2021brier/nouvelles.