New Brunswick in the hunt!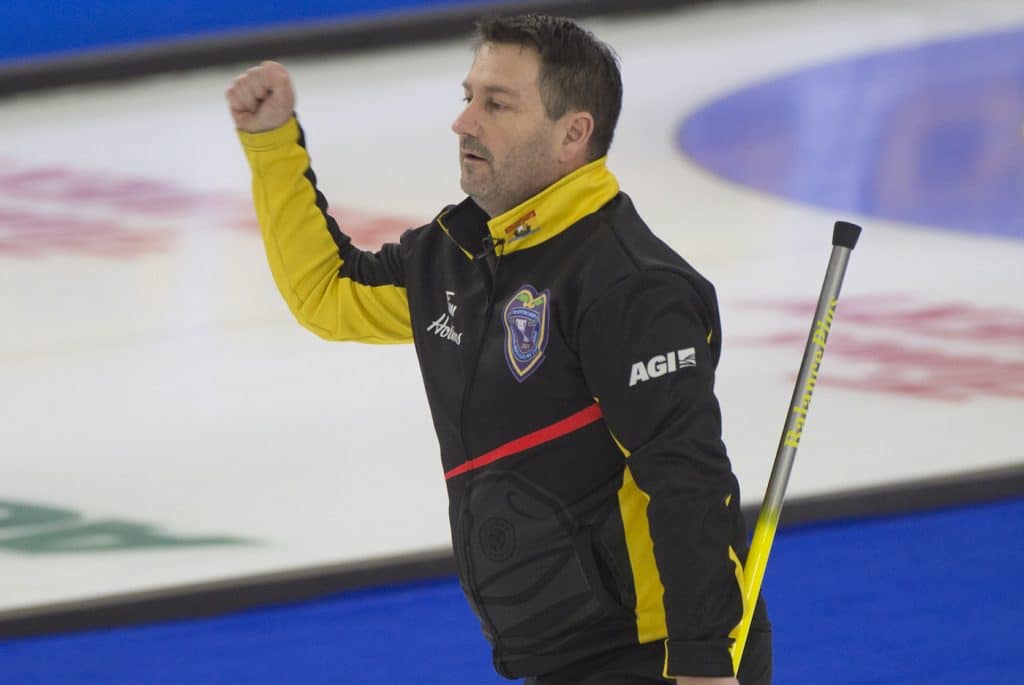 New Brunswick enjoying a hot start at the 2021 Tim Hortons Brier
For a change, James Grattan is enjoying some home-ice advantage at the 2021 Tim Hortons Brier, presented by AGI.
For years, the New Brunswick skip has found the transition from the ice conditions in his home province to those found at the Tim Hortons Brier a challenge, to say the least, as the club ice he plays at home — and that is found in most clubs across Canada — tends to be a little straighter and with less of the late curl that is found in big arena events.
But this year, with the trip to the 2021 Tim Hortons Brier as Team New Brunswick practically sewed up in January as the COVID-19 pandemic was causing provincial championships across Canada to be cancelled, Grattan's defending champion team from Oromocto was able to focus on preparing for Tim Hortons Brier ice conditions for much longer than usual.
"I don't know how many Briers we've been to where we've been 1-4, and I'm finishing off with a 5-and-0 run," said Grattan, the 1997 Tim Hortons Brier bronze-medallist who's competing in his 14th Canadian men's championship. "But since January, we've felt like we were going to be the (New Brunswick) rep. My dad (Ken) is the icemaker at my home club, and we were able to tell him to do (the ice) up like it is here. I think that's been the biggest difference in our start.
"We were able to prepare for the conditions out here that we don't necessarily have at home, let's say. We were able to shift our focus from not just winning a provincial championship and getting TO the Brier, but we were able to prepare FOR the Brier, and that helps."
More evidence of that preparation was on display Monday afternoon at WinSport Arena at Canada Olympic Park in Calgary, as New Brunswick improved to 3-1 with a 7-6 extra-end win over Northern Ontario's Brad Jacobs (2-2; Sault Ste. Marie).
Grattan, backed up by third Jonathan Beuk, second Andy McCann, lead Jamie Brennan and alternate Kevin Keefe, made a hit for the win in the extra after Northern Ontario stole one in the 10th to stay alive.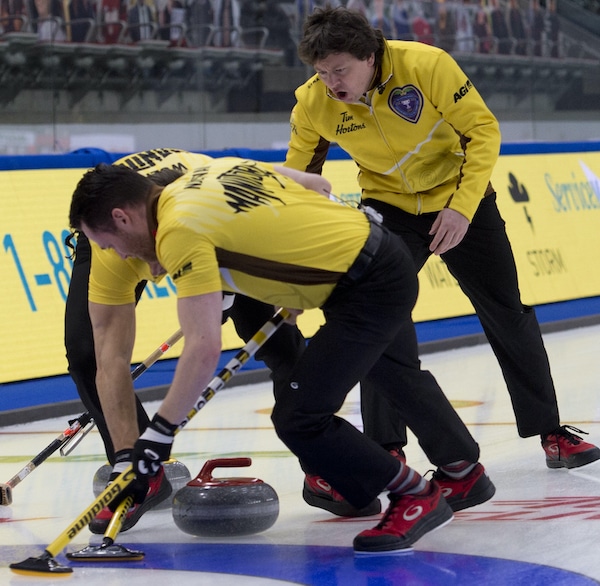 The extra preparation showed early, as New Brunswick arrived in Calgary with that practice time on arena ice conditions being put to good use early against Team Wild Card #1's Mike McEwen.
"We talked before the event started that we might be a little bit more prepared than other teams given the fact that we've had access to ice and a few games more than some of these other guys," said Grattan, whose 1997 Tim Hortons Brier debut took place in Calgary, over at the Scotiabank Saddledome. "Our opening game against McEwen, we thought that coming out aggressive and making him make some pressure shots, which he hasn't seen in six or eight months, would be a good plan, and it seemed to come to fruition in that game. So we're sticking with that plan."
But it was Grattan making the biggest pressure shot of the game, as he executed a precision double takeout in the sixth end to score a game-changing four.
In other Monday afternoon games, Manitoba's Jason Gunnlaugson (3-0; Morris) made a series of highlight-reel shots to beat Team Wild Card #1 (2-2; West St. Paul, Man.) 8-5; Alberta's Brendan Bottcher (3-1; Edmonton) was a 5-3 winner over Team Wild Card #3's Wayne Middaugh (filling in for Glenn Howard, 2-1; Penetanguishene, Ont.); and B.C.'s Steve Laycock (1-2; Vernon) toppled the Yukon's Dustin Mikkelsen (0-4; Whitehorse) 9-2. Laycock handed skipping duties to Jim Cotter for the game, which also saw B.C. alternate Tyler Tardi, the 2018 and 2019 world junior men's champ, make his Tim Hortons Brier debut.
The 2021 Tim Hortons Brier continues with Monday's evening draw at 8:30 p.m. (all times Eastern).
Live scoring, standings and statistics for the 2021 Tim Hortons Brier are available at www.curling.ca/scoreboard/
TSN and RDS2 (streamed on ESPN3 in the United States) will provide complete coverage of the 2021 Tim Hortons Brier. CLICK HERE for the complete schedule.
This story will be available in French as soon as possible at www.curling.ca/2021brier/nouvelles.