All smiles for Peterman-Gallant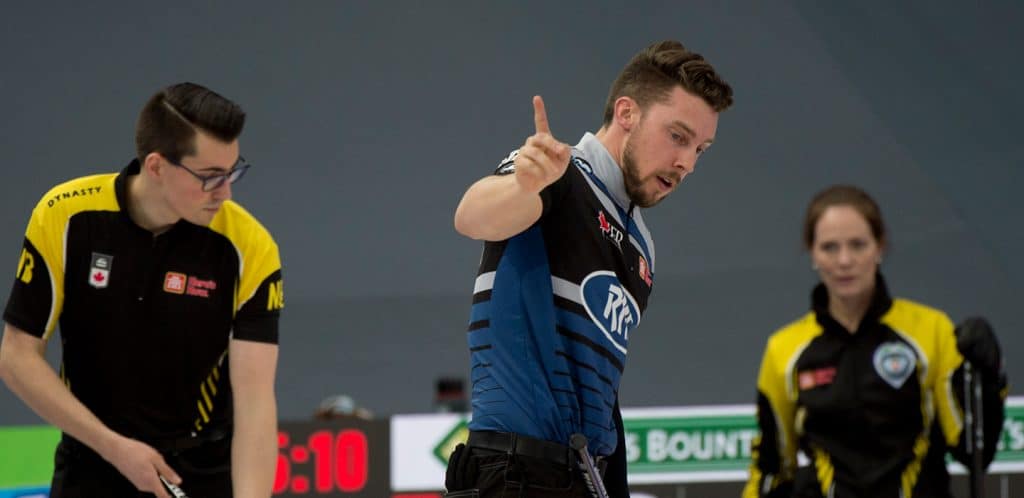 Peterman and Gallant take control of pool at Home Hardware Canadian Mixed Doubles
A smile from Jocelyn Peterman and Brett Gallant can tell a couple of thousand words. But to put it more succinctly for the competition, it means they've found their groove at the 2021 Home Hardware Canadian Mixed Doubles Championship, presented by Nature's Bounty.
It's a tell-tale sign that the two highly competitive curlers – Peterman of Winnipeg and Gallant of St. John's, N.L. – are feeling it. And there were plenty of smiles shared amongst the pair following their 11-3 win over New Brunswick's Melissa Adams/Alex Robichaud (1-3; Fredericton) on Sunday night at WinSport Arena at Canada Olympic Park in Calgary.
"When we're playing light and having fun [as] we're both pretty intense too. But we do play good when we're smiling and having fun out there," Peterman said following the game.
Playing light and constant communication has helped improve the two-time Canadian mixed doubles champion's record to 3-1 in Pool A. It did not take long for the team to put some big points on the board, such as the five-ender in the first end. Faced with an aggressive double for five or a draw for three on Peterman's last shot, they elected to play the shot for five and capitalized.
"I wanted to play the shot for five. Brett wanted to talk me into the draw for three. I'm glad I didn't listen to him," Peterman said, smiling.
Peterman and Gallant were well into the drivers' seat early in the game with the shot made.
"It was a pretty flat double, but it was there. She threw it perfectly. I think maybe our first two games we were struggling with where to put the broom and how to sweep the peel weight shots because they were running a little bit differently than what she was used to with me sweeping them and a little bit different maybe from the Scotties," Gallant said. "But in the last few games Joycelyn's made a ton of pistol peel weight shots now that we've made out the ice and how it's reacting. She made a couple that game and that kind of made the difference because I wasn't setting them up super well. She just made a couple of really key shots."
A couple of teams are still very in the mix to claim a spot in the top-12 and advance to the qualifying round and page seedings game. Because of their head-to-head record, Peterman and Gallant are ever-so-slightly looking at the Winnipeg Beach, Man., duo of Kadriana Sahaidak and Colton Lott (3-1) in their rear-view mirror. But they are keeping eyes on the road ahead, especially with a crucial game against Alberta's Brittany Tran and Aaron Sluchinski, also at 3-1, on Monday morning.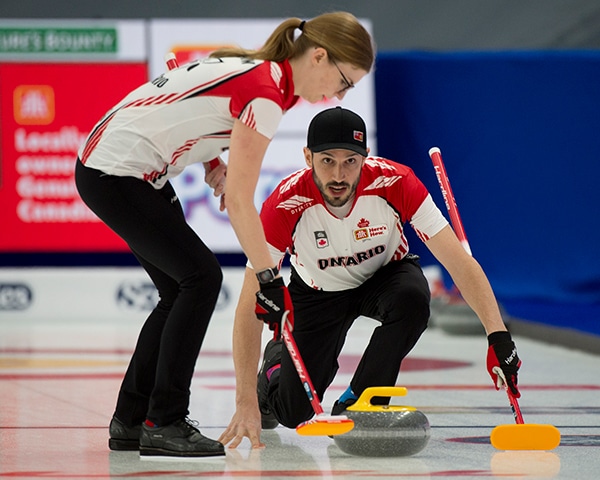 "We play tomorrow morning at 8:30 and I'm looking forward to actually getting back on the ice without too big of a wait because it was kind of a long hold between our last two games and I think with the way we're playing it's nice to go eat, get some sleep and come right back in the morning and continue what we've been doing," Gallant said.
Another team that could have been in the mix in the talented pool was Joanne Courtney and Darren Moulding. However, the team has pulled out of the event after Moulding experienced back spasms and could not play. He's now focused on rehabilitating the injury prior to the BKT Tires & OK Tire World Men's Curling Championship, presented by New Holland, beginning in the Calgary bubble on April 2.
"We hate to see it. We were texting Darren before the game and I think everyone's just hoping that he's good for next week and that's what matters," Peterman said. "He can rest, get some recovery and be back strong next week because we're all cheering for him then."
Courtney and Moulding forfeited their game tonight against Clancy Grandy/Patrick Janssen (2-3; Oshawa, Ont.). Meanwhile, Ontario's Lauren Wasylkiw and Shane Konings of Unionville, Ont. improved to 2-2 in Pool B against Kim Tuck and Wayne Tuck (0-4; St. Thomas, Ont.) by score of 7-5.
The 2021 Home Hardware Canadian Mixed Doubles Championship continues with a draw Sunday at 10:30 p.m. (Eastern).
Live scoring, standings and statistics for the 2021 Home Hardware Canadian Mixed Doubles Championship are available at www.curling.ca/scoreboard/
TSN and RDS2 (streamed on ESPN3 in the United States) will provide complete coverage of the 2021 Home Hardware Canadian Mixed Doubles Championship. CLICK HERE for the complete schedule.
This story will be available in French as soon as possible at www.curling.ca/2021mixeddoubles/nouvelles