Einarson-Gushue off to playoffs!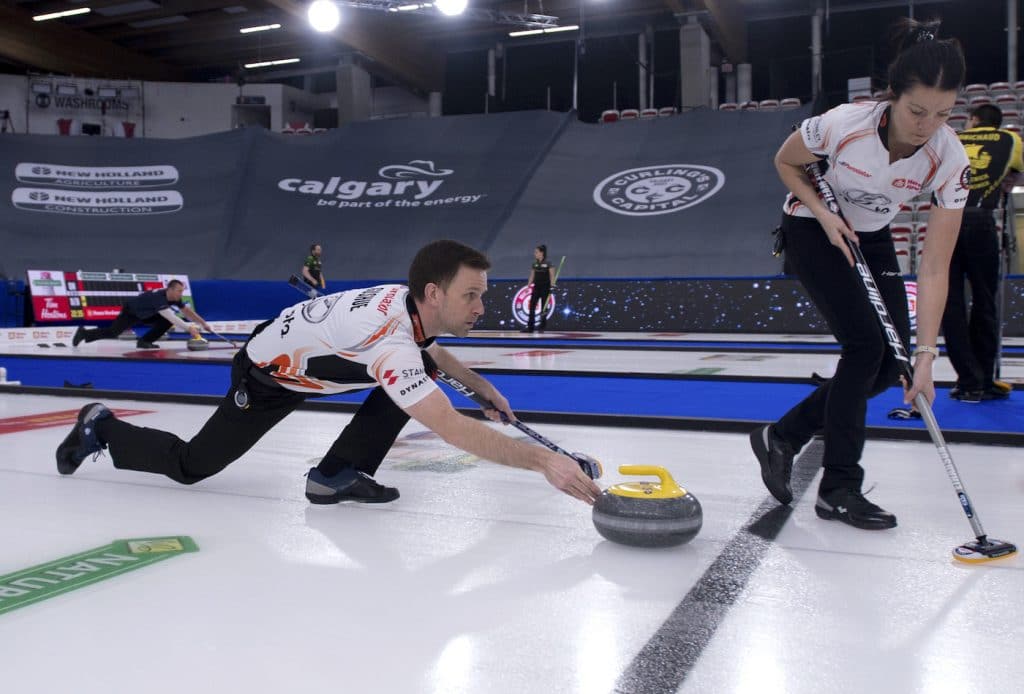 Einarson and Gushue clinch Home Hardware Canadian Mixed Doubles playoff spot
It was a grind, but nothing is supposed to come easily when you're playing for a national championship.
Kerri Einarson and Brad Gushue (Gimli, Man./St. John's, N.L.) needed an extra end and a superb last-rock draw to backing to steal the winning point in a 7-6 win over Laurie St-Georges and Félix Asselin (3-2; Montreal) on Monday night at the 2021 Home Hardware Canadian Mixed Doubles Championship, presented by Nature's Bounty.
With the win, Einarson and Gushue closed out round-robin play at WinSport Arena at Canada Olympic Park with a 5-1 record and will open play in the 12-team playoffs Tuesday at 8:30 p.m. (all times Eastern).
They will finish second in Pool B behind Jennifer Jones and Brent Laing (5-0; Alliston, Ont.), who handed Einarson and Gushue their only loss of the event.
"It was a battle; we played really well, but so did they," said Einarson. "They didn't miss much and they put a lot of pressure on us."
They did indeed, and it was St-Georges and Asselin who had the advantage late in the game thanks to a steal of two in the seventh that gave them a 6-5 lead, and they managed to force Einarson and Gushue to a game-tying single in the eighth to carry last-rock advantage into the extra end.
But Einarson's perfectly placed draw to backing proved to be the difference, and Asselin's in-off takeout attempt for the win was unsuccessful.
"That draw was incredible; she threw exactly the weight I was looking for, and it was just a matter of catching the line, and we got that, too," said Gushue. "I'm not a hundred per cent sure there was a shot for them, based on where she placed it. Incredible shot."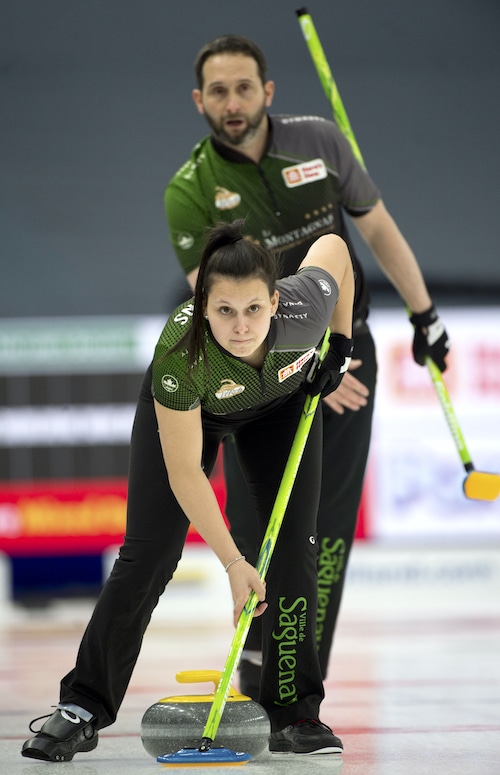 Einarson and Gushue's playoff seeding and opponent won't be determined until the round-robin games are done; all they know is that five straight wins will put gold medals around their necks.
"Is it that many? That's a lot," said Gushue with a laugh. "We've been here forever, already, just to get to this point, and now we have to play five more. But I guess it's better to be playing than sitting in a hotel room, so hopefully we can get on run and just get better and better."
In other action, Émilie Desjardins and Robert Desjardins (3-3; Chicoutimi, Que.) knocked off Lauren Wasylkiw and Shane Konings (2-4; Unionville, Ont.) 10-2; and Clancy Grandy and Patrick Janssen (3-3; Oshawa, Ont.) turned back Melissa Adams and Alex Robichaud (1-4; Fredericton) 8-3.
The 2021 Home Hardware Canadian Mixed Doubles Championship continues with Monday night's late draw at 10:30 p.m. (all times Eastern). Tuesday, the final round-robin draws are scheduled for 10:30 a.m., 1:30 p.m. and 4:30 p.m., followed by the first round of playoff games, at 8:30 p.m.
Live scoring, standings and statistics for the 2021 Home Hardware Canadian Mixed Doubles Championship are available at www.curling.ca/scoreboard/.
TSN and RDS2 (streamed on ESPN3 in the United States) will provide complete coverage of the 2021 Home Hardware Canadian Mixed Doubles Championship. CLICK HERE for the complete schedule.
This story will be available in French as soon as possible at www.curling.ca/2021mixeddoubles/nouvelles