Struggles continue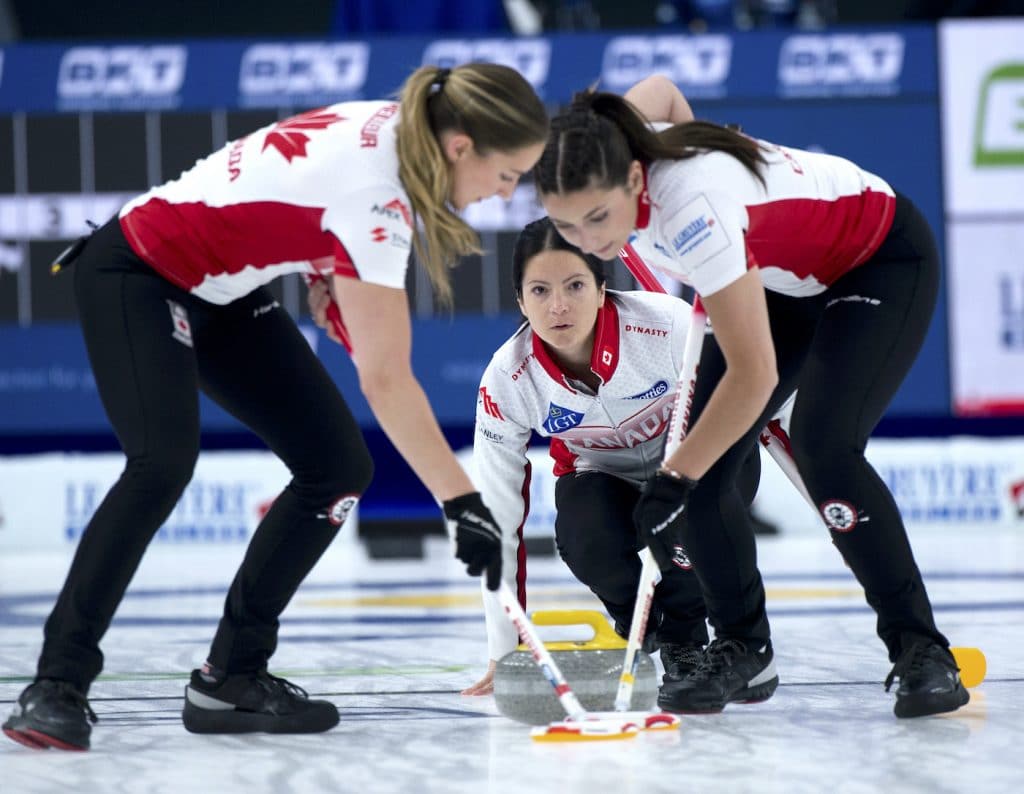 Third straight loss for Team Canada at World Women's
Team Canada took a third straight loss Sunday afternoon at the 2021 LGT World Women's Curling Championship, presented by BKT Tires.
What began as an unsettling day with an announcement that members of the World Curling Federation broadcast crew had produced positive tests for COVID-19, forcing the postponement of Sunday morning's draw at WinSport Arena at Canada Olympic Park, didn't get any better for Kerri Einarson's team from Gimli, Man.
Canada gave up a crushing steal of two in the fourth end, and never recovered in a 7-6 loss to Tabitha Peterson of the United States (3-2).
With the loss — their third in succession — Einarson, vice-skip Val Sweeting, second Shannon Birchard, lead Briane Meilleur, alternate Krysten Karwacki, team coach Heather Nedohin and national coaches Elaine Dagg-Jackson and Renee Sonnenberg dropped to 1-4 in the 14-team round-robin standings.
"A little disappointed in myself," admitted Einarson. "I wasn't very sharp out there, and had some opportunities that I missed. My girls played well and I just missed a few key shots."
It was a tough afternoon for Einarson; she had opportunities for multiple-point scores on a few occasions, but misses in the second end (light on a wide outturn draw to the four-foot for two), fourth (overcurled on a hit-and-roll, resulting in the steal of two for the U.S.), fifth (had an angle takeout to score three or four and wrecked on a guard and settled for just one) and seventh ends (overcurled on an open hit for two and settled for a single) were costly.
No team has spent more time in the bubble than Team Einarson, and, admitted the skipper, it's not getting easier; quite the contrary.
"Definitely missing my family a lot more," said Einarson. "It's a long haul to be away — the things that we sacrifice to do what we love. I miss my girls, my husband, my parents. It's tough. And when you're struggling, like I am, you want those hugs. But you keep fighting forward — I know they're all so proud of me and whatever happens, happens."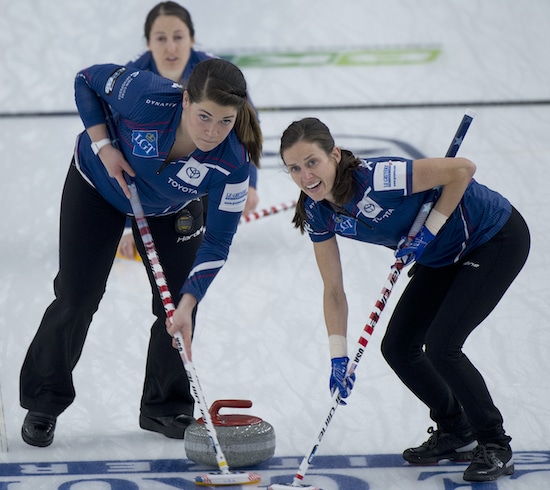 Team Canada is hardly out of it, of course. The top six teams will make the playoffs, and Canada has played most of the top-ranked teams already. But thinking of the end goal won't be helpful, said Nedohin.
"Realistically, what does it take? It takes the next game," said Nedohin. "They're going to win the next win. And then they're going to keep climbing.
"I'm seeing a lot of grit. They're putting it all on the line. The girls are giving everything they've got, and sometimes it just doesn't turn out on the scoreboard . . . The girls are working really hard together. The opportunities are there; we need to capitalize on those opportunities."
The next opportunities will come with a two-game Monday — at 11 a.m. (all times Eastern) against Germany's Daniela Jenstsch (2-3) and at 4 p.m. against South Korea's Eunjung Kim (1-4).
And while the team struggles have been well-chronicled, the team has received an outpouring of support from fans as well as curling peers in Canada — many of whom know the pressure that accompanies wearing a Maple Leaf at a world championship.
"We really appreciate the support; it's been unbelievable," said Einarson. "It's not easy being out here. But we will keep fighting."
In other Sunday afternoon games, South Korea was an 8-4 winner over Scotland's Eve Muirhead (3-1); Italy's Stefania Constantini (1-4) picked up her first win, a 10-6 triumph over Germany; and RCF's Alina Kovaleva improved to 5-0 by beating Estonia's Marie Turmann (0-4) 8-6.
Switzerland's Silvana Tirinzoni (3-0), Sweden's Anna Hasselborg (3-0), China's Yu Han (2-1), Anna Kubešková of the Czech Republic (2-1), Denmark's Madeleine Dupont (1-2) and Japan's Sayaka Yoshimuri (1-2) all had byes on Sunday afternoon.
The 2021 LGT World Women's Curling Championship continues with Sunday night's draw at 9:30 p.m. (all times Eastern).
Live scoring, standings and statistics for the 2021 LGT World Women's Curling Championship are available at worldcurling.org/events/wwcc2021?pageType=results
TSN and RDS2 will provide complete coverage of all Team Canada games at the 2021 LGT World Women's Curling Championship. CLICK HERE for the complete schedule.
This story will be available in French as soon as possible at www.curling.ca/category-all-posts-fr/?lang=fr