He ain't no Hack!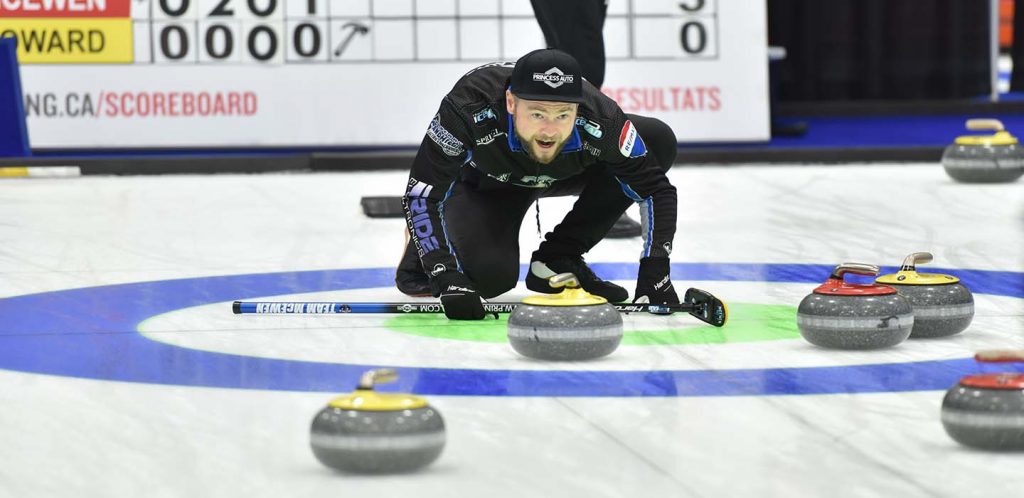 McEwen makes Hackner double to secure top spot in modified round-robin
Mike McEwen walked off the ice at the RA Centre in Ottawa feeling like a million bucks on Friday night after securing the top seed in the men's Canadian Trials Direct-Entry round robin.
McEwen (3-1) and his team from West St. Paul, Man., made a walk-off 'Hackner double' to win their game 7-2 against Glenn Howard (2-2; Penetanguishene, Ont.).
Leading 3-2 in the seventh end, McEwen was sitting third, fourth and fifth shot, while Howard had two nicely separated stones – including one mostly tucked away behind a McEwen rock in the top eight-foot. McEwen hit what he could see of the rock, ricocheted across the house and bounced Howard's second shot out of the house for a score of four points and win.
Awfully reminiscent, it was, of a memorable shot made in the 1985 Brier final by Northern Ontario's Al Hackner to tie the game en route to stealing in an extra end for the win.
The victory puts McEwen, vice-skip Reid Carruthers, second Derek Samagalski, lead Colin Hodgson and coach Rob Meakin at the top of the food chain in the event and in control of their destiny for one of the two berths available to the 2021 Tim Hortons Curling Trials, presented by AGI, in Saskatoon from Nov. 20-28, 2021.
Matt Dunstone (3-1; Regina) finished the initial portion of the modified round-robin with the same record as McEwen after defeating Jason Gunnlaugson (1-3; Morris, Man.) by a score of 7-3. However, McEwen had a better Last Stone Draw accumulative distance throughout the event.
Howard finishes the initial portion of the round-robin as the third seed, Colton Flasch (1-3; Saskatoon) finishes fourth, and Gunnlaugson is fifth.
Each team will play two more round-robin games against opponents based on their seeding, with higher seeds competing against lower seeds.
The men will be back on the ice at 1 p.m. (all times ET) for the first of those games with McEwen against Flasch and Dunstone against Gunnlaugson.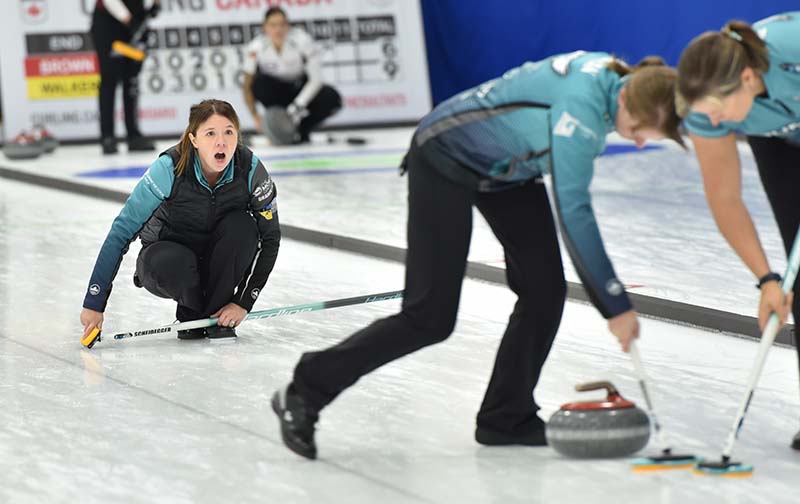 On the women's side, five teams are competing for three berths into Saskatoon. Casey Scheidegger (2-1; Lethbridge, Alta.) completed a stellar day with a second win during the evening draw. Her team defeated Suzanne Birt (0-2; Montague/Cornwall, P.E.I.) by a score of 9-2.
Kelsey Rocque (1-1; Edmonton) bounced back from an afternoon loss against Scheidegger with a 7-5 victory against provincial rival Laura Walker (2-1; Edmonton)
The women have two more draws to complete a standard round robin, starting with the 1 p.m. draw with Corryn Brown (1-1, Kamloops, B.C.) against Scheidegger and Birt against Rocque.
There was also one women's Pre-Trials Direct-Entry game on the slate Friday evening. Jill Brothers (2-2; Halifax) fended off elimination with a 7-4 win against Ashley Howard (2-3; Saskatoon) and advances to the C-Event semifinal against Lauren Mann (2-2; Ottawa) at 9 a.m.
For playoffs and rankings scenarios associated with the men's Trials Direct-Entry event, click here.
For playoffs and rankings scenarios associated with the women's Trials Direct-Entry event, click here.
For the men's Pre-Trials Direct-Entry tournament bracket, click here.
For the women's Pre-Trials Direct-Entry tournament bracket, click here.
The Canadian Trials and Pre-Trials Direct-Entry events continue on Saturday with draws at 9 a.m., 1 p.m., 5 p.m., and 9 p.m.
Live scoring and standings for the events are available here.
Live streaming for all draws is available on Curling Canada's YouTube page.
This story will be published in French as soon as possible here.