Heading to Liverpool!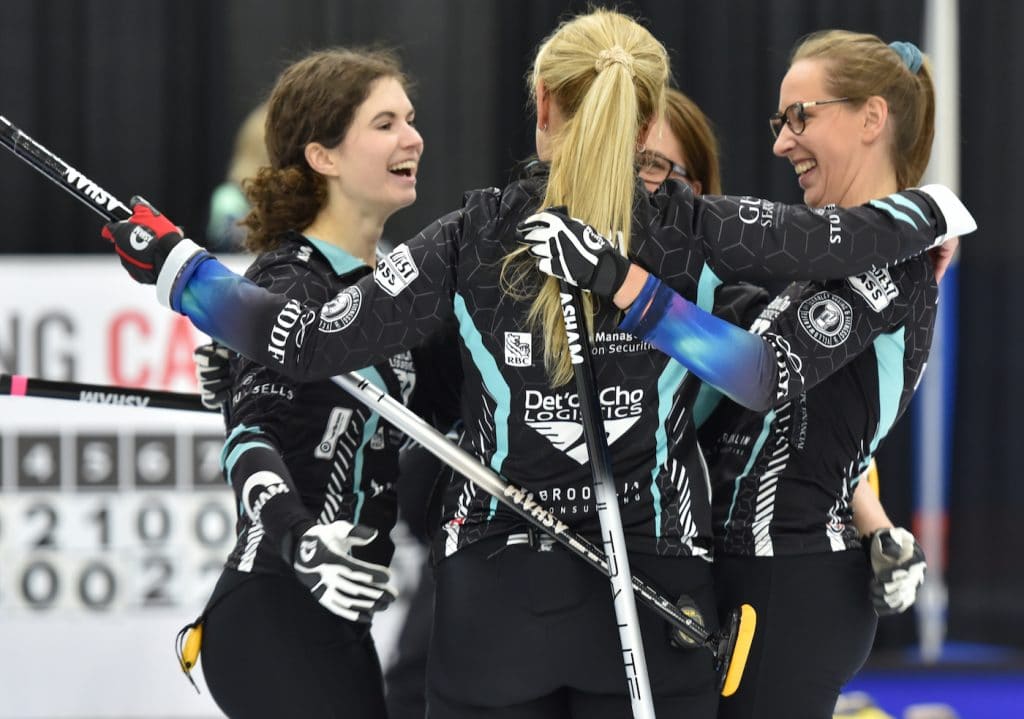 Team Galusha locks down trip to Home Hardware Pre-Trials
An extra-end curling game features 176 thrown shots, but Saturday evening's first women's qualifying game at the Canadian Curling Pre-Trials Direct Entry Event was defined by just one of them.
It came in the sixth end at the RA Centre; it was delivered by Jo-Ann Rizzo and it essentially sent her team — skip Kerry Galusha (throwing lead rocks), third Rizzo (throwing fourth stones), second Sarah Koltun (throwing third stones) and lead Margot Flemming (throwing second stones — to the Home Hardware Curling Pre-Trials next month in Liverpool, N.S.
Rizzo, a silver-medallist at the 2013 Tim Hortons Curling Trials playing with skip Sherry Middaugh, threw a dazzling 25-foot angle raise takeout to remove a buried Team Jessie Hunkin stone and score a game-tying deuce.
The shot — described as a "grin-remover" by reigning world senior men's champion Bryan Cochrane on the live-stream broadcast — propelled Team Galusha to a thrilling 9-8 extra-end win over Team Hunkin to nail down the Pre-Trials berth.
"The whole game, Jo-Ann bailed us out," marvelled Galusha. "She kept making shots. I didn't know how we were ever going to score some times and she just kept making them all."
Ironically, Rizzo's sixth-end stunner appeared to Galusha to have missed the target. Before the stone made contact just past the hogline, Galusha raised her broom and said, 'OK' as if to console her teammate after a miss.
"I thought it overcurled just a bit, and it was actually perfect," said Galusha. "I obviously didn't look at my angles very good because I thought we missed it. But Sarah held it sweeping; she backed it up."
The sixth-end shot turned what was looking like a 6-3 lead for Team Hunkin into a 5-5 tie; Team Galusha followed up with a steal of two in the seventh, but Team Hunkin kept hanging tough and looked to have a winning three set up in the 10th end until Rizzo — of course — made another game-saver, a runback double-takeout and Hunkin had to settle for a deuce and surrendered hammer for the extra end.
A pre-game comment from Koltun proved inspiring to Rizzo, she said afterward.
"Sarah said before the game, 'There's no pressure; we're just playing for a toaster,' " said Rizzo with a laugh. "I said to myself, 'I didn't come all this way for a toaster.' "
Now, Team Galusha can prepare for the next month to play at the Home Hardware Pre-Trials, where two berths into the Tim Hortons Canadian Curling Trials — the event that will decide Canada's four-player teams for the Beijing Olympics — will be up for grabs.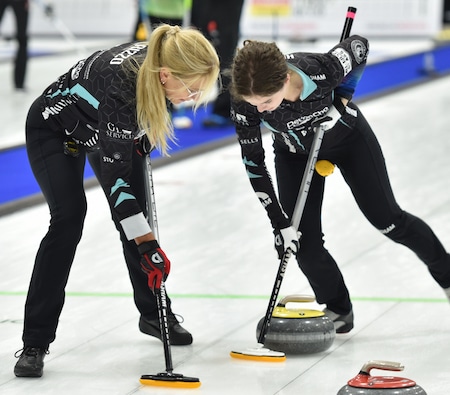 "When we get to the Pre-Trials, I don't really think we should change much," said Rizzo. "There's no pressure on us; maybe we're a dark-horse, I don't know."
Team Hunkin still has another crack at qualifying for the Pre-Trials; it will meet Team Jill Brothers of Halifax in the second qualifying game Sunday at 10 a.m. (all times Eastern); Team Brothers won the C-event playoff berth Saturday, beating Team Kaitlyn Jones (Assiniboine, Man.) 10-4.
In men's play, Team Sean Grassie won an all-Winnipeg C-event final 6-5 over Team Corey Chambers.
Team Grassie will play the loser of Saturday's 9 p.m. A-B qualifying game between Team JT Ryan (Winnipeg) and Team Vincent Roberge (Etchemin, Que.) for the second available men's berth Sunday afternoon.
Saturday's action at the Canadian Trials and Pre-Trials Direct Entry events concludes with a draw at 9 p.m.(all times ET).
Sunday, draws are scheduled for 10 a.m., and, if necessary, 3 p.m. and 8 p.m.
For playoffs and rankings scenarios associated with the men's Trials Direct-Entry event, click here.
For playoffs and rankings scenarios associated with the women's Trials Direct-Entry event, click here.
For the men's Pre-Trials Direct-Entry tournament bracket, click here.
For the women's Pre-Trials Direct-Entry tournament bracket, click here.
Live scoring and standings for the events are available here.
Live streaming for all draws is available on Curling Canada's YouTube page.
This story will be published in French as soon as possible here.