First Win!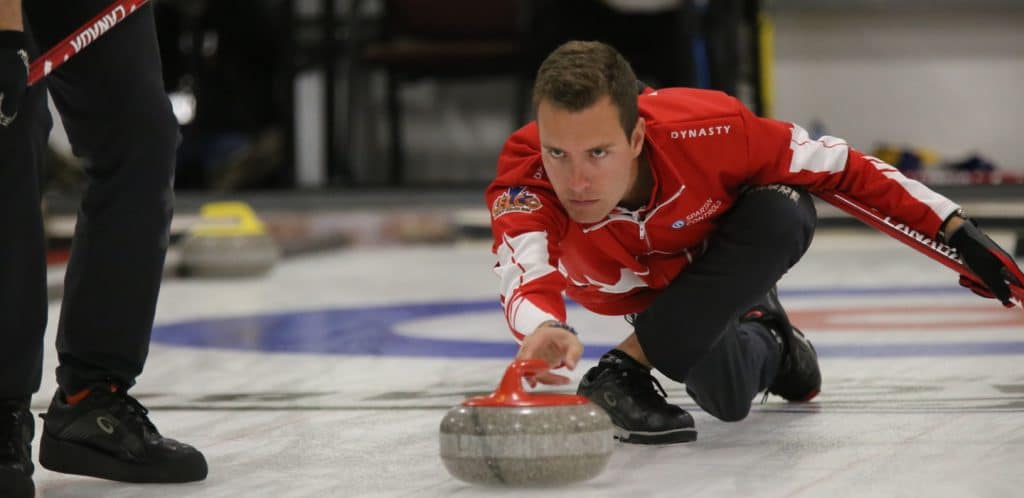 Canada victorious in opening match at Americas Zone Challenge
The competition level is far below that of the Tim Hortons Brier but the stakes are very high, so for Team Brendan Bottcher there's definitely no loss of focus.

The Edmonton-based foursome, representing Canada, opened the three-team Americas Zone Challenge Friday by scoring six in the first end on their way to a 11-2, six-end win over Team Brazil. It was a confidence building performance for the reigning Brier champions.
"In the grand scheme of our season, this is a couple of weeks out from the trials so we don't want to come out here and be rocky and shaky and kind of B or C level curling," Bottcher said. "That's not at all what we need to be doing right now so we need to play our best and hopefully that leads into a good slam next weekend and hopefully that leads into a good trials."
Bottcher, vice-skip Darren Moulding, second Brad Thiessen, lead Karrick Martin, alternate Patrick Janssen and coach Don Bartlett will be competing at the Tim Hortons Curling Trials, presented by AGI, Nov. 20-28 in Saskatoon. The winner of that event will represent Canada at the 2022 Beijing Winter Games.
At stake here is a berth in the 2022 World Men's Curling Championship next April in Las Vegas. That spot will go to the country with the best record after completion of play Sunday in the double round-robin, no-playoff competition.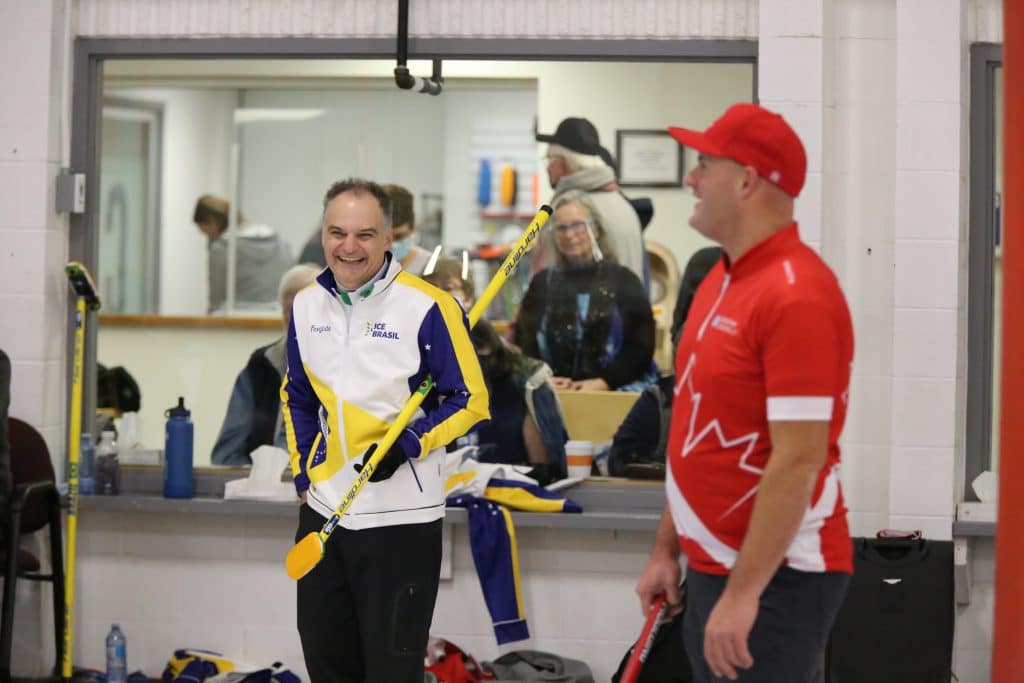 Brazil had a chance to possibly hold Canada to a single in the first end, but skip Marcelo Mello rubbed on a Canadian stone in the top of the four foot and left his stone wide open for Bottcher to tap back for the six pack.
"It just lets you relax a little bit," Bottcher said of the end. "This feels like an event if we're playing well, we should do good in. But you never really know until you get out there."
One thing Team Bottcher did know was even though Brazil has never won a game in the seven times it has challenged either Canada or the United States for one of the zone berths, they were not about to take their opponents lightly.
"Every team we play against would love nothing more than to beat Canada," said Bottcher. "So getting a big end off the hop lets you settle in and relax a bit and get focused on just throwing as good as you can."
Mello, vice-skip Ricardo Losso, second Gilad Kempenich, lead Filipe Nunes and alternate/coach Henrique Kempenich got one in the second end when Mello drew the full four foot against two Canadian counters.
Brazil stole one in the third when Mello's hit and roll left two of his stones tightly sandwiching a Canadian rock, all inside the four-foot. Bottcher brought some heat to try to kick out the Brazilian stones but got only one, plus his own, leaving Mello the single.
Bottcher had a routine draw to the four foot to score three in the fourth end to restore order.
"We were up four with hammer, so not a precarious situation," said Bottcher. "But certainly nice to score another big end. That was a big team end."
After a season with no fans in the stands, both teams got up close and personal with 48 fans who got to sit in seats located alongside the ice sheet.
"We've been doing too long without any fans. It's nice, the energy it brings make it feel a little bit like normal and that's fantastic."
Mexico's team, skipped by Jesus Barajas, will play its first game 9 a.m. Saturday against Brazil.
Canada has competed in every world men's championship since the event was inaugurated in 1959 and has won a leading 36 gold medals. Brazil and Mexico, meanwhile, are attempting to qualify for their first world men's championship.
The Americas Zone has two guaranteed berths into world men's and women's championships; the U.S. is guaranteed a berth into the men's worlds as the host team this season, meaning Canada could be challenged by other countries in the zone for the right to attend the world championship.
Brazil challenged Canada in 2018 when Las Vegas also hosted the men's worlds. That year Glenn Howard's team represented Canada and swept a best-of-five series, winning by scores of 15-1, 8-3 and 6-3.
Last year Brazil and Mexico unsuccessfully challenged the United States. Greg Persinger and his foursome swept the double round-robin, winning all four of its games while Mexico went 2-2 and Brazil was winless.
The 2022 Americas Zone Challenge will continue Saturday/Sunday with draws at 9 a.m.,, 2 p.m. and 7 p.m. (all times Mountain).
The schedule, scores and team lineups are available at curling.ca/scoreboard
This story will be available in French as soon as possible at https://www.curling.ca/?lang=fr.