Picture Perfect Paul!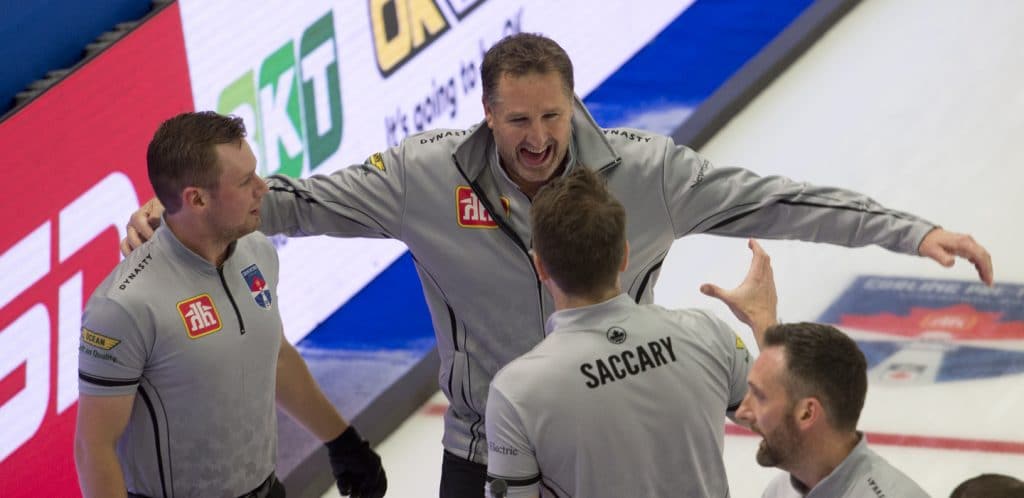 Halifax's Paul Flemming rallies behind Nova Scotia crowd and joins playoff picture
While draw 18 saw five men's matches in action from the 2021 Home Hardware Curling Pre Trials Presented by New Holland from Queens Place Emera Centre in Liverpool, N.S., only two sheets had the power to impact the men's playoff scenarios in pool B.
On sheet A, Paul Flemming (4-2; Halifax) found himself in a must win situation versus Colton Flasch (4-2; Saskatoon, Sask.) who also needed a win to stay alive, while Glenn Howard (5-1; Penetanguishene, Ont.) looked to improve his record on sheet E versus Braden Calvert (2-4; Winnipeg).
The situations, ever intermingled, had the players on the peripheral sheets head swiveling and scoreboard watching all while trying to win their own matchups.
To set the stage, Flasch and Howard both sat at 4-1 while Team Tyler Tardi (4-2; Langley, B.C.) was inactive having concluded his round robin earlier on Friday with Team Paul Flemming looking to strike from behind.
A win for Flasch would guarantee that his rink is first overall in pool B while a Flasch loss would see him eliminated from playoff contention thanks to win/loss scenarios. There was no situation where Flasch could lose his draw 18 match and still qualify for playoffs.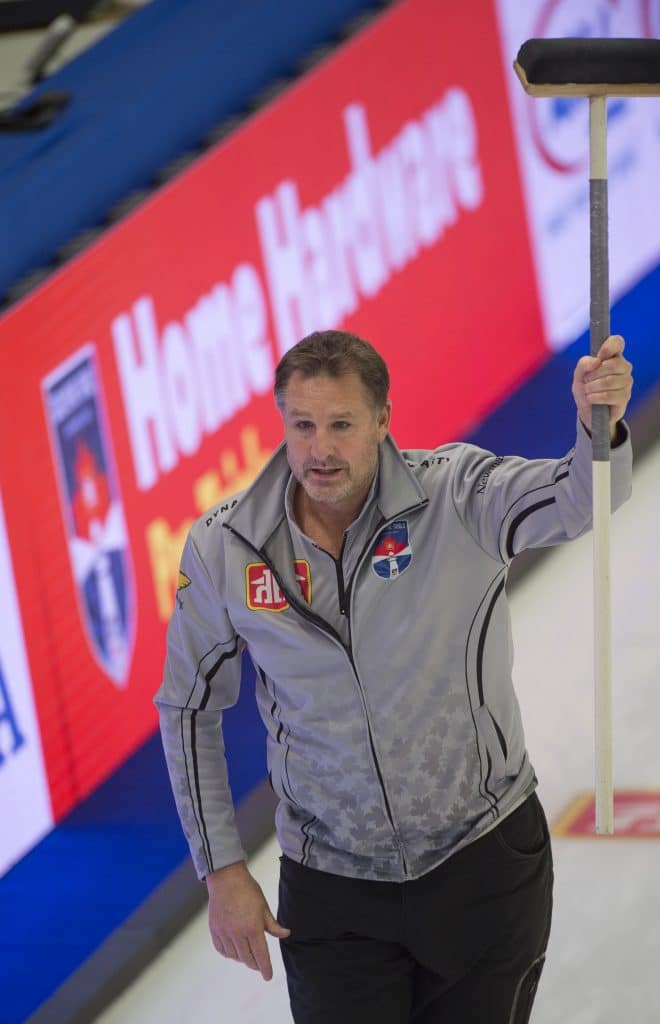 A Flasch win, no matter the result of any other scenario, would also ensure Howard finishes second and Tardi would be the third seed Pool B qualifier.
A Flemming win versus Flasch however, paired with a Howard win or loss, would grant Howard first place with Flemming and Tardi rounding out the top three in that order.
Got it all straight? Let's continue.
On sheet A, Flemming maintained control of the early portion of the match and scored three points in the sixth end to take a 4-1 lead, much to the pleasure of the Nova Scotia fans. Flasch would fight hard with back to back singles in the seventh and eighth ends to make it 4-3 and force Flemming to make an incredible draw against four Flasch stones in the ninth. Feeling the hot hand of draw weight, Flemming would rely on the touch game to secure a steal of one in the tenth and a 6-3 win.
Over on sheet E, Howard was tested in a close match against Calvert and relied heavily on converting deuces with the hammer to secure a 6-4 win.
The men's playoffs were then set: Howard ranked 1st in pool B, Flemming 2nd and Tardi 3rd. Pool A would see Tanner Horgan (6-0; Kingston, Ont.) in 1st, Jason Gunnlaugson 2nd (4-2; Morris, Man.) and Pat Simmons (4-2; Winnipeg Beach, Man.) in 3rd.
In other draw 18 action, Pat Simmons defeated Jeremy Harty (0-6; Calgary, Alta) by a score of 7-6. Team Pat Ferris (2-4; Grimsby, Ont.) downed Team Sean Grassie (0-6; Winnipeg) by a score of 9-5 while Team Vincent Roberge (2-4; Saint-Romuald, Qué.) defeated Team Karsten Sturmay (2-4; Edmonton) 10-6.
The 2021 Home Hardware Curling Pre Trials will continue Saturday with draws at 1:30 p.m. and 7:30 p.m. (all times Atlantic).
Live scoring, standings and statistics for the 2021 Home Hardware Pre-Trials are available at www.curling.ca/scoreboard/
TSN and RDS2 (streamed on ESPN3 in the United States) will provide complete coverage of the 2021 Home Hardware Curling Pre Trials Presented by New Holland. CLICK HERE for the complete schedule.
This story will be available in French as soon as possible at www.curling.ca/2021pretrials/nouvelles/?lang=fr