Off to Trials!
Team Horgan bests Howard for opportunity to pursue Olympic dream at Home Hardware Curling Pre-Trials
If you'd have asked Tanner Horgan four years ago if he was ready to compete for a chance to represent Canada at the Olympics, he would have thought it would be a tall tale. But now, at age 23, Tanner Horgan is the youngest skip, man or woman, in the upcoming field of teams that still has a chance at representing Canada in Beijing.
Horgan has six national junior championships under his belt and only one year of experience at the Tim Hortons Brier as an alternate. He kept his dreams alive of wearing the Maple Leaf in Beijing with a win in the B-qualifier final at the 2021 Home Hardware Curling Pre-Trials, presented by New Holland, at Queens Place Emera Centre in Liverpool, N.S., on Sunday night.
Horgan and vice-skip Jon Beuk, second Wes Forget, lead Scott Chadwick, alternate Jacob Horgan, and coach Sean Turriff punched their ticket to the 2021 Tim Hortons Canadian Curling Trials presented by AGI, in Saskatoon.
The team bested Penetanguishene, Ont.'s, Team Glenn Howard by a score of 7-4 in the B-event qualifier final, with the last men's berth available to the event next month. For Horgan, it was by and far one of the most challenging events he's ever played.
"You're getting the best of the best of what's not already in the Trials. It's all your peers across the country. I think what also makes it tough is you're playing on good conditions against everyone who is trying to peak for this event," said Horgan. "A lot of teams did peak for this event, and they were playing very well, but I'm just so proud of the guys for keeping their composure through the whole game and staying tough."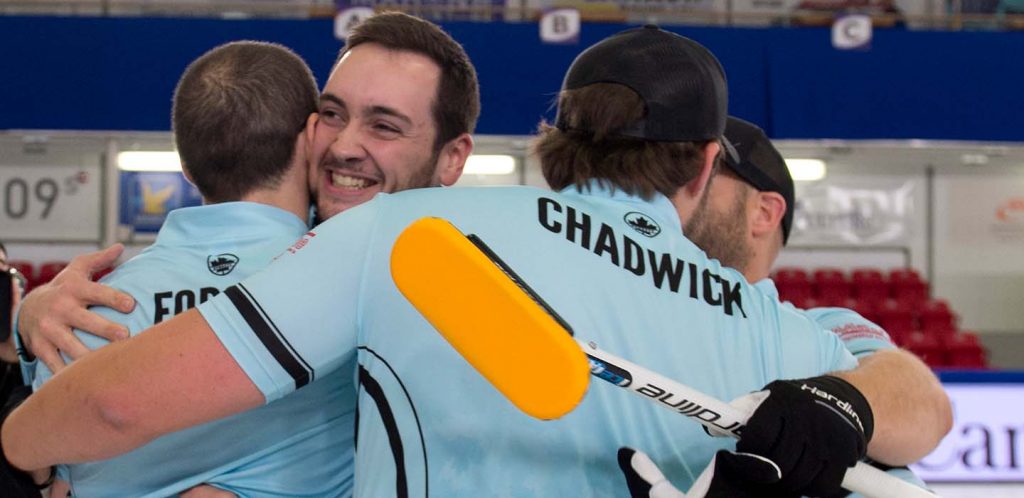 Horgan's team swept its round robin pool and first playoff game to advance to the A-event qualifier final. However, the Cataraqui Golf and Country Club team from Kingston, Ont., lost its first game to Team Jason Gunnlaugson on Sunday morning and had to rebound in the evening against Howard. In the end, Horgan had an open hit to score one and secure the win in the 10th end.
For Howard, it is the second time he's lost a B-event qualifier game at the Home Hardware Pre-Trials. In 2017 he lost to Team Brendan Bottcher.
After blanking the first end, Horgan set the game's tone by splitting one of his team's stones from just outside the house to count two. The shot was all the more impressive as it was played down a new path on the ice with just the right line and weight. Horgan and Howard traded single-point scores in the third and fourth ends and blanked the fifth with Horgan taking a 3-1 lead into the fifth end break.
Horgan applied pressure in the sixth end with two brilliant draws that neatly thread a port into the four-foot. By the time Howard was in the hack for his final shot, he was facing four clustered Horgan counters and needed to throw a peel-weight angle-raise that rocked three of the Horgan stones out of the four-foot and only gave the young skip a steal of one. While the result looked good for Horgan on the scoreboard, Howard's big shot took a little bit of the momentum out of Horgan's sails.
An unfortunate pick in the seventh end on Scott Howard's final shot allowed Horgan an opportunity to force Howard to a single point before tacking on another two points in the eighth end. In the ninth, Howard made a double to score two and trail Horgan in the final end by 6-4.
Horgan lost two junior finals representing Northern Ontario in 2016 and '18. So now, in 2021, this qualifier wins goes a long way in making up for those losses.
"I think it is a redemption. Those losses hurt. But what I did with those losses is I learned how to play in a big Curling Canada event with the same stuff here. I felt like I really used those experiences to be really comfortable under the TV lights. That experience was invaluable and I feel like I channelled that properly. It feels great to get that," Horgan said.
Horgan and his younger brother Jacob joined Beuk, Forget and Chadwick – who represented Ontario at the 2019 Tim Hortons Brier – earlier this year. Since then, the team has found comfort in their roles and each committing to the team process. Now, it will be their first time competing at the Tim Hortons Canadian Curling Trials for all five men.
So what is the young skip looking most towards?
"All of it. It's a big event, and there's a shot to go for the Olympics. Getting there now this early in my career is just something that I've always wanted to do. I think it will be an amazing stepping stone for us, and I want to soak it up and learn as much as I can," Horgan said.
Nine men's and women's teams will compete at SaskTel Centre from Nov. 20-28 to determine Canada's men's and women's four-player teams at Beijing's 2022 Olympic Winter Games.
Two men's and women's teams, including Team Horgan, earned the final spots available for the event at the Home Hardware Curling Pre-Trials: Team Jason Gunnlaugson (Morris, Man.), Team Krista McCarville (Thunder Bay, Ont.) and Team Jacqueline Harrison (Dundas, Ont.).Ccoring, standings and statistics for the 2021 Home Hardware Pre-Trials are available at www.curling.ca/scoreboard/
This story will be available in French as soon as possible at www.curling.ca/2021pretrials/nouvelles/?lang=fr