Canadian Mixed Champions!
Québec repeats as Canadian Mixed Champions in 2021 with victory over Ontario
Twenty years after Jean-Michel Ménard won his first ever Canadian Mixed Curling Championship in 2001, his team representing Québec are 2021 Canadian Mixed Curling Champions.
Ménard, alongside third Marie-France Larouche, second Ian Belleau and lead Annie Lemay of Etchemin/Des Collines defeated Ontario's Mike McLean of the Ottawa Curling Club in the final by a score of 5-4 in an extra end at the Canmore Golf & Curling Club in Alberta.
Ménard and company will now represent Canada at the 2022 World Mixed Curling Championship, Oct. 15-22 in Aberdeen, Scotland.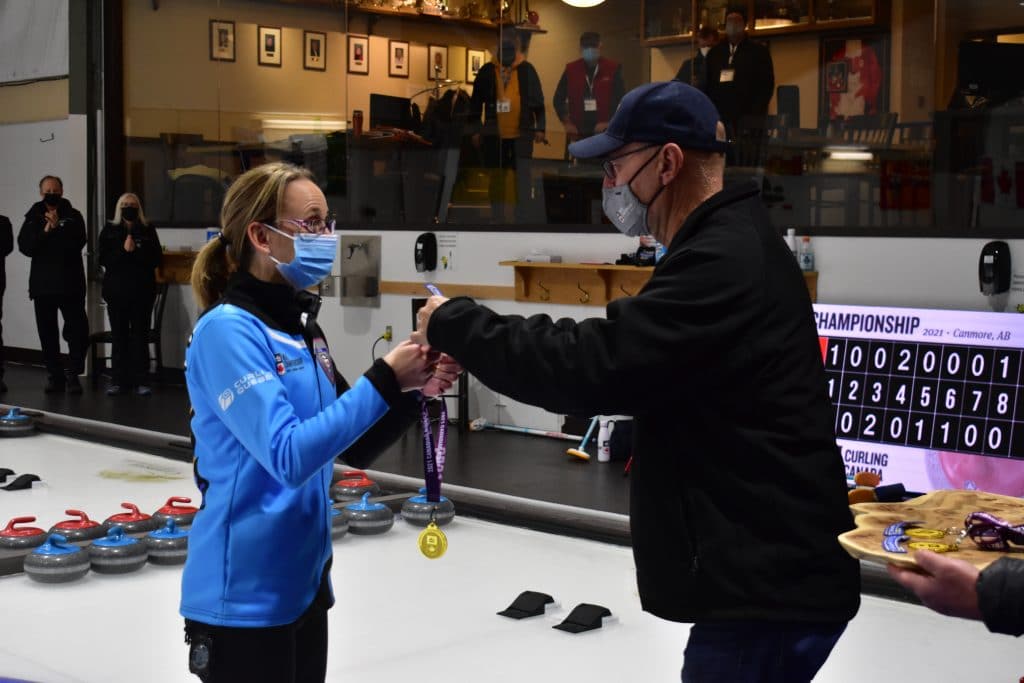 "It's kind of unreal, honestly," said Jean-Michel Ménard after the win. "It's been a long journey and this was the ultimate goal. You never know if it's going to happen but we got some good breaks this afternoon and it feels incredible."
Quebec skip Jean-Michel Ménard won his first Canadian mixed crown in 2001 at Weyburn, Sask., and the win in Canmore marks the second longest gap between Canadian championship victories; only the 22-year gap between Robert Campbell's victories at the 1989 and 2011 Canadian mixed championships would be longer.
"To win this event with Marie-France, Ian and Annie and to be Team Canada. Wow. We're so happy. It's incredible. I don't have words really; it's amazing" said Ménard. "Ian has been one of my best friends since we were teenagers. Marie-France and Annie have been playing together for numerous years and we're all good friends, so it was a natural match."
The win is especially emotional for lead Annie Lemay, describes Ménard.
"When Annie retired from Women's play, she told me her one regret was never getting to wear the maple leaf. She came close, and I know all the effort she put in and knowing that broke my heart. So we were playing for her this week."
The championship victory also marks back to back Canadian Mixed titles for Québec, as Jean-Sébastien Roy won the 2020 Canadian Mixed championship representing la belle province at Saguenay, Qué. It's also Québec's third ever Canadian Mixed title since the event's inception in 1964.
In what would be a tightly contested final, Québec and Ontario would trade chances early with Ontario carrying a 3-2 lead into the fourth end break. Québec would pull even with a single in the fifth end only to find themselves in trouble in the sixth. Ontario looked to be having a score of three points brewing up before Ménard would execute a difficult double take-out and roll frozen onto a shot Ontario stone to take that opportunity away. It would prove to be a turning point in the match, as Québec would never trail again and go on to the 5-4 victory.
"We were in big-time trouble in the sixth," said Ménard. "I was playing to make the double and then to maybe throw another double on my next, but the right weight and good angle left the rock frozen. I guess it was meant to be."
In the bronze medal match, the Northwest Territories' Jamie Koe of the Yellowknife Curling Club defeated New Brunswick's James Grattan of the Capital Winter Club by a score of 8-3.
Live scoring, standings and statistics for the 2021 Canadian Mixed are available at www.curling.ca/scoreboard/
This story will be available in French as soon as possible at www.curling.ca/2021mixed/nouvelles/?lang=fr