Playoffs are set!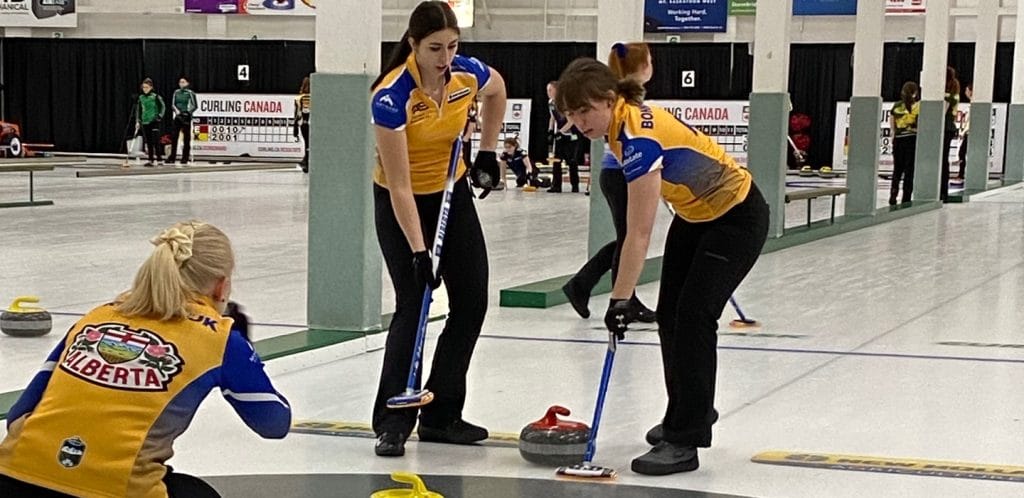 It's on to the playoffs at the New Holland World Juniors Qualifying Event
As the dust settles and pool play concludes at the Granite Curling Club in Saskatoon, only six men's and six women's playoff qualifiers would remain.
In the main event Thursday, Team Elysa Crough (5-0; Edmonton) defeated Team Taylour Stevens (4-1; Halifax) 8-7 to secure top spot in Pool B. Also coming out of the pool is Team Adrienne Belliveau (2-3; Dundas, Ont.), who beat Team Madison Kleiter (2-3; Saskatoon) in what became a winner-take-all game.
In Pool A, Team Ladouceur (4-1; Sudbury) defeated Team Cassie Rogers (1-4; Yellowknife) 7-3 to earn a spot in the semi-finals. Joining Team Ladouceur in the playoff round are Team Erica Cluff (3-2; Fredericton) and Team Walter (3-2; East St. Paul, Man.) Team Cluff won the head-to-head game on the final draw by a 7-3 count.
Team Mackenzie Mitchell (3-2, St. John's, Nfld.) missed the playoffs based on head-to-head play among the three 3-2 teams. Team Mitchell defeated Team Cynthia St-Georges (1-4; Laval, Que.) 7-5 in the final draw.
In the battle of top pool B teams, Team Crough jumped out to an early 7-2 lead over Team Stevens. The Nova Scotia team battled back and trailed 8-6 with the hammer coming home. Stevens slid a tad too far with her final rock, giving Crough an 8-7 win.
As the game got tighter, most eyes in the large crowd turned to the heavyweight match.
"I bet it was fun to watch, my goodness," Clough said moments after leaving the ice. "Yeah, that was a game."
She said her team started off strong in building the five-point lead.
"Then, we had a couple of unfortunate misses and they got back into it, but that's the way curling works. We never got down on ourselves. We handled it well."
She said any lead is not safe with the five-rock rule and 10 end games.
"There is no sitting back in curling. Anything can happen and all it takes is one shot to do that."
Crough was asked what the bye means to her.
"Honest, I don't even know what time we play tomorrow."
It will be at 5 p.m. against the winner of a game between Team Cluff and Team Belliveau.
On the other side of the draw, Team Ladouceur will play the winner of a game between Team Stevens and Team Walter.
"We played all these good teams, so it feels really good coming out on top," Ladouceur said. "We are going to keep going; there are a lot of good teams out here."
She said having a bye can go both ways.
"I think sometimes people take the bye, but don't realize (other teams) will have an extra game to feel out the ice."
Team Belliveau seemingly came out of nowhere to earn a playoff spot. The team was 1-3 going into the final draw.
"At the start of the week, we didn't play too well as a team. We didn't see it going too well, but we kept our focus," Belliveau said. "We weren't really playing our strategy the last couple games, but today we really buckled down and played our game, and it worked out for us."
She said the style is both clean while putting pressure on the opponent early.
Emily Bowles (1-4; New Westminster) ended the playoff hopes of Team Rachel MacLean (1-4; Cornwall, P.E.I.) with an 8-2 win. That left Team Belliveau and Team Kleiter battling for the third spot in Pool B.
In the A Pool, in the men's first draw of the day, Team Scott Mitchell (4-0; Whitby, Ont.) defeated Team Johnson Tao (3-1; Edmonton) 11-6. Team Jordon McDonald (3-1; Winnipeg) defeated Josh Nowlan (1-3; Moncton) 11-3, and Team Mitchell Schut (1-3; Cornwall, P.E.I.), defeated and Team Dallas Burgess (0-4; Kakabeka Falls, Northern Ontario) 9-8.
Team Mitchell, Team Tao and Team McDonald have all qualified for the playoffs.
In the B Pool, Team Owen Purcell (4-0; Halifax) defeated Team Jullian Bowling (0-4, Yellowknife) 10-3, Team Daymond Bernath (3-1; Saskatoon) defeated Team Connor Deane (2-2; New Westminster, B.C.) 7-6, and Team Nathan Young (3-1; St. John's, Newfoundland & Labrador) defeated Team Raphael Patry (0-4; Jonquiere, Que.)
With the win, Team Purcell have qualified for the playoffs and are joined by Newfoundland and Labrador's team Young and Saskatchewan's team Bernath.
The winners of the championship will advance to the worlds in March in Sweden, and get a trip to the Continental Cup.
Live scoring, standings and statistics for the New Holland World Juniors Qualifying Event are available at www.curling.ca/2021worldjuniorqualifier/ and curling.ca.
This story will be available in French as soon as possible at https://www.curling.ca/category-all-posts-fr/?lang=fr