Cream of the crop!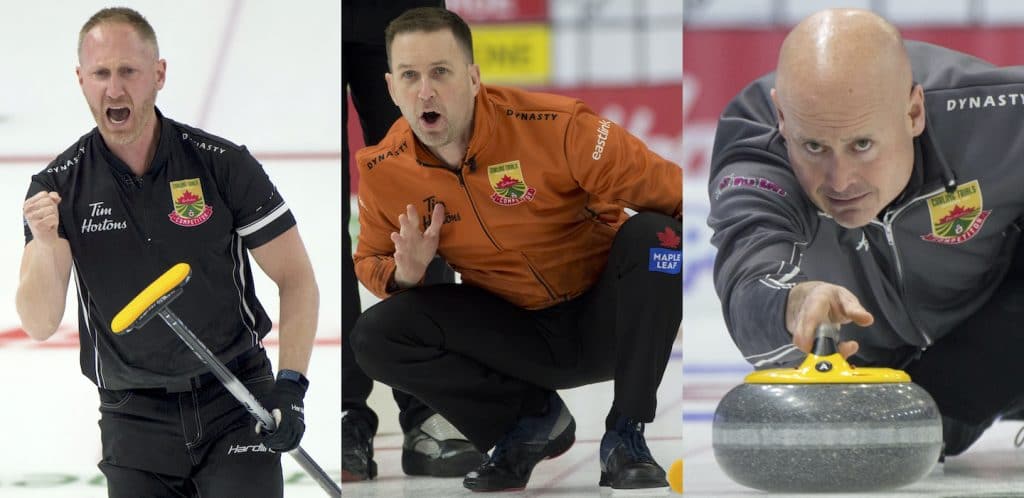 Men's playoff qualifiers set at Tim Hortons Trials
Cream rises to the top, and the cream couldn't get any thicker than the three men's teams that have qualified for the weekend playoffs at the 2021 Tim Hortons Curling Trials, presented by AGI, at SaskTel Centre in Saskatoon.
It took seven days of intense action to decide matters, but at the end of the nine-team round-robin Friday, three teams survived the week to carry on, and they're all Olympic grade: Team Brad Gushue (7-1, St. John's, N.L.), Team Brad Jacobs (7-1, Sault Ste. Marie, Ont.) and Team Kevin Koe (6-2, Calgary). Nine of the 12 players on the teams have been to the Olympics.
Experience, said Koe, was a factor in the three teams advancing.
"You're looking at the three teams that have probably had the best year, the three highest ranked teams, that's probably why they've all gone to the Olympic too, right?" said Koe, who is supported by third B.J. Neufeld, second John Morris, lead Ben Hebert, alternate Denni Neufeld and coach John Dunn. "I mean there's a bit of the trend there. Those two other teams have as much experience as everyone."
Still, there will be a certain amount of anxiety with the prize that's waiting for the ultimate winner.
"Nerves, I'm sure there will be nerves, it's the playoffs," Koe said of the upcoming battle between the three. "But all the teams are super experienced and I expect all the teams to play well."
To this point, said Gushue, nerves haven't been a factor for the three teams.
"We've all skipped teams to the Olympics," he said. "This moment, this event hasn't made us nervous or anything like that."

Team Koe was the last to join the exclusive club that will fight for the right to represent Canada at the Winter Olympic Games in Beijing, China, in February. Team Koe closed out its round-robin schedule Friday evening with a 9-3 victory over Team John Epping (3-5, Toronto) to finish in third place behind Team Gushue, which finished in first and Team Jacobs in second spot.
Teams Gushue and Jacobs finished tied at 7-1 but the Newfoundlanders got top spot because they won the earlier head-to-head game.
Team Gushue earned a bye into Sunday's final at 7 p.m. CST by beating Team Mike McEwen (4-4, West St. Paul, Man.) 6-4. Team Jacobs beat Team Tanner Horgan (1-7, Kingston, Ont.) 12-5.
Team Koe will play Team Jacobs in Saturday's semifinal at 2 p.m. CST.
"Job one done, getting to the playoffs," said Gushue. "Job two done, getting to the final. Just have to finish it off now. Now it's going to come down now to whoever is hot, whoever gets a break or two."
The three-playoff bound teams are as close to curling royalty as they come in Canada and qualified early for the Tim Hortons Trials through their play over the past two seasons: all four members of Team Jacobs have Olympic gold medals to their name; Team Gushue is skipped by one of the most decorated curlers in the country, with three Tim Hortons Brier titles, a world championship and an Olympic gold medal on his resume; and Team Koe, Canada's rep in the 2018 Olympics, has two world titles and four Tim Hortons Brier championships on its resume.
Could the home stretch be any more star-studded?
Team Gushue knew its role was straightforward Friday evening – win and finish first and get the bye. So they did just that. Gushue, third Mark Nichols, second Brett Gallant, lead Geoff Walker, alternate Jeff Thomas and coach Jules Owchar scored two in the fourth and three in the eighth and were in control throughout the game.
It was a disappointing loss for Team McEwen, who needed a win in hopes of creating a tiebreaker situation.
The other game saw Team Matt Dunstone (3-5, Regina) beat Team Jason Gunnlaugson (2-6, Morris, Man.) 8-4.
The winners in both women's and men's brackets will represent Canada in four-person team competition at the Winter Olympics Games in Beijing, China, Feb. 4-20.
The 2021 Tim Hortons Canadian Curling Trials will continue Saturday with draws at 9 a.m., 2 p.m. and 7 p.m. (all times Central).
Live scoring, standings and statistics for the 2021 Tim Hortons Canadian Curling Trials are available at www.curling.ca/scoreboard/
All draws from the 2021 Tim Hortons Canadian Curling Trials are being broadcast in Canada on TSN and RDS. CLICK HERE for the broadcast schedule in Canada.
As well, streaming coverage will be available on ESPN3 to fans in the U.S. with valid U.S. cable or satellite accounts.
This story will be available in French as soon as possible at www.curling.ca/2021trials/nouvelles/?lang=fr