Canada's Best Club Teams!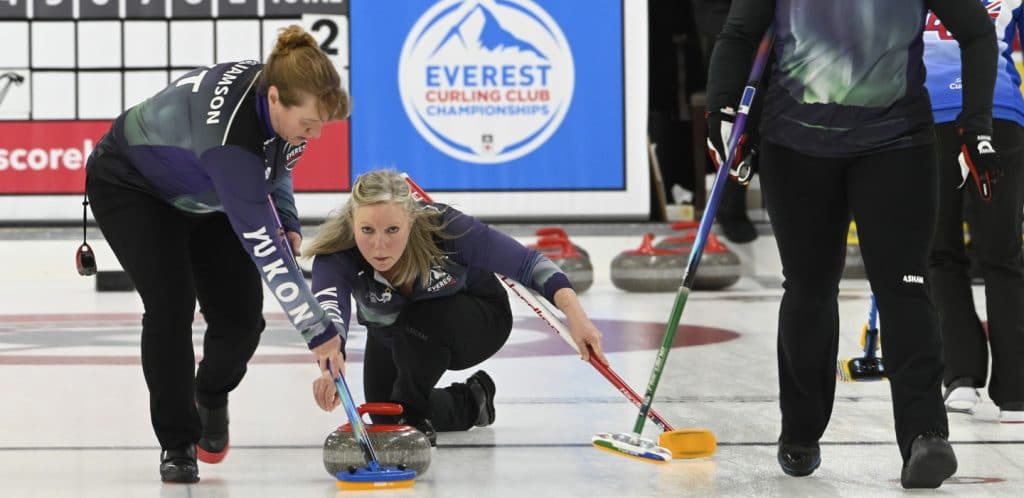 Teams settling in as competition continues at 2021 Everest Canadian Curling Club Championships
The 2021 Everest Canadian Curling Club Championships are underway from the Ottawa Hunt and Golf Club, bringing together the country's top men's and women's club curling teams, with all 14 of Curling Canada's Member Associations (10 provinces, three territories and Northern Ontario) represented in both genders.
And after five draws of action thus far, the leaderboards are taking shape but are hardly cemented in place.
In women's pool play, pool A has Northern Ontario's team Tracey Laroque (Thunder Bay) and Alberta's team Tiffany Steuber (Spruce Grove) tied for top spot each with a 2-0 record. Pool B looks similar with Nova Scotia's Celina Thompson (Halifax) and Ontario's Laurie Shields (Newmarket) sharing the top spot with 2-0 records as well.
In men's pool play, Saskatchewan's Dean Grindheim (Saskatoon) is fresh from his experience at the 2021 Canadian Mixed Curling Championships where his team shares a 3-0 record and top spot in pool A with Ontario's team Adam Spencer (Guelph). Pool B has Manitoba's team Trevor Loreth (Winnipeg) currently atop the leaderboard at 2-0, but only temporarily as Nova Scotia's team Nicholas Deagle (Bridgewater) is right behind sporting a 1-0 record with a game in hand. Nova Scotia will get a chance to pull even this evening during its draw 6 matchup versus Newfoundland and Labrador's Mark Noseworthy (1-1; St. John's).
In draw 5, the feature match streamed live on Curling Canada's YouTube channel and TSN.ca saw Nova Scotia serve the Yukon's team Laura Eby (2-1; Whitehorse) its first loss of the competition by a score of 8-4. New Brunswick's team Julia Goodin (1-2; Moncton) fell to Ontario by a score of 6-3 while Québec's team Cyntia Plouffe (2-1; Buckingham) downed the Northwest Territories' team Stacey Stabel (Yellowknife) 6-5.
In men's play, Québec's team Philipe Ménard (1-1; Saint-Bruno-de-Montarville) earned their first win making short work of Nunavut's team Wade Kingdon (0-3; Iqaluit) by a 10-2 score. Ontario stayed perfect, besting the Yukon's team Dustin Mikkelsen (1-1; Whitehorse) by a score of 6-3 while Saskatchewan downed Alberta's team Glen Hansen (0-2; Hinton) by a score of 8-6 in eight full ends. 
Action will resume Tuesday evening as draw 6 will take place at 7:30 p.m. (all times Eastern).
Games from the 2021 Everest Canadian Curling Club Championships will be live-streamed on TSN.ca as well as on Curling Canada's YouTube channel. Check curling.ca/broadcast for the up-to-date broadcast schedule.
Scores and standings from the event will be available at www.curling.ca/scoreboard.
For draw times, team lineups and other event info, go to: www.curling.ca/2021clubchampionships.