Home sweet home!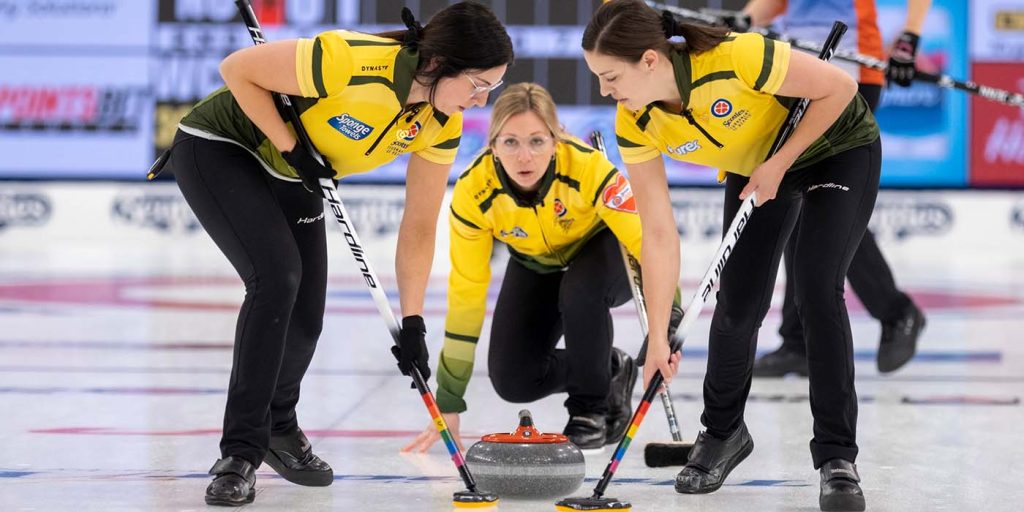 Team McCarville off and running at 2022 Scotties
She's skipping the hometown favourites at the Scotties Tournament of Hearts, and normally that should have been a tremendous wind in her sails as she kicked off her portion of the 2022 event in Thunder Bay, Ont.'s Fort William Gardens.
Only these aren't normal times. COVID-19 has seen to that.
But that didn't matter Friday as Northern Ontario's Team Krista McCarville, playing before an arena devoid of fans and their hometown cheers and whistles, won its opening game 7-3 against Team Chelsea Carey's Wild Card 2 from Regina.
"It's super disappointing. It's been two years of waiting," said McCarville. "Our families are at home, a block, two blocks away. And they're dying to be here. But we know they're there, behind the camera.
"We wanted the cheers out there for us, of course," added McCarville, a 39-year-old teacher from the Fort William Curling Club. She is skipping in her ninth Scotties, representing both Ontario and Northern Ontario over the years. "We had a few claps . . . a few volunteers out there. I guess the positive of this is we could hear everybody. But we miss our fans, for sure."
The event is being played with increased health measures because of COVID-19, with no spectators, strict protocols and testing to keep players and officials safe.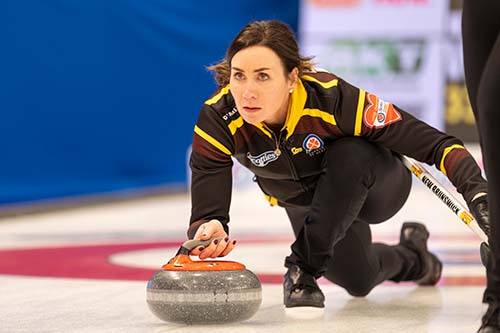 It was a solid opener from Team McCarville against a formidable skip. Carey has two Scotties championships under her belt, skipping Alberta to titles in 2016 and 2019, and with loads of experience, her appearance this year with a brand new team from Saskatchewan made her no less dangerous.
Team McCarville, which includes vice-skip Kendra Lilly, second Ashley Sippala, lead Sarah Potts, alternate Jen Gates and coach Rick Lang, benefited early by two uncharacteristic mistakes by Carey. She flashed on an open hit in the third end to give up a steal of one, then slid too deep on a draw to the eight-foot in the fourth to give up a steal of three. Gifted with a 5-0 lead, McCarville wasn't about to give it away.
"Going in to play a really great team like Chelsea Carey we're going to want to get up early, and we're going to want to win our first Scotties game," she said. "It feels nice to have our feet under us after the first game."
It was a triumphant return to the Scotties for Team McCarville, which made the difficult decision to not compete at the Scotties in the Calgary curling bubble last season. McCarville said her family and students were a top priority in the midst of a pandemic.
The Scotties kicked off Friday in Pool A without Tracy Fleury, one of the high-profile players in the event and skip of the number-one ranked team in the world. She was forced to sit out the opener following a positive COVID-19 test. Fleury, who lives in Sudbury, Ont., is under enhanced protocols and being monitored by Curling Canada medical staff. The team is optimistic she will rejoin sometime on the weekend.
Her Wild Card 1 team from East. St. Paul, Man., with regular third Selena Njegovan taking over the skipping reins and Robyn Njegovan (Selena's sister-in-law) coming off the bench to fill in at third, gave it their best shot but gave up a single in the final end to lose 6-5 to New Brunswick's Andrea Crawford (1-0; Fredericton).
In other opening-round Pool A games to lift the lid on the Scotties, Team Rachel Homan (1-0; Ottawa), skipped by Emma Miskew, defeated Newfoundland and Labrador's Sarah Hill (0-1; St. John's) 10-5, and Prince Edward Island's Suzanne Birt (1-0; Cornwall/Montague), playing in her 13th national women's championship, defeated Nunavut's Brigitte MacPhail (0-1; Iqaluit) 12-2.
Homan, who is representing Canada in mixed doubles at the Winter Olympic Games in Beijing next week, is not in Thunder Bay with her.
"It was a new experience for me, more than anything," said Miskew. "For the most part, we had a game plan that would be similar to when Rachel is here. Maybe we're playing a little more conservative just so we don't get ourselves in too much trouble."
The 18 teams are split into two pools of nine and will play a complete eight-game round robin. The top three teams in each pool advance to the playoffs where it will be further reduced to a final four and a Page playoff system.
The final goes Sunday, Feb. 6.
The 2022 Scotties Tournament of Hearts continues Saturday with draws at 2 p.m. and 7 p.m. (all times Eastern).
Live scoring, standings and statistics for the 2021 Scotties Tournament of Hearts are available at www.curling.ca/scoreboard/
TSN and RDS2 (streamed on ESPN3 in the United States) will provide complete coverage of the 2021 Scotties Tournament of Hearts. CLICK HERE for the complete schedule.
This story will be available in French as soon as possible at https://www.curling.ca/2022scotties/nouvelles/?lang=fr