Fit to be tied!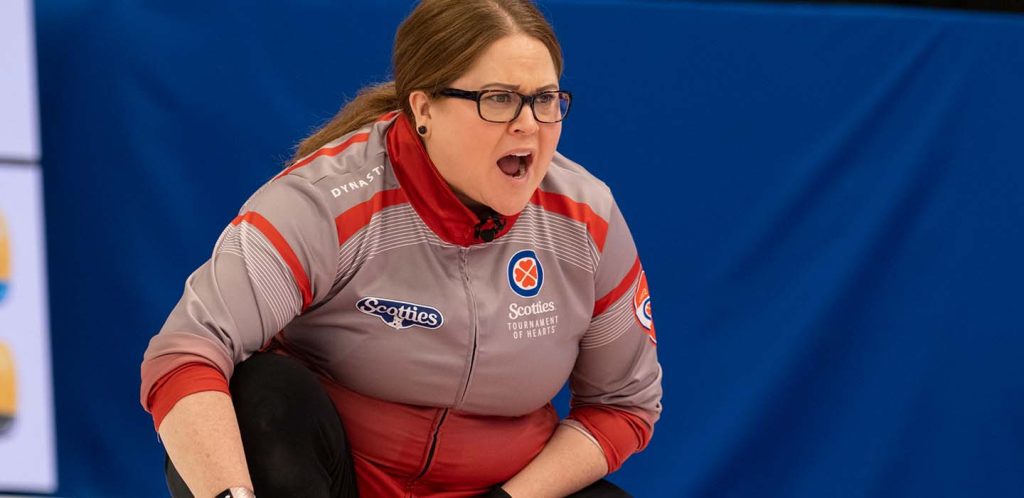 Team Manitoba, Team Territories square off for final playoff spot at Scotties
There will be a one-game tiebreaker for the third and final playoff spot in Pool B at the 2022 Scotties Tournament of Hearts.
After the dust had settled Thursday evening at Fort William Gardens in Thunder Bay, Ont., Team Manitoba (5-3, Altona), and Team Northwest Territories (5-3, Yellowknife) were locked in a tie for third place, meaning an early-morning duel for the final spot in the Pool B grouping.
Skip Christina Black's Team Nova Scotia (5-3, Dartmouth) also tied for third but was awarded second place and a playoff spot because of victories over both Team Manitoba and Team Northwest Territories in the round robin.
Team Manitoba, skipped by Mackenzie Zacharias, had a chance to clinch the spot during the final draw, but two-time Scotties champions skipped by Kerri Einarson of Team Canada (8-0, Gimli, Man.) would have none of that. Despite being staggered by a five-ender thrown at it in the second end, Team Canada rebounded for a 10-7 win.
Nova Scotia grabbed the second playoff spot despite losing 10-8 to Team Quebec (3-5, Laval-sur-le-Lac/Glenmore), skipped by Laurie St-Georges.
Team Manitoba's loss opened the door for Team Northwest Territories to stay on life support, and the the Polars took advantage of the break by scoring a well-deserved 7-4 win over skip Laura Walker's Team Alberta (3-5, Edmonton).
"We're pretty excited we're still alive," said Galusha. "We knew that we had to win and we needed a little help. We hung in there and hopefully we built some momentum going into our tiebreaker.
"We didn't play well this morning and we were a little disappointed in that. We just wanted to get back on track."
Galusha said a win in tomorrow's tiebreaker "would be huge" for curling in the Territories.
"We want to make history this week," she said. "I'm not going to be curling much longer, the girls may get one more year out of me, so we want to go out in the tiebreaker tomorrow and play well."
Einarson's place in the playoffs was secured Wednesday, so her final win was simply icing on the cake.
"We got a bit of a slow start and gave up a five early, but we knew there was lots of game left," said Einarson. "We got some rocks in some really good spots and scored that bigger end (four) in the fifth that I think was a big momentum switch."
It also made a strong statement about the high calibre of curling in Manitoba. Earlier in the day Team Wild Card 1 (7-1, East St. Paul, Man.) clinched top spot in Pool A. Throw in Team Manitoba's record, and the women from the Keystone province racked up a 20-4 combined record this week.
In the other game on the ice Thursday, Team British Columbia's Mary-Anne Arsenault (3-5, Kelowna) scored an 11-8 win over Team Yukon (0-8, Whitehorse) skipped by Hailey Birnie.
Friday's first round of the playoffs at 1 p.m. (all times ET) pits Team Nova Scotia against skip Krista McCarville's Team Northern Ontario, while Team New Brunswick, skipped by Andrea Crawford, takes on the winner of the morning tiebreaker. The tiebreaker will be played at 9 a.m.
The final goes Sunday, Feb. 6.
The Scotties champion will represent Canada at the 2022 BKT Tires & OK Tire World Women's Curling Championship in Prince George, B.C., from March 19-27.
Live scoring, standings and statistics for the 2021 Scotties Tournament of Hearts are available at www.curling.ca/scoreboard/
TSN and RDS2 (streamed on ESPN3 in the United States) will provide complete coverage of the 2021 Scotties Tournament of Hearts. CLICK HERE for the complete schedule.
This story will be available in French as soon as possible at https://www.curling.ca/2022scotties/nouvelles/?lang=fr