Rags to riches!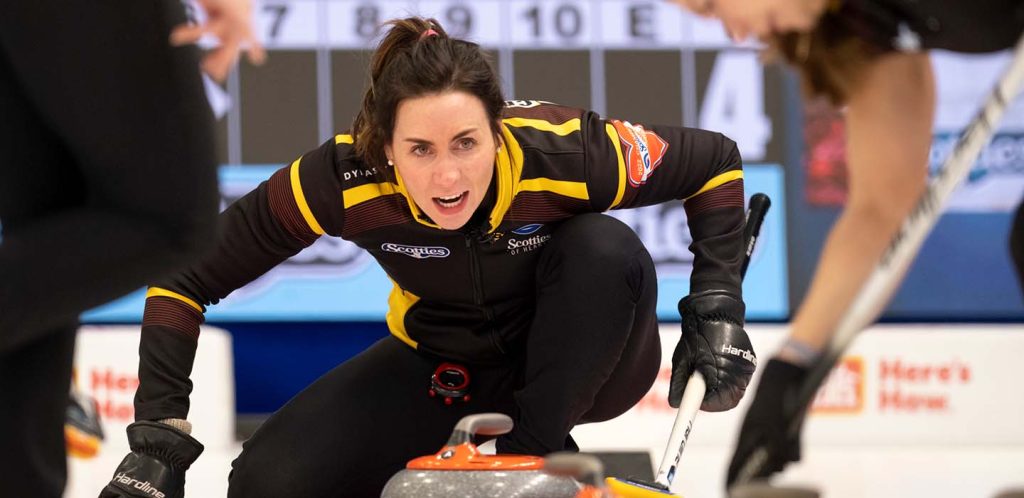 Crawford keeps making believers at Scotties Tournament of Hearts
Andrea Crawford is writing something of a rags-to-riches story here this winter in Thunder Bay this week.
Crawford's making her 10th appearance at the Scotties and was yet to top her personal best record of 6-5 at the Canadian women's championship. In 2022, she's soared past it.
Maybe it's something in that great Northern Ontario water, but skip Crawford and her Team New Brunswick (Fredericton) have found a magic elixir, and it's carrying the team from Fredericton to within two wins of claiming the Canadian women's curling championship.
Crawford, who has been solid all week, stepped it up a notch Friday by bringing skip Kerri Einarson's Team Canada (Gimli, Man.) back to earth with an 8-6 victory in the Page seeking round. Einarson had won all eight of her games this week at the Fort Williams Gardens.
"It feels amazing," said Crawford, who jumped out into an early 4-0 lead but had to make her final shot with the hammer in the 10th to preserve the victory. "That was another game of grit and we fought hard to stay in the game. We got a couple of keys misses and it allowed us to get the advantage."
Team New Brunswick will now face skip Krista McCarville's Team Northern Ontario (Thunder Bay) in Saturday's 1v2 Page playoff at 7 p.m. (all times ET), with the winner going directly to Sunday's final.
The loser gets a second chance in Sunday's semifinal.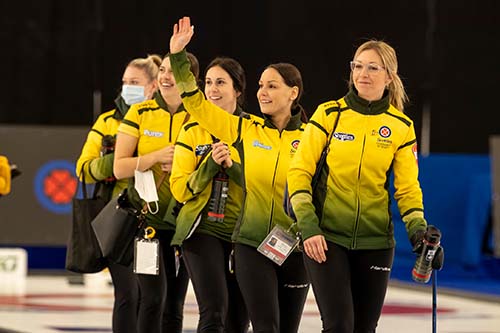 McCarville won her second big game of the day to close to within two wins of her first major championship. The 39-year-old school teacher had previously won silver at the 2016 Scotties and finished third at the recent Tim Hortons Canadian Curling Trials in Saskatoon.
The local favourites were dynamite against skip Tracy Fleury's Team Wild Card 1 (East St. Paul, Man.) in the other Page seeding game, making shot after shot and rolling to a 8-3 win.
"I'm really happy with the team," said McCarville. "We went out there firing, we made every shot, and I thought we were really into it.
"My job was really easy today, which I hope carries into tomorrow."
Fleury and Einarson, two of the top two teams in the world, can only lick their wounds and prepare for Saturday's 3v4 Page playoff game at 2 p.m. against each other. The loser will be eliminated.
It was a weird day for Team Northern Ontario. It held an eight-point advantage in the afternoon semifinal game against skip Christina Black's Team Nova Scotia, and almost gave it all away. In the evening she once again held an eight-point lead.
This time, though, there were no dramatic comeback attempts.
The Scotties champion will represent Canada at the 2022 BKT Tires & OK Tire World Women's Curling Championship in Prince George, B.C., from March 19-27.
Live scoring, standings and statistics for the 2021 Scotties Tournament of Hearts are available at www.curling.ca/scoreboard/
TSN and RDS2 (streamed on ESPN3 in the United States) will provide complete coverage of the 2021 Scotties Tournament of Hearts. CLICK HERE for the complete schedule.
This story will be available in French as soon as possible at https://www.curling.ca/2022scotties/nouvelles/?lang=fr