Ready for a Rest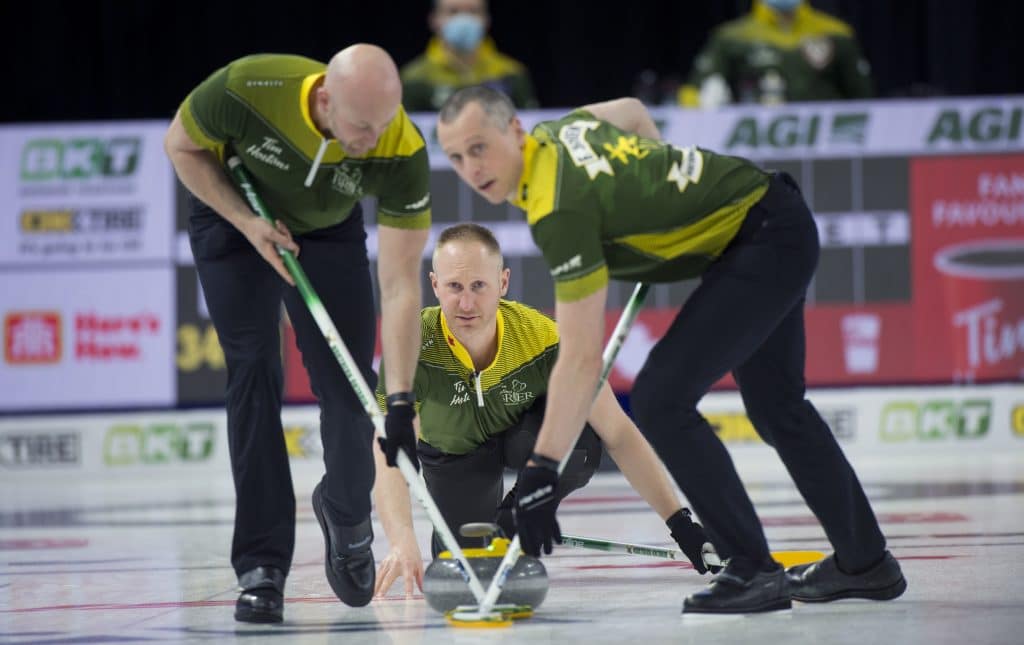 Team Northern Ontario continues hot play at Tim Hortons Brier
Brad Jacobs could use a rest. And so could his team.
They've earned it.
The 2022 Tim Hortons Brier is five days into the books and Jacobs and his Team Northern Ontario rink have played in every draw. And they've been sensational in almost all of them.
Their fine play continued Tuesday evening as Team Northern Ontario (5-1, Sault Ste. Marie) posted a dominant 12-2 victory over skip Peter Mackey's Team Nunavut (0-5, Iqaluit).
The victory was the second of the day for the 2013 Tim Hortons Brier champions and lifted them into sole possession of second place in the nine-team Pool B round robin.
The rest will have to wait, though. Team Northern Ontario's sharpshooters have another tough game Wednesday against Team Manitoba before they can finally put their feet up.
Skip Jacobs loves the position he's in.
"We have the bye Thursday which is awesome," he said. "The bye couldn't come for us at a better time. We get to sleep in that day and probably get an opportunity to throw some rocks at one of the local curling clubs. Love the fact that we have two one-game days back to back to finish off this round robin. We should come out refreshed and ready to go."
It was a good day on the scoreboard and personally for Team Northern Ontario. Vice-skip Marc Kennedy was able to play against his brother Glen of Team Northwest Territories in the morning for the first time ever at the Tim Hortons Brier.
"Today was a really fun day for us," said Jacobs, with special mention of the brother-vs-brother matchup. "Marc got to play against his brother. It was special for both of them. And we were able to put a bunch of shots together and get a couple of wins."
As good as they've been, Jacobs and Co — Kennedy, second E.J. Harnden, lead Ryan Harnden, alternate Jordan Chandler and coached by Caleb Flaxey — still trail skip Brad Gushue's Team Wild Card #1 in the standings. Team Wild Card #1 (5-0, St. John's), fresh off a bronze-medal victory at the recent Beijing Winter Olympics, kept its record spotless with a 9-6 win over skip Mike McEwen's Team Manitoba (3-2, West St. Paul).
Gushue's slim lead in the standings is the result of his 8-7 win over Jacobs in their round-robin meeting, the only game Team Northern Ontario came up cold.
Gushue says his team is still battling the effects of playing in the Olympics.
"The last couple of nights I've had the best sleeps I've had since Christmas," he said. "That's a positive as far as being rested. The concern coming in was that intensity and that sharpness. I don't think we're quite there with the intensity. We have another level to get to. The concern now as you get into the second half is fatigue."
Skip Jason Gunnlaugson's Team Wild Card #3 (4-2, Morris, Man.) moved into third place in the standings after scoring a 6-3 win over Team Northwest Territories (0-6, Yellowknife) skipped by Jamie Koe.
The top three teams in each of the two nine-team fields advance to the weekend playoffs, with the pool winners earning a first-round bye.
In the other game in the evening draw, skip Brent Pierce's Team British Columbia (2-4, New Westminster) handed Team Nova Scotia (3-2, Halifax) its second loss of the day, posting a 11-7 win over skip Paul Flemming's Bluenosers. Team British Columbia built an early 6-1 lead but had to hold off the rattle of a Team Nova Scotia comeback.
The 2022 Tim Hortons Brier continues with draws Wednesday at 8:30 a.m., 1:30 p.m. and 6:30 p.m. (all times MT).
Live scoring, standings and statistics for the 2022 Tim Hortons Brier are available at curling.ca/scoreboard.
TSN and RDS2 (streamed on ESPN3 in the United States) will provide complete coverage of the 2022 Tim Hortons Brier. CLICK HERE for the complete schedule.
For ticket information for the 2022 Tim Hortons Brier, go to www.curling.ca/2022brier/tickets/
This story will be available in French as soon as possible at www.curling.ca/2022brier/nouvelles/?lang=fr