Complete game win!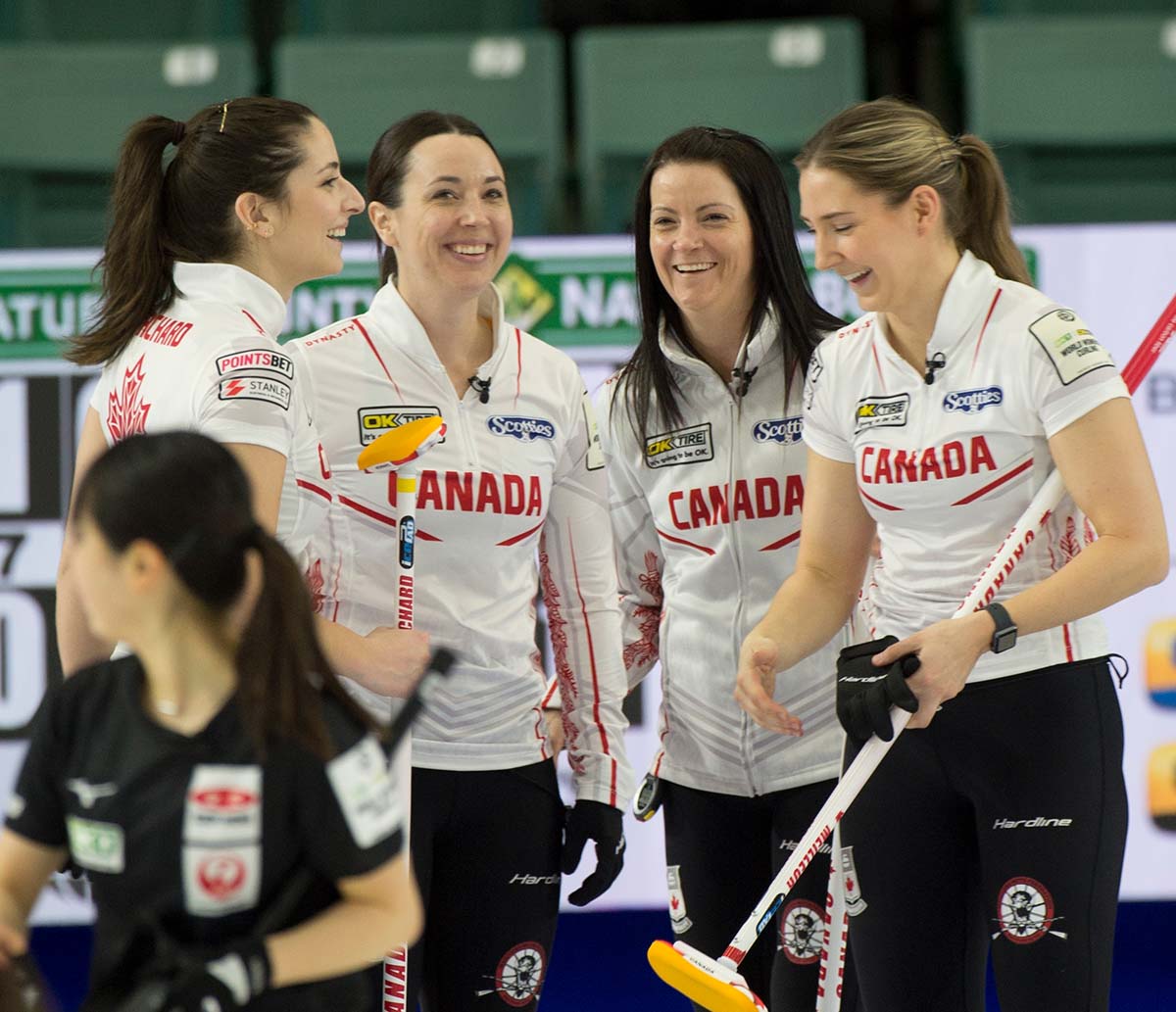 Team Canada puts it altogether at world women's championship
Team Canada may have finally rolled over the hump at the 2022 BKT Tires & OK Tire World Women's Curling Championship, presented by Nature's Bounty, in Prince George, B.C.
The Canadians, skipped by Kerri Einarson, have looked good on occasions and mediocre on others in their first five games at CN Centre, but collectively dug down deep and put it all together Tuesday afternoon after defeating Team Japan 10-4.
Nothing has come easy for Einarson and Co. this week, but this may have been their best performance as a team against a very talented Japanese squad skipped by Ikue Kitazawa.
The win improved Team Canada's record to 4-2 after four days of play, leaving the host country in a fourth-place tie with Team Japan, Team United States and Team Denmark as they battle for one of six playoffs spots in the 13-team round-robin.
"I thought we played really well, and I knew they (Team Japan) were playing well," said Einarson, who is supported by vice-skip Val Sweeting, second Shannon Birchard, lead Briane Meilleur, alternate Krysten Karwacki, team coach Reid Carruthers and national coach Renée Sonnenberg. "We needed to put some pressure on them and put our rocks in good spots."
The Canadians, based in Gimli, Man., played perhaps their most complete game. They controlled the game from the get-go and never gave the talented Japanese many chances to score multiple ends.
They couldn't, however, breathe easy until they scored a three-ender in the eighth end. Kitazawa, supported by vice-skip Seina Nakajimi, second Minori Suzuki, lead Hasumi Ishigooka, alternate Chiaki Matsumura and coach Yusuke Morozumi tried to save the end facing three with her final rock draw to the shot stone at the back of the four-foot but slid by too heavy.
Team Canada's win was once again fuelled by Sweeting who came up with another superb game shooting 92 per cent.
"To be frank, we haven't been glancing at the standings," said Einarson. "It's still pretty early in the week. We knew that two losses was nothing to worry about so the focus was getting on a roll at this point. That was our main focus this afternoon."
The Canadians will celebrate the win with coach Sonnenberg who is celebrating her birthday today.
The win kept the Canadians within sight of the two-time defending champions from Switzerland who continued to set the pace, rolling to their sixth straight win to grab the lead atop the standings. The Swiss, skipped by Silvana Tirinzoni, defeated skip Marianne Roervik's Team Norway 8-5 to remain undefeated.
The Norwegians fell to 2-4 but are still in the midst of a playoff challenge.
Team South Korea, skipped by EunJung Kim, is the only other undefeated team. The Koreas are 5-0 and had the afternoon bye.
Skip Anna Hasselborg's Team Sweden holds down third place with a 5-1 record.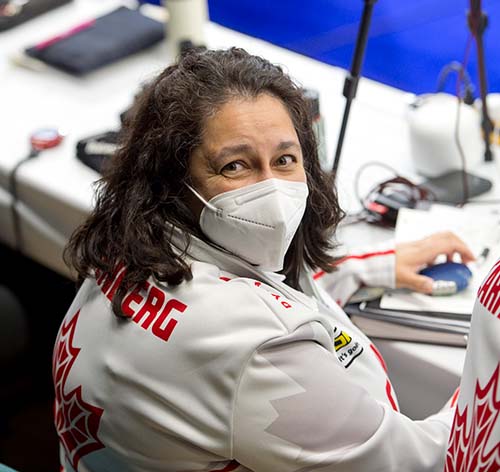 Making a move up the ladder was Team United States, skipped by Cory Christensen, which stayed in sight of the leaders after an impressive 8-7 win over Germany's Daniela Jentsch (2-4). The Americans improved to 4-2 and are looking for the second world championship win by the U.S.
In the only other game on the afternoon shift, Team Denmark, skipped by Madeleine Dupont, improved to 4-2 after hanging up an 8-6 extra-end win over skip Alzbeta Baudysova's Team Czech Republic (1-5). It was her team's second extra-end win of the day after defeating Turkey in a similar fashion during the morning draw.
It doesn't get any easier for Team Canada on Wednesday with a date against Team Sweden in the morning.
The top six teams qualify for the playoff round with the top two receiving a bye while the remaining four knock heads in the first round. The gold medal will be played Sunday.
The 2022 BKT Tires & OK Tire World Women's Curling Championship continues Tuesday with a draw at 7 p.m. (all times PT).
Live scoring, standings and statistics for the 2022 BKT Tires & OK Tire World Women's Curling Championship are available by CLICKING HERE.
TSN and RDS2 will provide complete coverage of the 2022 BKT Tires & OK Tire World Women's Curling Championship. CLICK HERE for the complete schedule.
For ticket information for the 2022 BKT Tires & OK Tire World Women's Curling Championship, go to www.curling.ca/2022worldwomen/tickets/
This story will be available in French as soon as possible at www.curling.ca/2022worldwomen/nouvelles/?lang=fr