Eyes on Victory!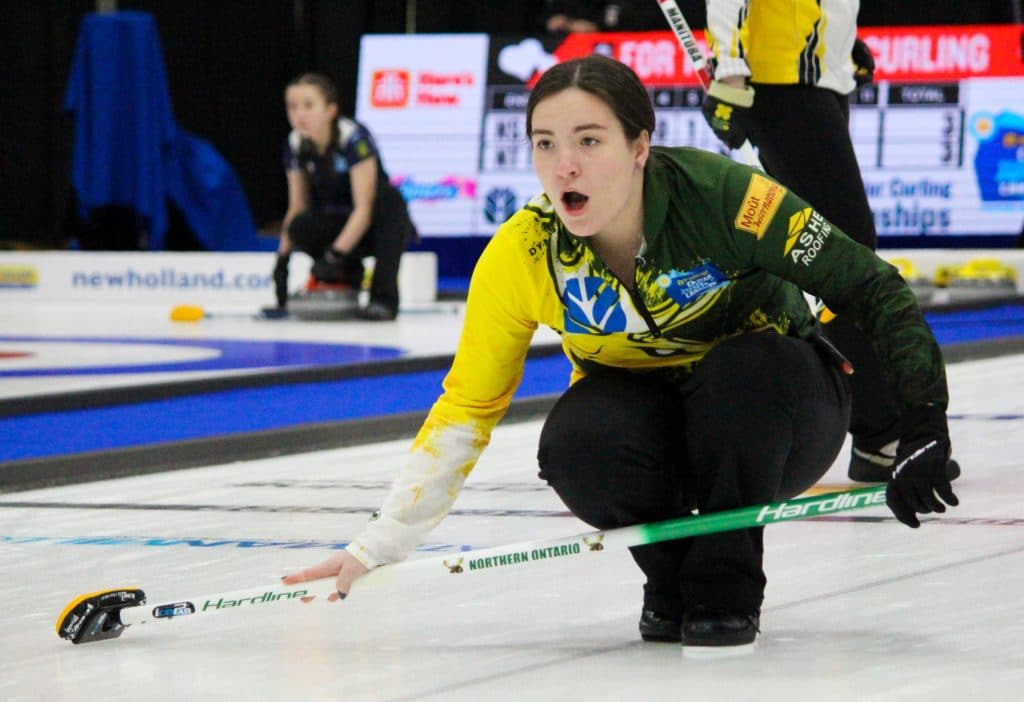 Northern Ontario seeks repeat performance at 2022 New Holland Canadian Under-21 Curling Championship
By technicality, they're already Team Canada.
But there's still a score to settle for team Northern Ontario's Katy Lukowich (2-0; Sudbury) and her squad of vice-skip Jamie Smith, second Lauren Rajala and lead Katie Shaw at the 2022 New Holland Canadian Under-21 Championship at the Stratford Rotary Complex in Stratford, Ont.

They're hungry and they're not resting on their laurels.
Flashback to November 2021, where the entire team was competing in the 2021 New Holland World Junior Qualifiers under the skipping guidance of Isabelle Ladouceur (Katy Lukowich served on the team as alternate). The team went on to win the qualification spot and will represent Canada at the 2022 World Junior Curling Championships May 15-22, 2022 in Jönköping, Sweden.
Ladouceur has since aged out of under-21 qualification, so team alternate Katy Lukowich has taken the reins as the team vies to become Canada's representative at the 2023 World Junior Curling Championships to be held next season (date and location TBC).
For them, slotting Lukowich in at skip to replace Ladouceur was a natural choice.
"I skipped for a while back in Manitoba. I was a little nervous coming into today but we're really excited. It's great to be here," said Lukowich.
Third Jamie Smith knows that one of her roles on the team is one of stability and assurance for her teammates in their new look lineup.
"With this being Katy's first national event as a skip, I'm trying to be a really good support system, as are the rest of the girls," said Smith. "We've been practicing together all season and we all have the utmost confidence in her. She's doing great."
Lukowich and Co. made strides in achieving their national championship goal with a 9-6 win over Prince Edward Island's Rachel MacLean (0-2; Cornwall) on Saturday evening. Northern Ontario's offensive prowess was on full display, converting scores of multiple on every hammer opportunity they had save for a blank in the 3rd end.
"We made the shots when we needed to. We had opportunities and we capitalized on them," said Lukowich of her team's efforts Saturday evening.
Northern Ontario will continue their efforts Sunday with a 12 p.m. (all times eastern) matchup versus Alberta #1.
In other draw 4 action, New Brunswick's Celia Evans (1-1; Oromocto) earned their first win, downing Nova Scotia #2's Sophie Blades (1-1; Chester) by a score of 11-7. Newfoundland and Labrador's Mackenzie Mitchell (2-0; St. John's) bested Alberta #1's Serena Gray-Withers (1-1; Edmonton) by a 11-5 score while Manitoba #1's Tansy Tober (1-1; Winnipeg) defeated the Northwest Territories' Cassie Rogers (0-2; Yellowknife) 8-6 in an extra end. Nova Scotia #1's Taylour Stevens (2-0; Halifax) remains perfect scoring a 12-6 win over British Columbia's Holly Hafeli (0-2; Kamloops) while Saskatchewan kept pace and stayed undefeated as well, vanquishing Ontario #2's Rachel Steele (0-1; Toronto) 5-4. Ontario #1's Emily Deschenes fared better than her Ontario counterpart, besting Alberta #2's Caire Booth by a 10-3 and Manitoba #2's Morgan Maguet (1-1; East St. Paul) found the win column, defeating the Yukon's Bayly Scoffin (0-2; Whitehorse) by a 9-2 score.
Earlier on Saturday, the men took to the ice for Draw 3 action seeing Nova Scotia's Nick Mosher (1-1; Halifax) bounce back from a disappointing draw 1 loss to Newfoundland and Labrador's Nathan Young. Nova Scotia secured their first win of the event over Ontario #2's Dylan Niepage (0-1; Guelph) by a score of 8-5.
Despite splitting his opening day record with a win and a loss, Mosher feels his rink is performing well enough to win.
"I thought we played well this morning," said Mosher. "We took what we had from the morning game and put it into this win."

Mosher knows his team still has another gear.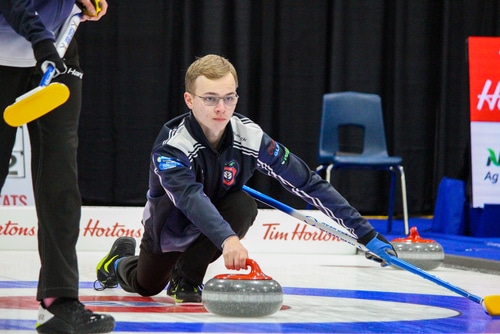 "We're going to continue to improve," said Mosher. "We have a tough game tomorrow against Saskatchewan #1 so we'll need our best."
In other draw 3 action, Alberta's Johnson Tao (2-0; Edmonton) stayed perfect with a 9-2 win over Manitoba #2's Aaron Van Ryssel (1-1; Dugald). Saskatchewan #1's Daymond Bernath also remained undefeated, downing Prince Edward Island's Mitchell Schut (0-2; Cornwall) by a 9-3 score while Newfoundland and Labrador #1's Nathan Young (2-0; St. John's) downed New Brunswick's Rajan Dalrymple (0-2; Oromocto) by a score of 10-3.

Manitoba' #1's Jordon McDonald (2-0; Winnipeg) maintained an unblemished record with a 10-5 win over Alberta #2's Justin Runciman (1-1; Edmonton). Ontario #1's Landan Rooney (1-0; Whitby) enjoyed a morning bye and opened their 2022 New Holland Juniors campaign with a 5-3 win over Northern Ontario's Dallas Burgess (1-1; Kakabeka Falls) while Saskatchewan #2's Nathen Pomedli (1-1; Saskatoon) found the win column defeating Québec's Dimitri Audibert (0-2; Riverbend/Trois-Rivières) 9-4 and Newfoundland and Labrador #2's Sean O'Leary (1-1; St. John's) earned their first win, besting the Northwest Territories' Mason MacNeil (0-2; Inuvik) 13-2.
The 2022 New Holland Canadian Under-21 Curling Championships continue Sunday with draws at 8 a.m., 12 p.m., 4 p.m. and 8 p.m. (all times Eastern) with the latter three draws live streamed on Curling Canada's Youtube page, available here.
For teams, live scoring, results and event information from the 2022 New Holland Canadian Under-21 Curling Championships, click here.
This story will be available in french as soon as possible at https://www.curling.ca/2022under21/nouvelles/?lang=fr