Silver for Canada!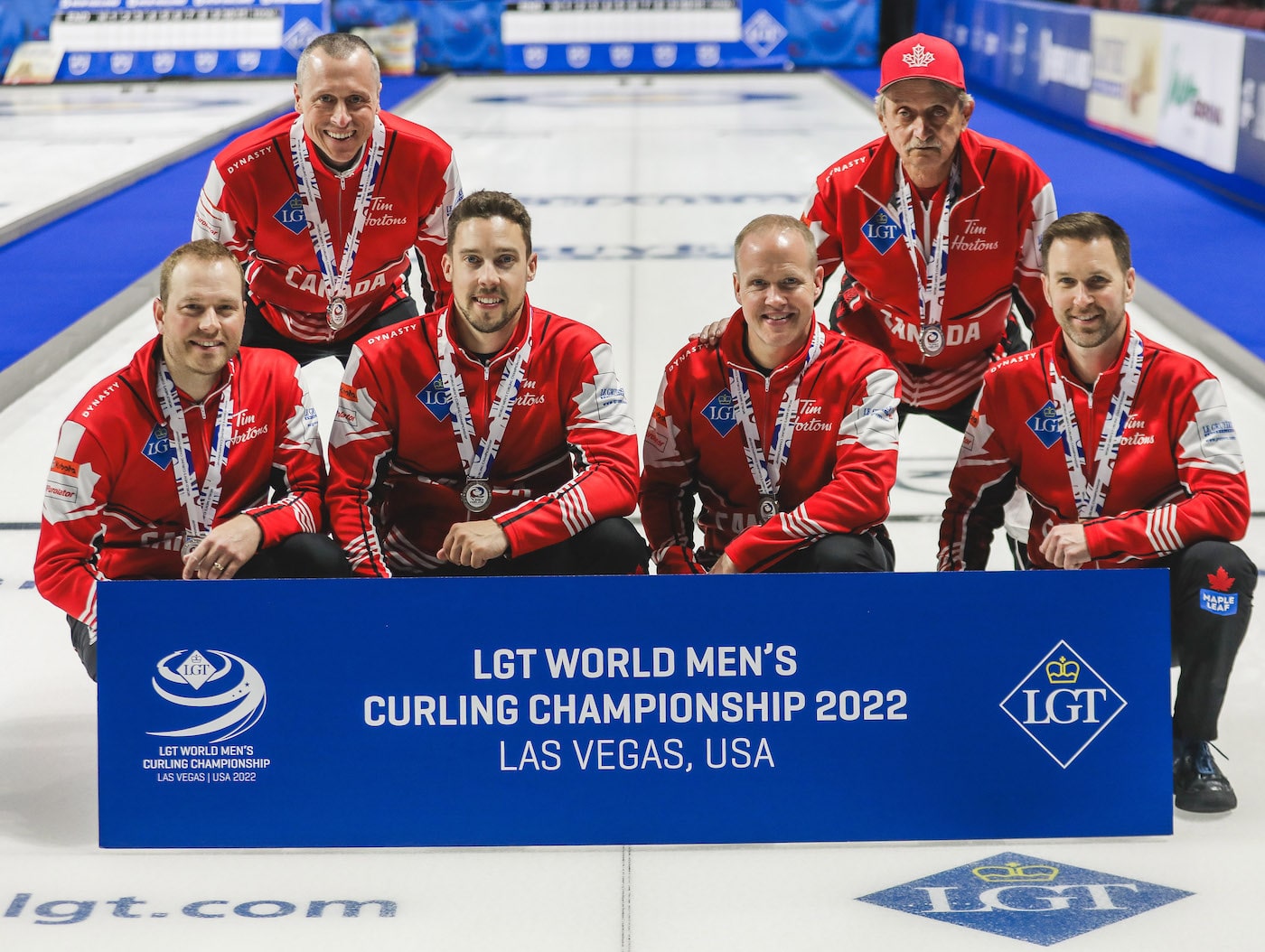 Team Gushue captures silver medal at LGT World Men's Championship
A wonderful week of curling came to a disappointing end for Canada's Team Brad Gushue on Sunday at the 2022 LGT World Men's Curling Championship, presented by New Holland.
The Canadian team from St. John's, N.L., that had ground its way to top spot in the round-robin standings during the week at Orleans Arena in Las Vegas fell agonizingly short of finishing the job, bowing 8-6 to Sweden's Team Niklas Edin in Sunday's gold-medal game.
It was a fourth consecutive world championship for the Swedes, and Edin's sixth as a skip. They also become the first men's team to win Olympic and world championship gold in the same season.
Edin didn't need to throw his final shot for the win as Gushue's attempt to play a soft in-off behind cover didn't curl enough.
It was another on the list of shots affected by frustrating ice conditions that left both teams mystified.
"I'm not that disappointed with the loss, to be honest," said Gushue, who captured Canada's 12th world championship silver medal and world-leading 55th medal overall. "I'm disappointed that a really cool experience was taken away from our team. When you get into moments like this, where it's one sheet at a world championship, you want to go out and display what you're able to do and have a good battle and make some shots, and get the crowd roaring. It became a coin toss on every rock, and unfortunately it came up heads for Niklas a little more than it did for us. I'm disappointed at the conditions. Not losing. Niklas can beat us on good ice, too."
While the result was disappointing it should in now way diminish the effort put out through the week — throughout the season, in fact — for the Gushue team, which also won a bronze medal at the 2022 Winter Olympics in Beijing.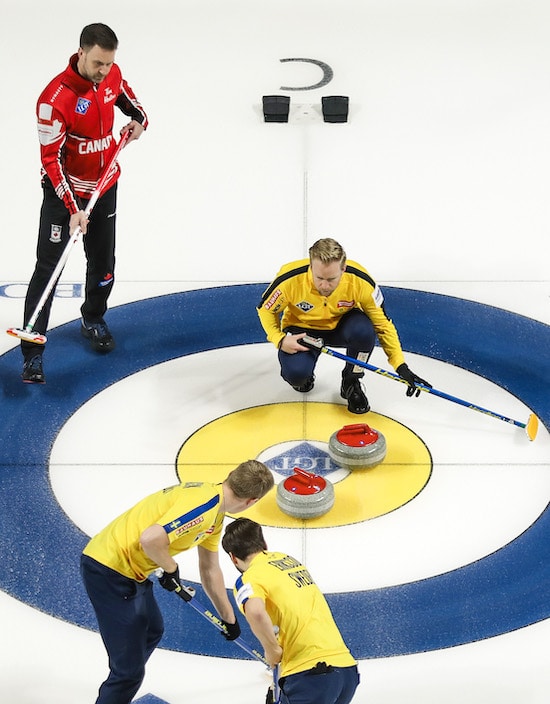 Gushue, vice-skip Mark Nichols, second Brett Gallant, lead Geoff Walker, alternate E.J. Harnden, team coach Jules Owchar and national coach Jeff Stoughton should not be hanging their heads, said Nichols.
"I'm super proud of this team and everything we've been through," he said. "For winning the Trials the way we did, and then putting ourselves into isolation for months to make sure we're healthy to go to the Olympics. We went over there and gave it everything we had and got a bronze medal. And the way these guys performed under the conditions we had at the Brier. I got sick and they just rose to the occasion. It was amazing to watch that. We thought we had it turned around a little bit (here) and we were one step short, maybe one shot short, of standing on top of the podium. But I'm super proud of the way we've played. We'd love to have a few shots back, but every team would be like that. I hate saying 'what it', but I'm proud of the way we handled ourselves through all of this."
Canada jumped out to a 3-0 lead after two ends; a disappointing first end when Gushue was forced to draw for a single was forgotten quickly after a steal of two in the second end following a series of Swedish misses.
But Sweden would respond quickly, getting a deuce in the third end when Gushue's last-stone hit suddenly went off target, likely affected by ridges in the ice with which both teams struggled.
"When we gave up that two, that just flipped the game over," said Nichols. "The shot was made and it just fell back — I've never seen anything like that before in this sort of competition.
Sweden then got a steal of its own in the fourth when Gushue's last-rock attempt to remove a buried Swedish stone and score two couldn't get over the ridge and ended up wide of the target — a three-point turnaround
The Swedes kept applying the pressure, forcing Canada to a single in the fifth and then hitting for two in the sixth.
The seventh saw another turnaround when Gushue had a raise to potentially score three or more points, but his stone overcurled and he had to settle for one — as did Edin an end later.
But in the ninth, Gushue gave away his shot at having hammer coming home in the 10th by nose-hitting his blank attempt and taking one to tie the game 6-6 and giver last rock to Sweden, which would make no mistake.
Edin's team was rounded out by third Oskar Eriksson, second Rasmus Wranaa, lead/vice-skip Daniel Magnusson and coach Fredrik Lindberg.
Despite the loss, Gushue's pride in what his team accomplished over the past seven months was obvious.
"Oh, it's incredible, it really is incredible," he said. "And it's been a roller coaster. We had the high where we played extremely well at the Trials, and then struggle at the Olympics but come away with the bronze when we probably played the worst we've ever played over that long of a stretch, to be honest, And then follow it up with what we did at the Brier, which was incredible. And then to come here where I thought we played as well as we could with the conditions that were offered to us. We were beaten by a great team; what Niklas has achieved is incredible."
Earlier Sunday, Team Joel Retornaz claimed Italy's first world men's championship medal, capturing bronze with a 13-4 win over Team Korey Dropkin of the United States. Italy scored four in the first end, and added six more in the seventh en route to the win.
The 2023 World Men's Championship will be staged in Canada (location TBC, April 1-9).
For Team Canada updates, go to www.curling.ca. Follow us on Twitter, Instagram and Facebook.