Strong Start for New Brunswick!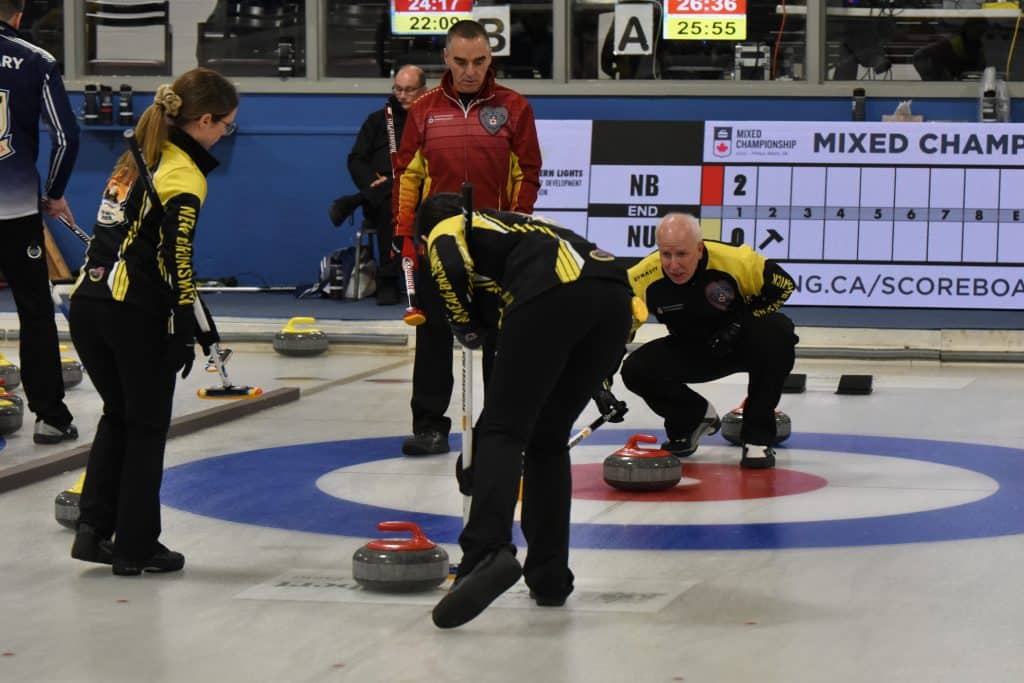 Veteran leadership earns New Brunswick its first win at the 2022 Canadian Mixed Curling Championship
When speaking about experience on a curling sheet, you need look no further than New Brunswick's very own Grant Odishaw.
Odds are if you can name it, Odishaw has played in it. He boasts 24 national championship apprearances spanning the mixed, seniors and Tim Hortons Brier; including a silver medal at the Brier in 2000 as a lead for skip and brother Terry Odishaw.
Odishaw's reputation for winning extends all the way back to 1986 where he won his first ever provincial banner and found further success including a 1994 gold medal at the Canadian Mixed Curling Championship.
This makes Odishaw's national championship experience older than some of his New Brunswick teammates at the 2022 Canadian Mixed Curling Championship from the Prince Albert Golf & Curling Centre in Saskatchewan, where they'll be vying for Canada's top mixed curling title.
Regardless, Odishaw knows the road to another gold medal is a long one but takes his role as skip and veteran presence for the young core of vice-skip Shaelyn Park, second Sam Forestell and lead Krista Flanagan representing Curl Moncton in stride.
"One win at a time," laughs Odishaw when asked about the recipe for a gold medal performance. "It's fun to play with the kids. They make me feel younger. But to win another championship? It would be amazing. Just absolutely amazing"
That first win came together for New Brunswick in their opening draw against Nunavut, which saw Odishaw and company claim a 9-2 victory over Peter Mackey (0-2; Iqaluit) in six ends.
It took some time for both teams to get acclimated with the playing conditions, including for Odishaw who somehow managed to pop the hack out of its moorings multiple times in the first end by simply delivering.
"Don't remember ever doing that before," joked Odishaw about the rather strange equipment malfunction. "And not to do it once. What did I do it; three times?". Odishaw, who maintained a great attitude about the occurrence, would be granted re-throws on the malfunctions.
Through a mildly chaotic start, New Brunswick would be in command for the duration of the match. A steal of 2 in the fourth would give the east coasters a comfortable 5-1 lead at the break and scoring a four with hammer in the sixth would mark the finishing blow to earn the 9-2 win.
It's a strong start for the New Brunswick rink. Lead Krista Flanagan and second Sam Forestell have never played in a national championship before but looked comfortable in their performances.
"I told them to just enjoy the experience" Odishaw mentioned about settling potential nerves at a national championship. "All I want is for them to have fun and I said 'the wins will come if we have fun out there. Don't get upset, don't get down, don't say sorry because I know you're trying your hardest. Just have fun'".
Though they're a team of contrasting ages that only the sport of curling can truly foster, the team came together when vice-skip Shaelyn Park reached out to Odishaw when his regular team wasn't going to field a mixed team for the 2022 season.
So far, it's paying dividends.
"I jumped at the chance," said Odishaw when the offer came in. "Shaelyn has been curling with me for a long time; since juniors. She asked if I would skip her team and I was happy to."
As far as what the future holds for the 58 year young Odishaw, nothing is for certain but he continues to love representing New Brunswick and has no plans on stopping of his own volition.
"No, I love it," said Odishaw about if he ever gets tired of putting on a New Brunswick jacket. "I want to play as long as my knee holds up. It's been sore but a chance to play with the kids here, throw some rocks in practice and if the knee holds up? I'd like to play for a long time".
In other draw 2 action on Sunday evening, Nova Scotia's Paul Flemming(1-0; Halifax) defeated Northern Ontario's Trevor Bonot (0-1; Thunder Bay) by a 6-4 score while Manitoba's Corey Chambers (1-0; Miami) opened their 2022 mixed campaign downing Prince Edward Island's Dennis Watts (1-1; Summerside) by a 7-6 score.
Live-streaming coverage of the 2022 Canadian Mixed will be available on Curling Canada's YouTube page. You can access the broadcast schedule by CLICKING HERE.
For event, team and draw information, visit www.curling.ca/2022mixed.Draw scores/standings will be immediately available on Curling Canada's scoring website.