Clutch win keeps Ontario alive!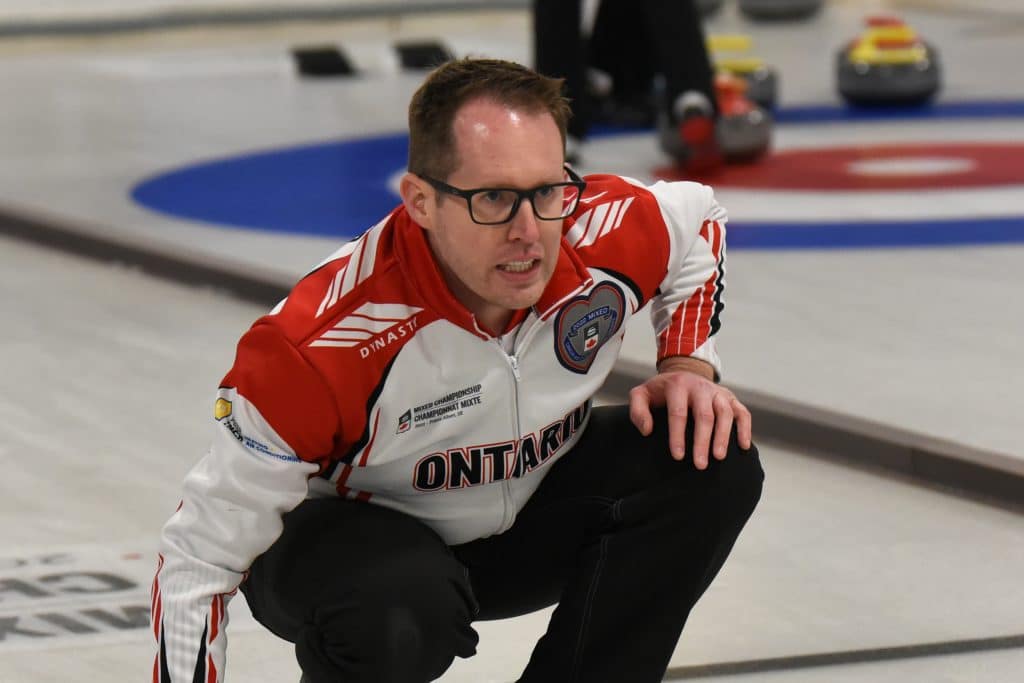 Ontario earns final championship pool spot as top eight teams advance at 2022 Canadian Mixed Curling Championship
After eleven draws of action from the 2022 Canadian Mixed Curling Championship hosted by the Prince Albert Golf and Curling Centre in Saskatchewan, the top eight teams from round robin play have been determined and will advance to the Championship Pool.
As a refresher on the event format, the top four teams in each pool advance to the Championship Pool where teams play the teams from the opposite pool carrying forward their full win-loss records. 
Meanwhile, the bottom three teams in each pool will go to the Seeding Pool, where they will compete against the three teams from the opposite pool to determine the final standings and set up the seedings for the 2023 Canadian Mixed Championship in Swift Current.
Pool B's conclusion featured high drama capped by a final round robin "win and you're in" matchup between Ontario's Scott McDonald (4-2; St. Thomas) and Manitoba's Corey Chambers (3-3; Miami). The winner would earn the final Championship Pool spot available while the defeated would be sent to the seeding pool.
Manitoba would have the upper hand in the first half of the match and lead 3-2 at the break, before Ontario would rebound with a two of their own with hammer in the fifth. The two would be followed up by a clutch steal of a single in the sixth and would open Ontario's lead to 5-3.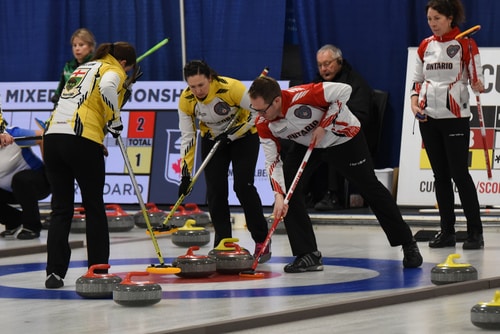 Ontario would then stave off a Manitoba attack and force them to a single in the seventh, before cruising to a single point in the eighth to claim a 6-4 victory and the last remaining Championship Pool berth.
It was a long road to advancement for Ontario, rounded out by vice-skip Lori Eddy, second Matthew Hall and lead Laura Neil, who started their 2022 Canadian Mixed Curling Championship campaign with an 0-2 record before rallying for four straight victories.
"We came in here knowing that teams were going to play well against us," said Ontario skip Scott McDonald. "We had two tough tests in our first two games. After the 0-2 start, we had a team meeting to figure out what we had to do to right the ship and ensure that we continued to play meaningful games."
That meeting would prove to be the turning point for team Ontario, highlighting that communication was essential for getting the team back on track.
"It all came down to what we could do for each other to support each other out there," said McDonald. "It's easy to be tense when things aren't going well but things are going to be tense when you're playing well too. So we had to figure out how to get the most out of each other."
With momentum now on their side, Ontario now has their sights fixated on success in the Championship Pool.
"We're here to play games that mean something." said McDonald about Ontario's overall goals. "Winning that game gives you a taste of that pressure that you want to feel at the end of the week. So now, our team, we can talk about how we reacted under that circumstance and that will bode really well for us in the Championship Pool and hopefully the playoffs."
Earning a Championship Pool berth from pool B alongside Ontario are the Northwest Territories Jamie Koe (5-1; Yellowknife), Nova Scotia's Paul Flemming (4-2; Halifax) and Northern Ontario's Trevor Bonot (4-2; Thunder Bay).
Conversely, there was little drama to speak of in pool A with all four advancing teams being determined before the final draw of round robin play. Advancing to the Championship Pool from pool A are Québec's Felix Asselin (5-1; Dollard-Des Ormeaux), British Columbia's Craig Miles (4-2; Victoria), New Brunswick's Grant Odishaw (4-2; Moncton), and Saskatchewan's Shaun Meachem (3-3; Swift Current).
Action from the 2022 Canadian Mixed Curling Championship continues on Thursday with draws scheduled for 9:00 a.m, 12:30 p.m., 4:00 p.m., and 7:30 p.m. (all times Central).
Live-streaming coverage of the 2022 Canadian Mixed will be available on Curling Canada's YouTube page. You can access the broadcast schedule by CLICKING HERE.
For event, team and draw information, visit www.curling.ca/2022mixed.
Draw scores/standings will be immediately available on Curling Canada's scoring website.