Family Ties!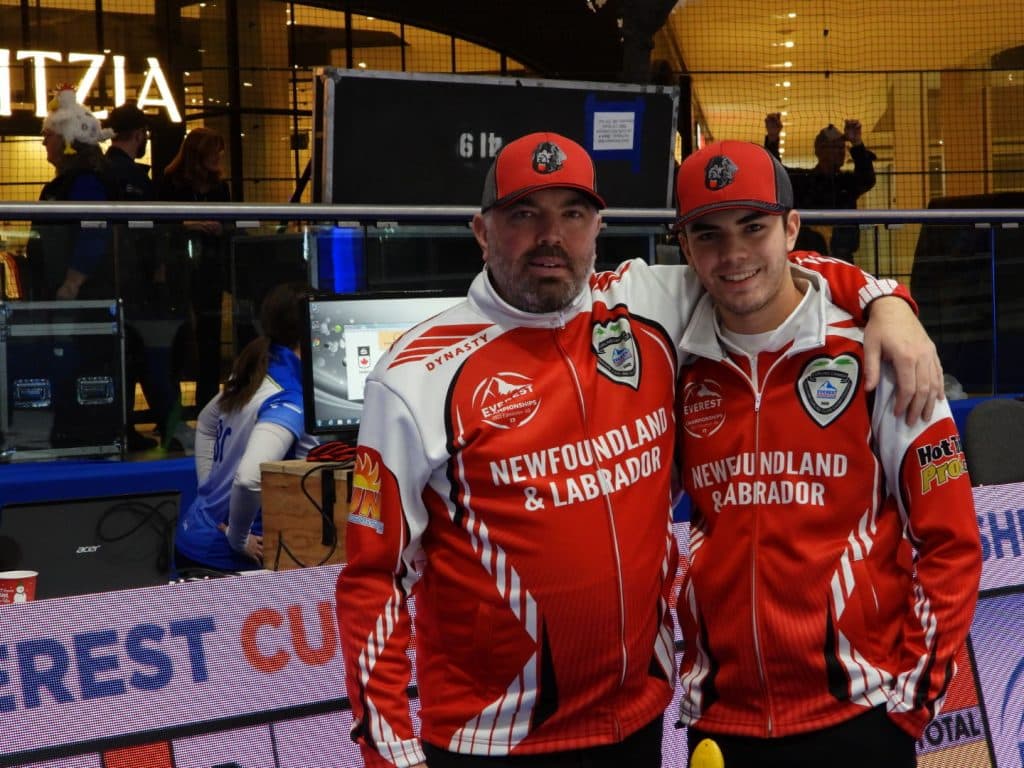 Family Ties make for a special event at the 2022 Everest Curling Club Championship
The 2022 Everest Canadian Curling Club Championships got underway Monday at the Ice Palace in the West Edmonton Mall and for several teams at this year's event, it's a special family affair.
Rod Feltham of Newfoundland and Labrador is skipping his team from the Gander Curling Club which includes his son Aaron as the team's alternate.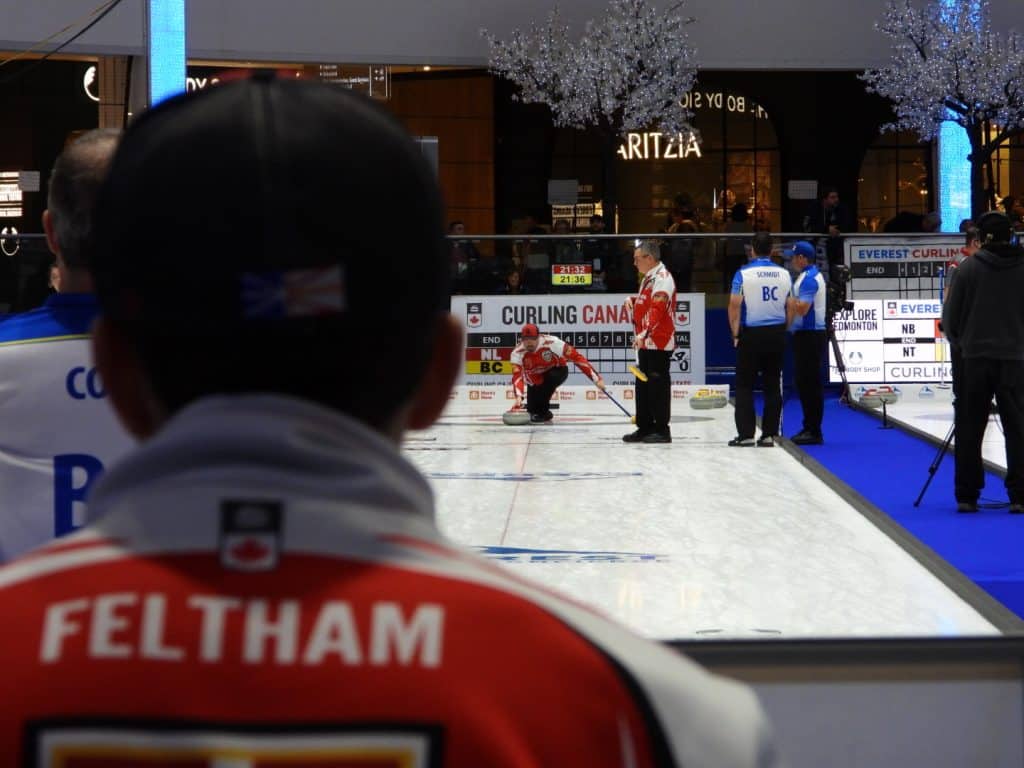 "Not many people get to do this with your kids. I coached him in hockey and we're a pretty close pair so to come together to play on the same team at a national curling championships … I'll never forget this," an emotional Rod Feltham said after picking up a 6-5 win over British Columbia in the team's first game.
Aaron, who competed for Newfoundland and Labrador at the 2019 Canadian U18 Championship, is using his previous national experience to help the team that includes his father, vice-skip Scott Davidge, second Kris MacLeod and lead Keith Clarke at this year's event.
"I also curl in St. John's where the ice has more curl than in Gander and is similar to this arena ice here and you have to be positive with your release so I just keep reiterating to the team to be positive on their releases," the 19-year-old said shortly after he was called upon for strategy advice during an eighth end timeout.
For many curlers at the Everest Curling Club Championships the event is an exciting leap onto a big stage, so having a loved one on the team can be an added comfort.
"My eyes are wide open here," Rod admitted, "Aaron has a great junior coach in Jeff Thomas and so he's passed along a lot of valuable insight. I'm just so proud that he's a good teacher and listener."
Feltham's team put early pressure on B.C. with three points in the first end and added a steal in the second end. British Columbia climbed back to get within one point by the fourth end break, before adding another steal in the fifth end. The eighth and final end included a pile of granite and Ron Schmidt of the Comox Valley Curling Club in Courtenay was just shy of connecting on a double run-back on his final shot. Feltham didn't need to throw his last rock to secure the 6-5 win.
Newfoundland and Labrador are just one of several teams at this year's event with family ties. Siblings Veronica and Sabrina Smith are back wearing the Prince Edward Island colours at this year's Canadian Curling Club Championship and they're thrilled to be back on a big stage after appearances at Canadian Junior Championships almost a decade ago.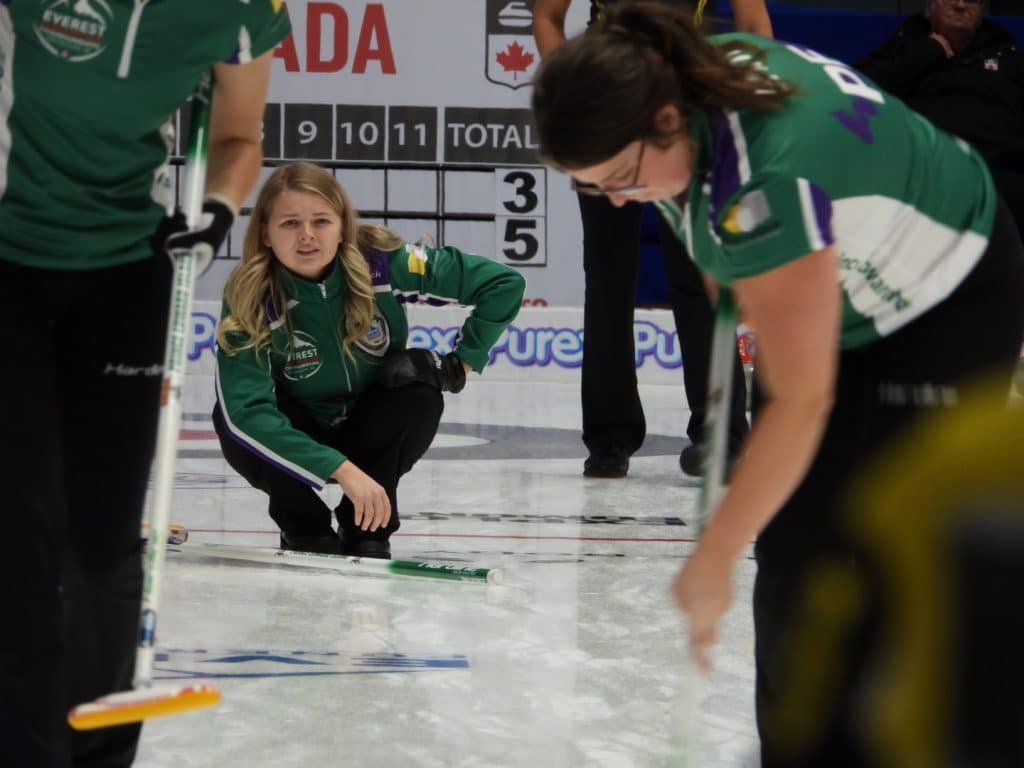 "I think it's so special," Sabrina said after their opening game at the Ice Palace. "It's been a while since we've been at a Canadian championship but to win our province together was really special."
Prince Edward Island's women's team dropped their opening game on a last rock hit that rolled inches too far, giving New Brunswick's Shaelyn Park and her team from Curl Moncton a 7-6 victory.
Another team with family bonds on the ice at this year's Everest Canadian Curling Club Championship is the Northwest Territories women's rink skipped by Betti Delorey. The team includes Delorey's daughter Halli-Rai Delorey at the vice-skip position, sister-in-law Katrina Delorey at second, along with D'arcy Delorey, Betti's husband, as coach. Amanda Roach is the lead for the team from the Hay River Curling Club.
"To be here with my daughter, my husband and my sister-in-law is pretty cool. She's in university so to have this chance to play with her I don't know that I'll get more of these opportunities and I'm just trying to soak in all the time and love every second of it," Delorey said after an opening game 7-2 loss to Newfoundland and Labrador.
Delorey echoed Feltham's thoughts on playing in such a unique venue saying it took a couple ends for her to settle in. "Wow, there's a lot going on but I reminded myself to just shut it out and it was a small learning curve."
The spectacular Ice Palace has been converted into five sheets of pebbled ice for the week-long event. Monday's opening day action featured hundreds of shoppers stopping to take in the action inside Canada's largest shopping mall.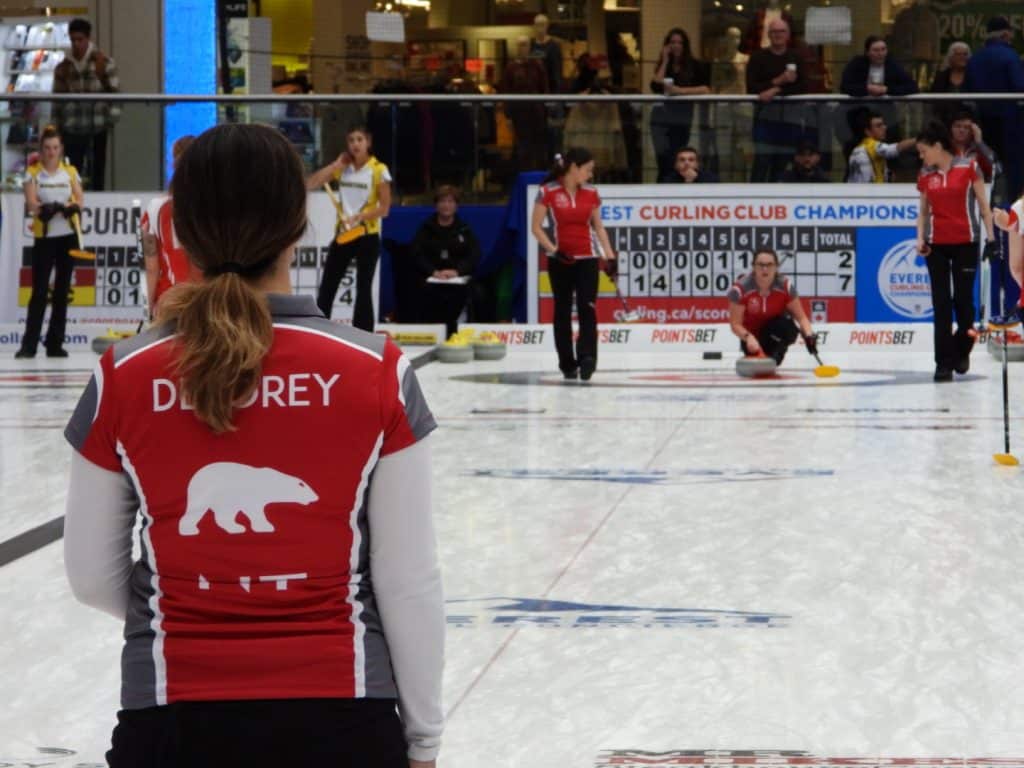 Elsewhere in women's play on Monday evening, Manitoba's Lisa Birchard's rink needed an extra-end to get past Quebec 6-5 and Saskatchewan downed Northern Ontario 12-2.
In the men's division it was Northern Ontario, Manitoba, Alberta and Quebec who were winners in their opening games in Edmonton.
Fourteen men's teams and 12 women's teams (Nunavut and Yukon did not send a women's team) are competing in the annual event. The men's field is divided into two pools of seven teams and the women's has two pools of six. After the round robin, the top four teams in each pool will make a modified double-knockout playoffs, which begin Friday, Nov. 25, and conclude with the gold- and bronze-medal games on Saturday, Nov. 26.
On the final day between the semifinals and medal games, a variety of curling disciplines will be on display to mall-goers, including stick curling and wheelchair curling. Learn to curl opportunities will also be available for those passing by through opportunities with Curling Alberta.
Games from the 2022 Everest Canadian Curling Club Championships are live-streamed on Curling Canada's YouTube channel and features commentary from world men's champion Randy Ferbey, Olympic gold-medallist and world women's champion Jennifer Jones and Olympic silver-medallist Cheryl Bernard and world men's champion Brent Laing. The event is also streamed on the TSN app. For the up-to-date broadcast schedule, click here.
Scores and standings from the event are available at by clicking here.
For draw times, team lineups and other event info, click here.