Semis at the Seniors!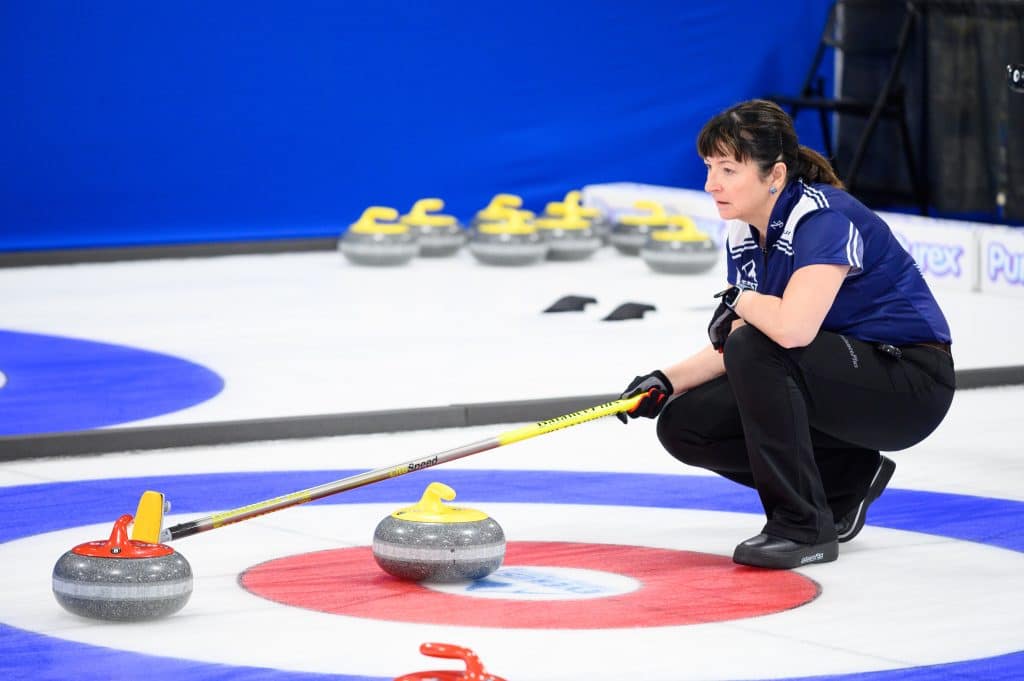 Semifinalists set to face off at the 2022 Everest Canadian Senior Curling Championships
What began as fourteen men's and 14 women's teams (representing the 10 provinces plus Northern Ontario, Northwest Territories, Nunavut and Yukon) has been whittled down to all but the semifinalists at the 2022 Everest Canadian Senior Curling Championships from the Mariners Centre and Yarmouth Curling Club in Nova Scotia.
After Championship Pool play concluded on Friday evening, the playoff brackets are now set. The first-seeded teams will match up against the fourth-seeded teams while the second and third ranked teams play down in the second semifinal.
In men's play, the number one overall seed remained up for grabs in a draw 19 winner-take-all showdown between Manitoba's Randy Neufeld (10-0; La Salle) and Nova Scotia's Glen MacLoed (8-2; Halifax). Neufeld's La Salle Curling Club rink would rise to the occasion and maintain their undefeated record with a 10-5 win to claim the number one seed. Nova Scotia's MacLoed will be the second overall seed.
Rounding out the remaining playoff slots in men's play, Ontario's Howard Rajala (7-3; Ottawa) had already secured the 3rd overall seed before draw 19 on Friday evening, but was stymied by a 7-6 extra end loss to Alberta's James Pahl (6-4; Sherwood Park) in Curling Canada's feature broadcast available on TSN.ca and Curling Canada's YouTube page.
The win for Alberta, however, marks a massive comeback and grants them the fourth overall seed in the playoffs, staving off elimination. Alberta trailed 6-3 headed into the eighth end before scoring a three with hammer, then stealing the extra end thanks to a failed hit and stick attempt on Ontario's final stone.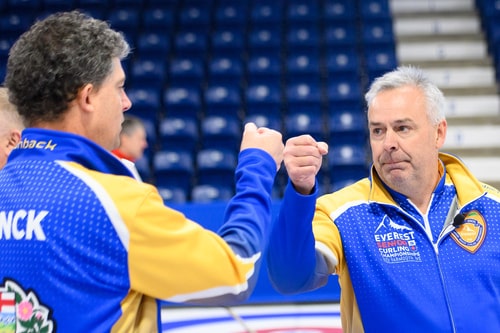 Alberta skip James Pahl knows there is room for improvement in his team's play as they prepare for the playoffs.
"Considering that we can't put together eight ends and we're still winning, it is a good feeling", joked Pahl about his team's miraculous comeback, earning them a playoff berth. "If we continue to make shots at key times and put pressure on the other guys, it seems to be working. So just continue doing what we're doing."
Manitoba will face Alberta in the first semifinal while Nova Scotia and Ontario square off in the other semifinal.
Pahl feels his team can be the ones to serve the Manitoba men their first loss of the senior national event.
"We'll just play our game," said Pahl. "We played them first game of the round robin and they got us in an extra end there, so we'll come out strong, come out hopefully a little bit better than we have been and give them a good game."
In women's action, home field advantage paid dividends seeing Nova Scotia's Theresa Breen (9-1; Halifax) claim the number one overall seed after defeating four-time Everest Canadian senior women's champion Sherry Anderson of Saskatchewan (7-3; Saskatoon) by a 9-7 score on Friday evening.
Anderson and her Saskatoon rink will remain in contention for a record setting fifth consecutive national senior women's title however as their record has earned them the fourth overall seed in the women's playoff, setting up a NS vs. SK rematch in the first women's semifinal.
On the other side of the bracket, Québec's Chantal Osborne (9-1; Thurso) carried a near perfect record through the Championship Pool to claim the second seed while Ontario's Jo-Ann Rizzo (7-3; Mississauga) managed a 6-4 win over Alberta's Diane Foster (4-6 ; Calgary) in their final Championship Pool match to claim the third overall seed and complete the women's playoff picture.
The men's and women's semifinals get underway on Saturday at 8:30 a.m. (all times Atlantic).
Live scoring updates for the 2022 Everest Canadian Seniors are available by clicking here. For event information, click here.
Games from the 2022 Everest Canadian Senior Championships will be live-streamed on TSN.ca as well as on Curling Canada's YouTube channel. For the up-to-date broadcast schedule, click here.